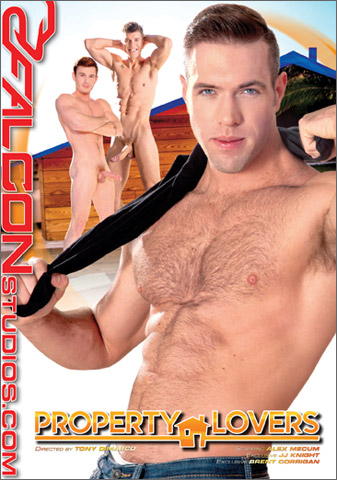 Studio: Falcon Studios
Directed by: Tony Dimarco
Year of Production / Release: 2017
Country of Production: U.S.A.

CAST:
Zander Cole
Brent Corrigan
Alessandro Haddad
Dustin Holloway
JJ Knight
Alex Mecum
Beau Reed
FROM FALCON STUDIOS:
Sexy, successful 'Property Lovers' Brent Corrigan and JJ Knight just bought their dream home: all it needs is a bit of remodeling for everything to be just perfect. Award winning director Tony Dimarco captures the action when the hot, horny contractors they've hired are all working hard to finish the job, but can't help turning some sexual attention onto each other – and their clients! When painter Dustin Holloway is doing some touch ups in the living room, leader contractor Alex Mecum sneaks up from behind and instigates an intense fuck session. Beau Reed comes in to do some work on the bathroom, but catches JJ Knight rinsing off in the shower. Hot oral leads to hardcore anal as JJ gets his rocks off before work and Beau shoots a massive load. Alex Mecum observes Zander Cole and Alessandro Haddad as they work, and the two young workers eagerly strip down and have a three-way with their sexy boss. When all the work is basically finished, Brent Corrigan asks Alessandro to stay on to be their gardener full time. They seal the deal with a hot lovemaking session in the master bedroom, finishing just in time to greet JJ, who is more than pleased with the arrangement. With their dream home finished and hot men all around, check out just how much action these 'Property Lovers' get into with each other!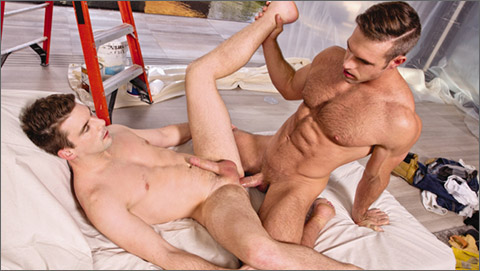 SCENE 1: Alex Mecum fucks Dustin Holloway
Young, successful couple Brent Corrigan and JJ Knight just bought their dream home: all it needs is a bit of remodeling for everything to be just perfect. After JJ leaves for work, Brent welcomes the sexy contractors into the house. After Brent heads out, Alex Mecum interrupts Dustin Holloway's painting for a high-stakes rim job. Dustin unzips Alex's jeans, liberating his massive, throbbing boner. Wrapping his lips around Alex's huge cock, Dustin reciprocates eagerly, spreading his warm saliva up and down Alex's shaft. Putting his legs up in the air, Dustin receives Alex's meat. Dustin's eyes roll back in his head as Alex delivers an intense doggy-style fuck. They're so focused on each other, they don't even notice that Brent has returned to the house and discovered their on-the-job affair. Brent retreats: he'd rather watch the hot studs get off than bust them for having a bit of fun. With Alex deep inside him, Dustin shoots a massive load across his stomach. Alex grabs his dick and jerks out a huge, spurting load onto Dustin's torso.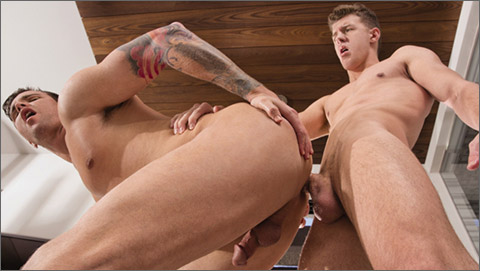 SCENE 2: JJ Knight fucks Beau Reed
After a long day, JJ Knight and Brent Corrigan collapse into bed. Brent excitedly tells JJ about how he caught Alex and Dustin fucking on the job, and the sexy story inspires them into a nighttime quickie. The next morning, Beau Reed arrives to finish some work as JJ is still wrapped in a towel, finishing shaving. Beau nervously asks if he should come back later, but JJ assures him it's no problem. Stepping into the shower, JJ rinses off the shaving cream and shows off his massive boner to Beau, whose eyes widen with surprise and lust. Stripping off his clothes, Beau walks over and kisses JJ, then eagerly opens his mouth wide to swallow JJ's anaconda cock. Thick spit drips from Beau's mouth as he works hard to deepthroat JJ's massive meat. Bending over, Beau spreads his ass wide inviting JJ to give him a deep rim job. Using his finger, JJ works his spit down inside Beau's tight, pink hole. Lubing up his cock, JJ slides himself inside Beau doggy style. Flipping over and putting his legs in the air, Beau jerks his cock while JJ fucks him deep and hard. With JJ still inside him, Beau explodes with a massive load that splatters across his smooth torso. JJ pulls out and strokes out a thick, enormous load that coats Beau's cock with cum.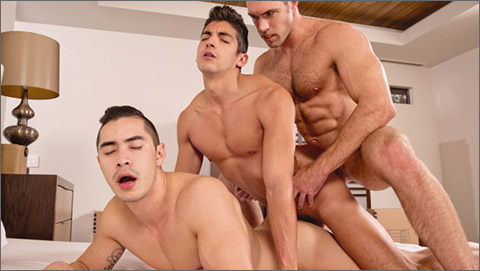 SCENE 3: Alex Mecum, Zander Cole & Alessandro Haddad have a 3-way
Gardener Alessandro Haddad is working on getting the grounds in shape while interior designer Zander Cole installs the finishing touches in the bedroom. Lead contractor Alex Mecum observes Zander's work – and Zander's fuckable ass in his tight jeans. Zander pulls out Alex's massive cock and puts his lips to work. Alex's hairy, muscular body flexes as he enjoys Zander's expert head. When Zander lies down on the bed, Alex presses his scruffy face into Zander's ass crack, licking feverishly at his tight hole. Alessandro sees what's happening and wants to join in, stripping off his clothes and working his cock inside his white briefs. He sits on the bed and offers his cock for Zander's mouth. Alex stands up and puts his cock in Zander's mouth. With Alessandro's cock still in Zander's mouth, Alex lubes up his meat and fucks Zander's hole doggy style. Alex and Alessandro trade places, egging each other on to fuck Zander deeper and harder. Standing back, Alex watches as Alessandro pounds Zander's ass. Then Alex joins in, making Alessandro the meat in the middle of a heated fuck sandwich. Rolling Zander over, Alex fucks him missionary style while Alessandro fucks Zander's mouth. Alessandro shoots a massive load across Zander's chest, and Zander starts cumming right after, with Alex still inside him. Stroking his cock, Alex shoots a thick load across Zander's stomach. With Zander bathed in cum, the three of them share a supercharged three-way kiss.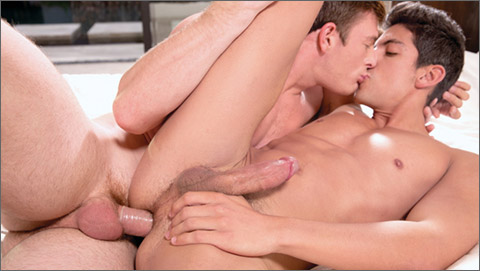 SCENE 4: Brent Corrigan fucks Alessandro Haddad
Brent Corrigan's dream home is finally finished and furnished. He walks through the modern dwelling, admiring the handiwork that the handsome contractors did. Walking out by the pool, he pays a compliment to the gardener Alessandro Haddad, who is putting some final touches on the patio. Brent and Alessandro want to share phone numbers to stay in touch for future work, but Alessandro's thick gloves make it hard for him to get his phone out of his pocket. Fortunately, Brent is happy to help, and when he returns Alessandro's phone to his pocket, his hand lingers, clutching at Alessandro's bulge. They share a moment of connection and head inside for greater privacy. Brent kneels down and excitedly works his lips around Alessandro's tool. They go to the bedroom, where Alessandro kneels on the bed and Brent dives face first into Alessandro's hole. Stripping off his underwear, Brent rubs his hard cock into Alessandro's crack. Lubing up, he penetrates Alessandro's tight muscle ring with his cock, and Alessandro's cock leaks tons of precum. Rolling over, Alessandro puts his feet in the air and takes Brent's cock deep and hard. Grabbing his hard shaft, Alessandro starts stroking and sprays a gigantic load onto his stomach. Brent joins in, stroking out his hot white cum and letting it mix with Alessandro's.

WATCH THE SCENES NOW AT:
FALCON STUDIOS
Falcon Members can watch scenes from this Release anytime online.
DVD Releases debut online prior to DVD Release.