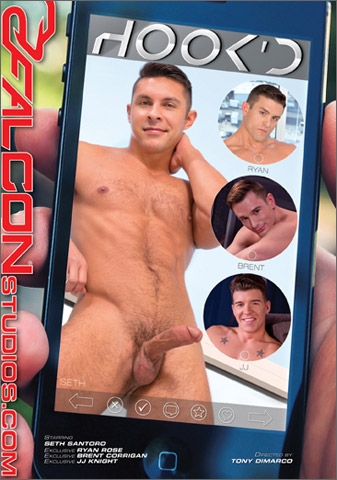 Studio: Falcon Studios
Directed by: Tony Dimarco
Year of Production / Release: 2017
Country of Production: U.S.A.

CAST:
Austin Carter
Brent Corrigan
Jacob Durham
Alex Gray
Ian Greene
JJ Knight
Ryan Rose
Seth Santoro
FROM FALCON STUDIOS:
If you're horny and looking for a sexy guy to get with, all you have to do is open up your phone and get 'HOOK'D!' Award winning director Tony Dimarco gathers the experiences of eight smoking hot men who use their technology to facilitate hot hookups, full of wet oral, deep rimming, intense pounding, and giant cumshots. Brent Corrigan connects with eager bottom Ian Greene online, and then meets up in person for a smoking hot fuck. After getting horned up during his workout, Austin Carter gets in touch with Ryan Rose, who comes over to give the eager fitness stud an even more intense sexual workout. JJ Knight finds an eager match in Alex Grey, and they're both eager to experience JJ's massive cock filling Alex's willing hole. Jacob Durham and Seth Santoro swap sexy snapshots and videos to get excited until Seth arrives and takes Jacob's cock from both ends. Keep your battery charged and your status online to get 'HOOK'D' up with the hottest, horniest men online and IRL!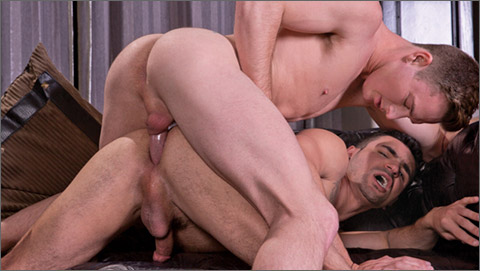 SCENE 1: Brent Corrigan fucks Ian Greene
Brent Corrigan takes a look at his phone and notices a particularly hot guy on the grids: Ian Greene. Ian likes what he sees in Brent's pics, so they arrange to hook up. As soon as Brent arrives at Ian's place, Ian gets to work servicing Brent's big cock. Thick, slippery spit lubes the shaft of Brent's cock as Ian works his deep-throating magic. Brent slips his fingers down the back of Ian's underwear to finger his hole, then grabs his phone to take some pics. Slipping off Ian's shorts, Brent returns the oral favor, wrapping his soft lips around Ian's rock-hard shaft. Brent returns to fingering Ian's hole, which quickly leads to a full on rim job, with Brent expertly tonguing the sensitive center of Ian's eager ass. When the fucking starts it's slowly at first, then faster and faster. Brent's long, hard cock spears deep into Ian's backdoor. Ian is face down on the couch doggy style, and Brent's round, muscular ass flexes with each pump. Rolling on their sides, Ian raises a leg in the air and strokes his cock as Brent continues his full-throttle pounding. Ian gets on his back with both legs in the air, and as Brent pummels deep into his hole, Ian jerks out a massive, pearly load that splatters across his tattooed chest. Grabbing his hard cock, Brent strokes out a super thick white load, and their cum mingles together as they share a final passionate kiss.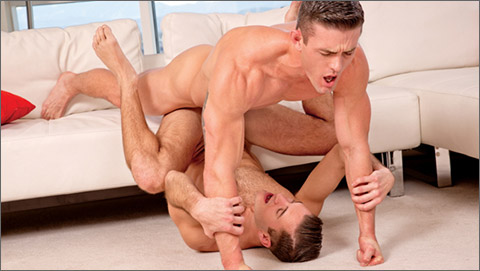 SCENE 2: Ryan Rose fucks Austin Carter
Austin Carter executes a quick workout in his apartment, stripping off his shirt and flexing his muscles. Working out gets him horned up, so he picks up his tablet to see who's out there. Seeing Ryan Rose puts a big smile on his face, so he sends him a message and invites him over. When Ryan arrives, Austin is waiting for him with his ass up. A smile flashes across Ryan's face, and he immediately gets to rimming Austin's tight hole. Austin rolls over and Ryan turns his attention to Austin's rock hard cock. Ryan stands and pushes his cock towards Austin's face, and Austin wraps his lips around Ryan's enormous tool. With Austin eager to feel Ryan inside him, Ryan sits down on the couch, and Austin sits down on Ryan. As Ryan and Austin grind together, Ryan's cock slides deeper and deeper into Austin's tight butt. Ryan achieves a pile-driver position by having Austin rest his shoulders on the floor and his ass against the couch, then transitions to doggy style. After pounding Austin's hole, Ryan points his cock at Austin's face and ejaculates a massive load that drips down Austin's cheekbone and into his open mouth. Austin sucks out the last drops of cum from Ryan's cock as he strokes himself off onto the floor.

SCENE 3: JJ Knight fucks Alex Grey
With a flick of his finger, JJ Knight opens up his phone and discovers a new match: Alex Gray. They trade dick pics and JJ invites Alex over for some fun. As they make out, Alex gropes JJ's bulge, and JJ grabs Alex's perky butt. Getting down on his knees, Alex unleashes JJ's massive dong and gets down on his knees for oral worship. JJ lies down own the couch and plays with Alex's ass, spreading his butt apart, wetting his fingers with spit, and fingering Alex's tight, pink hole. Putting Alex on the couch, JJ stuffs his face into Alex's crack, using his fingers to push in the slippery saliva. Alex strokes his cock, and his low hanging balls nestle against JJ's face. Alex gets into doggy style position and JJ mounts him from behind, pushing his monster meat into Alex's eager ass. When JJ moves to lie down on the couch, Alex sits down on his cock, and JJ's balls bounce as he thrusts into him from below. With JJ's cock still in his ass, Alex strokes his cock until he shoots cum across JJ's smooth chest. Kneeling on the ground, Alex receives a face full of JJ's cum as a massive load splatters everywhere. They seal the deal with passionate kissing, cuddling on the couch.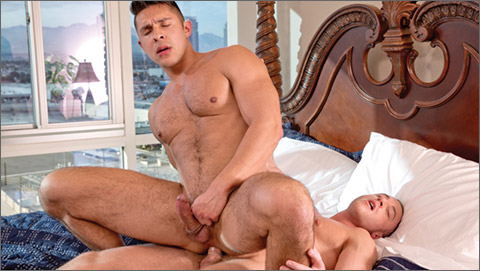 SCENE 4: Jacob Durham fucks Seth Santoro
As Jacob Durham undresses after a long day, he gets some hot pics from Seth Santoro. They share their progress digitally, as their cocks get harder and harder. Seth comes over and wraps his lips around Jacob's girthy tool. Lying back on the bed, Jacob uses his phone to take a video. Reaching up to grab Seth's plump nipples and muscular pecs, Seth uses his special deepthroating abilities to give Jacob an epic blowjob. Turning around into a 69, Seth sits on Jacob's face while sucking on Jacob's cock. Extending his tongue, Jacob drives deep into the center of Seth's tight hole. Seth rolls over on his back and puts his legs in the air for Jacob to rim Seth's hole again. With Seth's hole slick and ready to get fucked, Jacob thrusts his cock inside. Sweat glistens on Seth's chest as Jacob pounds his ass. Switching it up, Seth assumes a doggy style stance and Jacob mounts him from behind. Their muscular bodies slam together as Jacob pummels Seth's hole with all his power. Jacob lies down on his back and Seth sits down on his cock reverse cowboy style, using his muscular legs to raise and lower himself on Jacob's girthy shaft. The intense pleasure of Jacob's cock makes Seth shoot a thick, creamy load all over his thigh. Jacob grabs his meat and blasts a massive jet of cum across Seth's face, and Seth uses his mouth to suck Jacob's cock clean.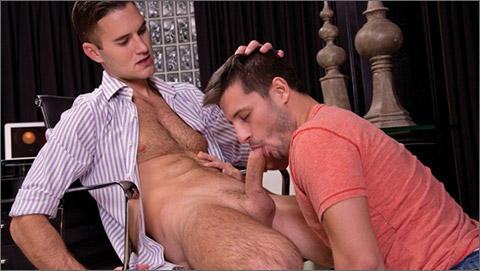 SCENE 5 (BONUS SCENE): Alex Grey & Austin Carter
Late at night, in a darkened office, Alex Grey is on his knees giving head to Austin Carter. Austin puts his hand on the back of Alex's head, guiding his cocksucker in the art or oral worship. Opening his shirt, Austin reveals a muscular torso dappled with fine hair. Alex stands, and Austin's hands caress the twin round globes of Alex's ass. Bending Alex over the desk, Austin spreads Alex's cheeks and runs his tongue along the length of Alex's crack. Using his tongue, he glazes Alex's hole with spit and pushes it in with his thumb. Simultaneously, Austin rotates so that he can suck on Alex's hard cock. Returning to Alex's ass, Austin strips off the rest of his clothes. With both men fully naked, Austin kneels to the ground and deepthroats Alex's cock all the way down to the base. Alex reaches down and strokes himself with Austin's spit for lube, until he busts his nut into Austin's open mouth. With the taste of Alex's cum in his mouth, Austin blows his creamy load on the tile floor.

WATCH THE SCENES NOW AT:
FALCON STUDIOS
Falcon Members can watch scenes from this Release anytime online.
DVD Releases debut online prior to DVD Release.