Studio: Falcon Studios
Directed by: Tony Dimarco
Year of Production / Release: 2017
Country of Production: U.S.A.

CAST:
Brent Corrigan
Topher DiMaggio
JJ Knight
Scott Riley
Ryan Rose
Seth Santoro
Jeremy Spreadums
FROM FALCON STUDIOS:
Dive 'Into the Blue' with a cadre of gorgeous men in a luxurious private pool. These studs are hot and as the temperature rises, so does their need for sexual satisfaction. Tony Dimarco directs seven toned, horny studs as they suck, rim fuck, and shoot enormous loads in and next to the stunning waters underneath the bright clear sky. Seth Santoro shows off his oral skills with JJ Knight's massive cock before JJ pounds Seth's ass and delivers a load of cum to the face. Topher DiMaggio's horseplay with Jeremy Spreadums leads to an intense fuck session in the soft green grass, and Topher shoots an epic load on Jeremy's muscular bubble butt. Ryan Rose and Seth Santoro trade head in the hot tub, and Ryan snowballs Seth's load back into his mouth. Brent Corrigan takes Topher DiMaggio's dick from both ends, then gets his chest covered with both their loads. Ryan Rose spies Scott Riley's round bubble butt and can't resist putting his dick inside, pounding Scott's hole and putting a load in his mouth. For the hottest poolside sex with the sexiest men in the world, just take a deep breath and dive 'Into the Blue.'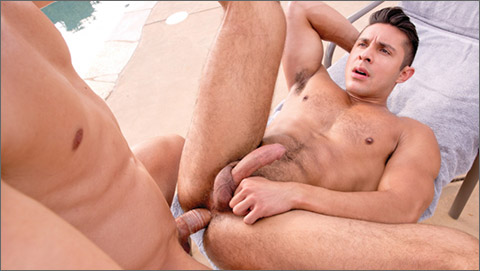 SCENE 1: JJ Knight fucks Seth Santoro
Underneath a bright clear sky, with palm fronds swaying in the breeze, Seth Santoro dives into the cool, blue waters of the swimming pool. His swimsuit shows off his smooth, toned body. JJ Knight lounges nearby, watching intently as Seth swims his laps. A bulge grows in JJ's bathing suit that can't be contained: he whips out his hard cock and strokes it slowly, enticingly, waiting for Seth to notice. Slowly, Seth emerges from the pool, his own suit displaying the unmistakable outline of his boner. He walks toward JJ, bends forward, and wraps his lips around the sensitive tip of JJ's cock head. As the sun shines on JJ's abs, Seth works his way down JJ's immense shaft, lubing it up with his spit. They strip and share a kiss before Seth turns around for JJ to rim his tight hole. Bending forward, Seth pushes his hairy ass into JJ's face while sucking on JJ's massive cock. Spinning around to face JJ, Seth sits down on JJ's meat. As JJ's cock stretches and fills Seth's hole, JJ begins thrusting up from below, pressing deep into Seth's most sensitive spots. Standing up, JJ fucks Seth from behind. As Seth braces himself against the lounge chair, JJ picks up speed, ramming his enormous meat into Seth's tight hole. Seth rolls on his back and raises his right leg to the sky, allowing JJ's cock to penetrate deeper than ever. The sensation brings Seth to orgasm: jerking his cock, he shoots a massive, thick load across his furry stomach. JJ reaches for his cock and pumps out stream after stream of hot white cum right into Seth's face. Drenched in cum, Seth pulls JJ close and exchanges a tender, creamy kiss.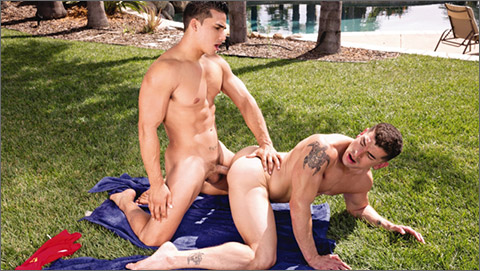 SCENE 2: Topher DiMaggio fucks Jeremy Spreadums
Topher DiMaggio is horsing around in the clear, blue pool with Jeremy Spreadums. Topher reaches around and pulls down the back of Jeremy's rainbow swimsuit, fingering his tight hole. Jeremy goes underwater, pulls down Topher's bathing suit, and gives an underwater blowjob. Coming up for air, Jeremy makes out with Topher while stroking Topher's hard cock. Exiting the pool, they move to a shady spot in the grass. Jeremy inhales Topher's massive cock to the base, slicking it up with his slippery saliva. Topher thrusts his hips, face fucking Jeremy's eager mouth. Topher spins Jeremy around and spreads his cheeks, delivering a deep, spit-fueled rim job. He teases Jeremy's ass with the tip of his cock, then thrusts inside. With Jeremy's legs in the air, Topher starts fucking him faster and faster underneath the warm sun. They move to a sitting position, with Jeremy using his muscular legs and thick glutes to raise and lower himself on Topher's towering cock. Rolling over to doggy style, Jeremy strokes his cock as Topher fucks him deeper and deeper. Rearing up on his knees, Jeremy rubs out a thick white load that splatters across the towel beneath them. Topher uses Jeremy's ass as a target for his epic load, shooting off a fountain of white cum. With their sexual needs satisfied, Topher and Jeremy jump naked into the pool together for a gleeful skinny dip.

SCENE 3: Ryan Rose & Seth Santoro
Seth Santoro is lounging in the hot tub when Ryan Rose approaches. Ryan's white swimsuit leaves little to the imagination, showing off the distinct outline of his massive boner. Seth reaches out to stroke Ryan's bulge as Ryan fondles Seth's muscular chest. Seth worships Ryan's incredible physique, then opens his mouth to receive Ryan's thick, hard cock. Long, thick strands of saliva drip from Seth's mouth as he works his lips up and down Ryan's shaft. Ryan's been admiring Seth's ass, so he spins him around and spreads Seth's fuzzy ass cheeks to get a taste. With his long, wet tongue, Ryan slathers Seth's hole with spit, then sucks Seth's hard cock. Ryan sits down on the edge of the hot tub as Seth resumes blowing Ryan's meaty dick. Seth's talented mouth brings Ryan to an incredible orgasm, and as Seth strokes his shaft, he ejaculates huge jets of cum that land inside Seth's open mouth. Ryan opens wide as Seth jerks out a hot load, then stands up and snowballs it back into Seth's cum-hungry lips.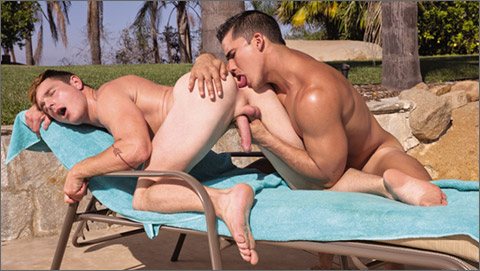 SCENE 4: Topher DiMaggio fucks Brent Corrigan
Lounging by the pool, Brent Corrigan waits as Topher DiMaggio approaches. Topher knows what he wants and goes for it right away, wrapping his lips around Brent's thick cock. He sucks on Brent's balls and fingers Brent's tight hole. Standing up, Topher pulls out his meat and offers it to Brent to suck on. With his expert deep throating skills, Brent is eager and up to the task. Their toned bodies glisten under the warm sun as Brent gets on all fours and shows off his ass. Topher goes in for a rim job, slicking up Brent's tight ass with his spit. He pushes the saliva down Brent's hole with his thumb, then thrusts forward with his cock, penetrating Brent's ass. They move from doggy style to a sit fuck, with Brent riding Topher's hard meat. Brent's dick bounces against Topher's washboard abs. Brent starts jerking his cock in rhythm with Topher's thrusting, and he shoots an extra thick load across Topher's tanned, toned stomach. Topher picks Brent up and lays him down on his back. Stroking himself, Topher unleashes massive ropes of cum that splatter across Brent's muscular torso. They press their lips together in slow, passionate kisses, sinking down into the poolside lounge chair.

SCENE 5: Ryan Rose fucks Scott Riley
As Scott Riley approaches the pool, Ryan Rose lifts his sunglasses to get a better look at Scott's perky butt. As Scott swims back and forth in the cool, refreshing waters, Ryan rises from his chair and wades into the pool too. They immediately embrace and lock lips in a kiss. Ryan's hands move down to Scott's ass, pulling down his blue swimsuit to show the top of Scott's ass. Scott gropes Ryan's hard boner through his bathing suit. Pulling it down, Scott goes underwater to give Ryan a deep-throated blowjob. They kiss again passionately, and then Ryan leads Scott to the edge of the pool for more. Using his hand against the back of Scott's head, Ryan guides Scott up and down the length of his shaft. Thick trails of spit roll down Ryan's shaft as Scott swallows Ryan's meat to the base. Scott stand up in front of Ryan and Ryan pulls down Scott's suit. With Scott bent over the lounge chair, Ryan Spread's Scott's fuzzy blond butt cheeks and rims his tight, pink hole. Eager for more, Ryan mounts Scott from behind and fucks him doggy style. They move to a sit fuck, and Scott's ass stretches around Ryan's huge cock. Using his muscular legs, Scott raises and lowers himself on Ryan's massive tool. Flipping Scott over, Ryan fucks him in missionary position until he can't hold back any longer. Ryan moves forward and blows his load right in Scott's open mouth. Jerking his hard cock, with the taste of Ryan's cum on his lips, Scott busts his nut on his blond treasure trail.

WATCH THE SCENES NOW AT:
FALCON STUDIOS
Falcon Members can watch scenes from this Release anytime online.
DVD Releases debut online prior to DVD Release.