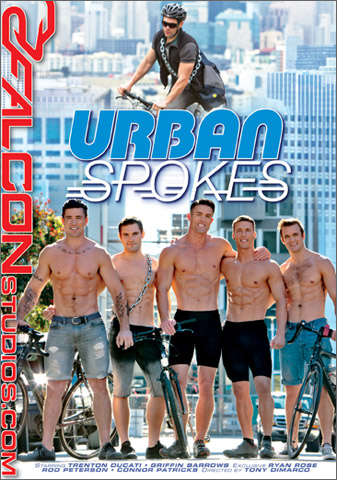 Studio: Falcon Studios
Directed by: Tony Dimarco
Year of Production / Release: 2017
Country of Production: U.S.A.

CAST:
Griffin Barrows
Brent Corrigan
Trenton Ducati
JJ Knight
Connor Patricks
Rod Peterson
Ryan Rose
FROM FALCON STUDIOS:
Welcome to 'Urban Spokes,' a secret sex club for San Francisco's hottest, horniest, most intense cyclists. Award-winning director Tony Dimarco captures the underground network of big-dicked, fast-moving bike studs who work hard and play hard. When Rod Peterson's chain breaks on a ride, Ryan Rose offers to help him fix it at the Spokes headquarters, but not before Ryan uses both of Rod's holes! Messenger Griffin Barrows is star struck meeting famous app developer Brent Corrigan, and Brent is so impressed by Griffin's riding abilities, he extends an invitation to join Spokes. Connor Patricks nearly collides with Spokes member JJ Knight, but instead of being angry at each other, they take the opportunity to collide JJ's massive cock into Connor's willing ass. On Friday night, Rod, Griffin, and Connor make their way down to the Spokes shop for their initiation ritual at the mercy of Spokes leaders Ryan Rose and Trenton Ducati. Who will be the newest initiate into this elite riding club? Go for a ride with the 'Urban Spokes' to find out!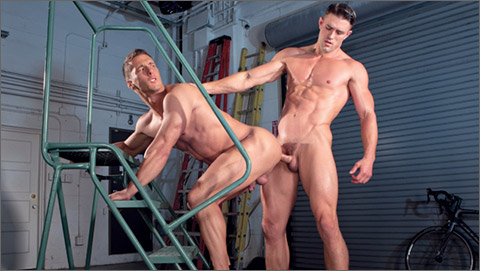 SCENE 1: Ryan Rose fucks Rod Peterson
Rod Peterson is cycling through the Presidio, enjoying the beautiful Pacific coastline of San Francisco. Suddenly, his chain breaks. Luckily for him, a good Samaritan named Ryan Rose offers to help. Ryan brings Rod back to the shop where Ryan runs a bike messenger service called 'Urban Spokes'. Their eyes meet, and suddenly they burst into frenetic kissing. Stripping off their spandex biking gear, Rod gets down on the ground and works his lips around Ryan's huge cock. Spit drips everywhere as Ryan thrusts his hips, pushing his meat deep down Rod's throat. Ryan gives Rod head too, then spins him around to eat Rod's perfect, pink hole. Ryan's saliva smears across Rod's furry butt, enabling Ryan to slide his cock right through. Looking over his shoulder, Rod's mouth drops open with amazement as he feels the intense pleasure of Ryan's cock filling him up. Moving to a seated position let's Rod show off his strong legs as he bounces on Ryan's stiff pole. Rolling onto his back, Rod puts one leg in the air and Ryan unleashes the full power of his energetic fucking. The intense sensations makes Rod blow his load across his washboard abs, and Ryan adds his own gushing stream to the mix. Sighing with satisfaction, Ryan explains that 'Urban Spokes' isn't just a messenger company – it's also a secret sex club where hot riders like themselves can hang out and get off!

SCENE 2: Brent Corrigan fucks Griffin Barrows
Bike messenger Griffin Barrows makes a delivery to an apartment and is star struck when he realizes his client is famous San Francisco app developer Brent Corrigan! Brent is impressed that Griffin got across town during rush hour in only 24 minutes. "If you have another package you'd like me to deliver," says Griffin, "I'd be happy to do that for you." "Let's see if you can impress me again," replies Brent. They hurriedly strip off their clothes and start making out. Griffin uses his mouth to service Brent's huge, hard cock. Brent returns the favor with long, deep, sucking on Griffin's tool. Brent bends Griffin over, parting his fuzzy ass cheeks and diving in face first. The slick spit makes it easy for Brent to slide his cock along the crack of Griffin's ass, and the temptation is too much to resist. He plunges his meat into Griffin's hole, and Griffin angles his ass up towards Brent, loving every second of it. Relocating to the couch allows Brent to sit down and have Griffin climb on for a ride. As sweat glistens on Brent's shoulders, a switch to missionary allows him to penetrate deep into Griffin's tight hole. With Brent still inside him, Griffin blasts his ripped abs with ropes of thick cum. As Brent jacks his cock, Griffin gets on his knees and opens his mouth to catch every spurt of hot spunk. After seeing how great Griffin is at riding a bike – and at riding a cock – Brent tells Griffin about a special club that he should definitely check out: 'Urban Spokes'.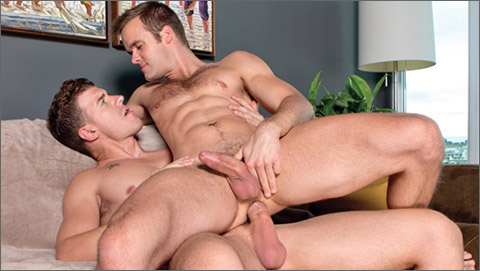 SCENE 3: JJ Knight fucks Connor Patricks
In downtown San Francisco, JJ Knight pedals away from the business school when he nearly collides with Connor Patricks. Luckily, Connor only has a few scrapes, and JJ invites Connor back to his place to clean up. Once inside, they take thing to the next level. JJ pulls Connor close for a kiss, which sets off an instant chain reaction. Their clothes come off, Connor drops to the floor, and JJ pushes his gargantuan member down Connor's throat. After rubbing their cocks together, JJ eats Connor's ass, using his tongue and his fingers to push spit directly into Connor's tight, pink hole. With Connor in doggy style position on the couch, JJ presses the head of his cock between Connor's ass cheeks. Once he's all the way inside, he starts picking up speed, stretching Connor's hole wide with intense thrusting. In one fluid motion, JJ picks Connor up and spins around, landing in a seated position on the couch with his cock still inside Connor's ass. Connor shows off his powerful legs, using them to lift himself up and down while riding JJ's megacock. With his rod filling Connor's hole, JJ reaches around with his right hand and strokes Connor off, causing him to shoot a massive load. JJ works his cock until his cum explodes all over his chest. As they lay together on the couch, JJ tells Connor to check out 'Urban Spokes', a club full of hot gay cyclists who like to ride bikes and ride each other.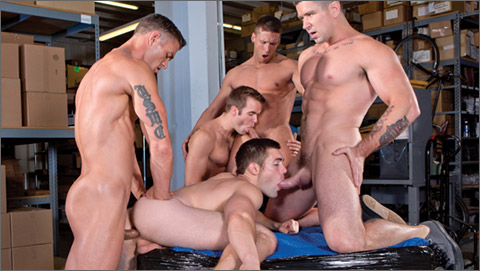 SCENE 4: Trenton Ducati, Connor Patricks, Ryan Rose, Rod Peterson fuck Griffin Barrows
t's been a busy week of recruitment for the members of 'Urban Spokes', an elite club of San Francisco's hottest gay cyclists. Three new recruits arrive for initiation into the club at the hands of intimidating club leaders Trenton Ducati and Ryan Rose. Whoever performs best gets the chip that signifies membership into the club. Stripping off their clothes, Connor Patricks, Rod Peterson, and Griffin Barrows present themselves to the whims of Ryan and Trenton. Rod makes out with Ryan, then lowers himself to the ground to suck Ryan's cock. Griffin and Connor tag team Trenton's hefty cock, taking turns with oral service. Trenton's abs flex as his hips thrust his cock forward. Rod switches with Griffin, and Ryan grabs the back of Griffin's head guiding it deeper and deeper onto Ryan's hard cock. Taking things up a notch, Griffin jumps up on a table, opens his mouth, and swallows Ryan's cock upside down. Trenton spreads Griffin's legs and buries his face in the tight, pink center. As Ryan and Connor suck Griffin's cock, Trenton and Rod take turns rimming Griffin's hole. Ryan sucks both of Griffin's low-hanging balls into his mouth as Rod and Connor press their tongues deep into Griffin's ass. With Griffin's hole totally wet and slick, Trenton thrusts inside with his big, girthy cock. Griffin moans as Trenton's intense pumping stretches his hole wide and deep. Ryan holds Griffin's feet high in the air, pressing his cock and balls against Griffin's face at the same time. When Ryan's ready to take a turn, Griffin gets on his hands and knees, and Ryan unleashes a brutal doggy-style pounding that has Griffin screaming for more! Ryan's big balls slap against Griffin's ass with each powerful thrust. Rolling onto his back, Griffin lifts his legs in the air again for Trenton's pummeling cock. Ryan strokes his cock as he kneels over Griffin's face. Connor is the first to cum, shooting his cum stream across Griffin's torso. Rod busts his nut on Griffin's pecs, and Ryan lets loose with a massive burst that falls across Griffin's lips. With Trenton still inside him, Griffin dumps his hot load onto his stomach. Pulling out, Trenton strokes out a thick load that drenches Griffin's cock and balls. As Griffin lays back, covered with four loads, Trenton throws the chip on his chest: "Welcome to the fucking club!"

WATCH THE SCENES NOW AT:
FALCON STUDIOS
Falcon Members can watch scenes from this Release anytime online.
DVD Releases debut online prior to DVD Release.