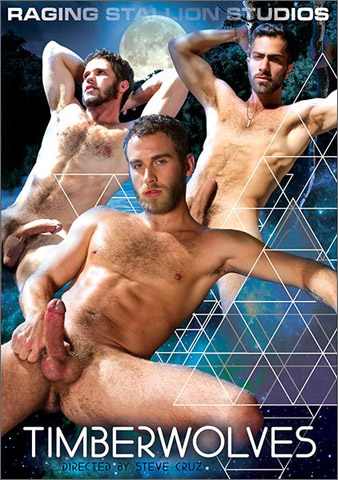 Studio: Raging Stallion
Directed by: Steve Cruz
Year of Production / Release: 2013
Country of Production: U.S.A.

CAST:
Boomer Banks
Aleks Buldocek
Tommy Defendi
Jimmy Fanz
Marcus Isaacs
James Jamesson
Adam Ramzi
Shawn Wolfe
INFORMATION FROM RAGING STALLION:
Sexual animals are walking among us, Timberwolves in men's clothing. In Timberwolves, Award-winning director Steve Cruz prepares your hole, not your soul, for the erotic possibilities in this hairy, hair-raising thriller. This forest harbors dark secrets. That might explain why the sleepy mountain village in Timberwolves posts "Missing" signs with the man in the photo warning tourists that "The end is now!" Beware because these furry studs' sexual hunger will make you their next victim. No one can be really sure if they are next to be preyed upon, but that doesn't keep this hairy cast from following their erotic desires for a hot fuck. Boomer Banks' cock is champion in size, and he looks forward to fishing "The Bend," but he throws caution to the wind when Marcus Isaacs reels him in with a hot tub invite and a hot ass. The big one didn't get away. Tommy Defendi's warnings convince handsome hiker Adam Ramzi to abandon backpacking and follow Tommy home for a sizzling hookup. Superstar Shawn Wolfe plays it safe, connecting with bearish Aleks Buldocek in a bar. Is Shawn's howling supernatural, or is it a product of the intense, rugged sex he shares with Aleks. Jimmy Fanz's animal attraction makes anyone want to eat him up. Mountain Man James Jamesson gets to do so when he finds Jimmy in the woods, disoriented by "magic brownies," and carries him home to ensure his safety — and James' sexual satisfaction. They say, "don't be afraid of the big bad wolf," but you never know which of these Timberwolves will make you their prey.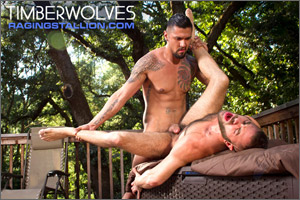 SCENE 1: Boomer Banks fucks Marcus Isaacs
Marcus Isaacs is so distracted by the bulge in Boomer Banks' jeans that he can't concentrate on the pool game. Every time he blinks, he thinks Boomer is naked. Is this some supernatural sexual trick? Rather than wait to see who sinks the 8-ball, Marcus suggests they "get out of here." Their ferocious sexual appetite lands them in a hot tub, necking hungrily. Both men are bearded and hairy, and they have heavily inked olive-skinned. Being the first to get naked, Marcus is the first to get his cock sucked. Boomer's agile tongue and fingers work over not only Marcus' cock, but his ass, armpits, nipples and balls. Marcus' abs ripple like the water in the hot tub as Boomer sucks. His head bobs and his chest heaves. Boomer is one of the biggest-dicked performers of all time, topping out at over 10 fat uncut inches. Marcus nearly chokes himself trying to swallow it all, and he succeeds in making most of it disappear. But, his hairy hole longs for Boomers cock. When Boomer delivers it, Marcus eyes bug out and his jaw drops … and they stay that way through an intense fuck until Marcus spurts jets of jism across his torso. Boomer licks up all the spooge and shoots his own load in Marcus' mouth, then they swap cummy kisses.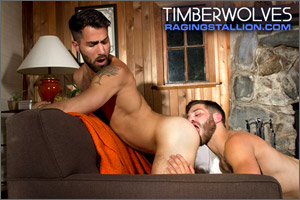 SCENE 2: Tommy Defendi fucks Adam Ramzi
Tommy Defendi wants to bone Adam Ramzi, but he isn't quite sure if Adam's up for it. While changing his clothes, Tommy gauges Adam's reaction. Adam clearly pretends not to look as Tommy scratches his exposed balls and gives his cock a tug. But Tommy knows that Adam's game, and he bounds over to Adam, grabs him by the throat and plunges his tongue into Adam's mouth. Their cocks rise to the occasion. Tommy's massive meat grows fully erect, and Adam's sizable piece follows suit. As they kiss, their hands reach down to grasp each other's hard ons. Both men are bearded and furry. Adam's head moves in circles when he sucks Tommy's huge cock and takes in his balls. When it's Tommy's turn to suck, he closes his eyes and every inch of Adam's cock vanishes. Meanwhile, Tommy humps Adam's leg like a horned up canine until it's covered with precum. Adam turns tail and bends over to offer his ass, which Tommy spanks, while using his mouth and tongue to work Adam's cock, balls, taint and hole. When Tommy flips onto his back, Adam rides him, lowering his toned torso and freshly basted hole over Tommy's rigid dick. They fuck, kiss, fuck some more and finally shoot well-earned loads. The velocity of Tommy's shot makes you wonder if he's even human.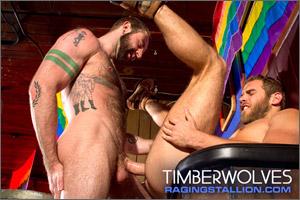 SCENE 3: Aleks Buldocek fucks Shawn Wolfe
Aleks Buldocek and Shawn Wolfe eye each other in the murky light of a gay bar nestled in the woods. They are shirtless, and both have torsos covered with hair. Their hands grope and squeeze their crotches until it's clear each man has a serious boner in his pants. Aleks makes the first move, crossing over to Shawn giving him a bear hug. Shawn runs his fingers through Aleks' chest hair while Aleks unfastens Shawn's pants. Aleks holds Shawn's cock, then he sucks it and rubs it on his beard marking his territory. Aleks' cock juts stiffly skyward. Shawn earns praise by slurping it down expertly. Aleks has Shawn over a barrel. Literally. He invades Shawn's hole in evenly spaced thrusts, pulling his cock all the way out and ramming it all the way back in, in a single stroke so hard that the barrel rocks. Sean's ass is dripping, and they move to a padded bar stool and Aleks folds Shawn into a ball and continues to pound his ass. It's almost inhuman the way they fuck until their balls boil and they spew their thick loads.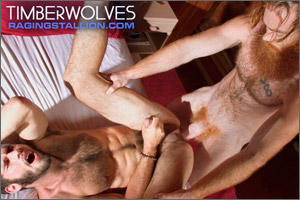 SCENE 4: James Jamesson fucks Jimmy Fanz
Jimmy Fanz displays maximum fur as he tangles with James Jamesson on an iron bed. Jimmy's devilish grin says he's looking forward to getting ravished by this mountain man whose hair is long and whose full red beard reaches the middle of his chest. James rolls Jimmy onto his tummy, going straight for his ass, giving Jimmy's hairy hole a serious tonguing. Jimmy assists by curving one arm over his back and stretching another between his legs to finger his hole with both hands. James takes the cue and adds two fingers of his own, plus a thumb and some spit. They take turns prepping the hole for James' throbbing hard on that is set off by bushy, shockingly red pubes. All human inhibitions slip away as they quickly turn into animalistic fuck machines, with Jimmy bouncing on James' red bush milking James thick hard cock with his hole. James topping is like watching the mating of wild beasts, aggressive and rough while effortlessly switching positions from doggy to sideways to missionary. Their aggressive momentum makes the bed creak, while Jimmy's cries become a crescendo that peaks when his cock spews jism across the bed. James cock is bigger and harder when he pulls it out that it was when he stuck it in and it erupts with unnatural intensity.

WATCH THE SCENES AT:
RAGING STALLION'S MEMBERS SITE
Members at RAGING STALLION'S MEMBERS SITE can watch these scenes and download extensive Photo Content from this production.
PURCHASE THE DVD AT: RAGING STALLION STORE
GO TO: RAGING STALLION'S FILM PAGE FOR THIS RELEASE