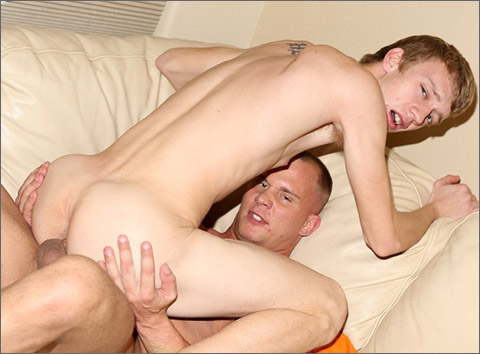 Studio: Raw Castings
Directed by: Bailey
Year of Production / Release: 2016
Country of Production: U.S.A.

CAST:
Austin Andrews
Kyle Reese
INFORMATION FROM RAW CASTINGS:
Kyle has just flown in, and he is getting a ride to the studio from his agent. He gets grilled about his background. Kyle is gay, but being from a small town in Kansas, he doesn't have much experience. He is definitely excited to get into the porn business, and he even told his parents that he was flying to Florida to give it a shot. Kyle says that he doesn't like younger guys, and that he usually goes for the older types. He usually bottoms, and he says that he likes being dominated. Kyle enjoys taking a pounding, and even in Kansas he had the opportunity to take a ten-inch cock once. Once he is in the studio, Zack is placed next to industry veteran Austin Andrews. Kyle has a goofy look, and he seems slightly nervous. Austin and the casting director don't waste any time getting into some action. Austin has Kyle bury his face into his crotch, and as he does it seems like Kyle is having religious experience. Kyle grabs Austin's cock and then pulls his pants down. He is eager to go down on Austin – this guy loves dick! Austin thinks he is a "good little cocksucker," and he grabs Kyle's hair to force him down onto his pole at a faster pace. Austin undresses and then hops up onto the couch to face fuck his new playtoy. Although Kyle is worried about the gagging, Austin tells him not to sweat it. Once it is time to try out Kyle's cornhole, Kyle bends over the couch with his knees on the floor, and Austin lubes up his fingers. As Kyle jerks off, Austin loosens him up. Once his hole is ready, Austin dives in bareback. Kyle seems to have a little problem with Austin's cock. After a minute though, he is already getting pounded. Even though he says that he isn't ready to get full on pounded yet, you wouldn't know it. Austin fucks this hick really good. Kyle moans, groans, screams, and whimpers. Austin doesn't give a shit: he is trying this new ass out! Only after Kyle begs for him to stop four times does Austin finally relent. Kyle rides Austin next, and although Kyle is on top, he still gets drilled hard. Austin isn't going easy on this newbie, that's for sure. He tells Kyle to lean back and picks up the pace. Austin's raw cock is blowing out this young guy's hole. Every twenty seconds Kyle whines about it, but this just makes Austin fuck him even harder. He puts him into missionary and holds him in place as Kyle begs for mercy. The director asks him to cum while he is getting fucked, and as Kyle explains that he thinks it is impossible, Austin chokes him out and then moves him to the floor for a pile drive. Austin keeps going despite the protests. For the grand finale, Kyle remains on the floor, upside down with his ass in the air. Austin asks two other newbies, who have never done porn either, to come out from behind the camera and hold Kyle's legs. The three newbies all look like they are scared shitless about what is going down in the studio. Austin pile drive Kyle some more before he drops a load into his mouth. He then lets Kyle lick his dick clean. Kyle's mouth and face are covered in jizz. The director makes Kyle get hard and cum, which he does well. He nuts on himself in no time with Austin's encouragement. Another successful Raw Casting!

WATCH IT AND MORE: RAW CASTINGS
On-Line Only Presentation. Watch Streaming online.
Members can watch this and a host of other films.