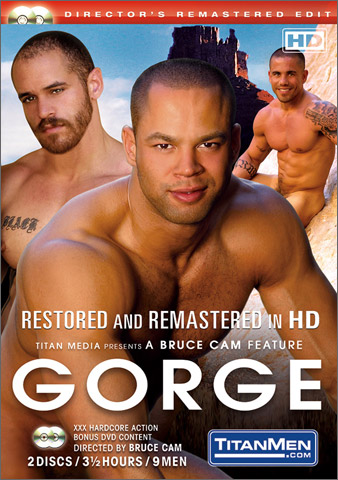 Studio: Titan Media
Directed by: Bruce Cam
Year of Production / Release: 2002
Country of Production: U.S.A.

CAST:
Ray Dragon
Rick Hollander
Ben Jakks
Carlos Marquez
Jake Marshall
Carlos Morales
Dred Scott
Chad Williams
Matt York
FROM TITAN MEDIA WEB SITE:
Go ahead and gorge yourself on this triple whammy. Master director Bruce Cam's yearly outdoor feature brings leather legend Ray Dragon back to the screen, unforgettably paired with TitanMen's legend-in-the-making, Dred Scott. After a scene crammed with stunning, sweaty reversals, these monumental guys are joined by seven other rough-and-rugged TitanMen on the towering cliffs of the upper Grand Canyon — a primitive, majestic setting that's the embodiment of TitanMen masculinity. In three hours of unusually ardent man-on-man action, the men drench the gritty wilderness with spit and piss, and work their cum onto sex-smeared bodies. A trio of backpackers, including popular star Carlos Morales and muscle stud Ben Jakks, wallow in nasty flip flop fucking. Dred gluts himself on hefty, salt-n-pepper haired daddy Jake Marshall. And in a fucking deluge, Ray pummels bucking charmer Matthew York. The Gorge DVD is stuffed with bonus extras, including two Behind the Scenes documentaries, with a Jake Marshall solo in the "Road Trip", plus additional sex scene "warm ups" and a watersports chapter. Gorge means satiation in the extreme.
(Remastered in 1080p HD and 16×9 widescreen) This version contains additional content, including watersports footage. One of the most majestic, gorgeous and stunning pieces of gay adult filmmaking the genre has ever seen. Easily director Bruce Cam and the Titan team's crowning jewel, it's one of the most positive, powerful and hot as hell portrayals of gay sex ever. It may even be the movie of the year. Our full review begins below… Once in a while a movie comes along that's so hot you need asbestos gloves just to handle the case. Welcome to the pinnacle of TitanMen's productions; it doesn't get better than this. If David Lean made porno it would look like this. Just throw away all your other titles. This is the only one you'll need from now on. As soon as the credits roll you'll know this is nothing but "high end." It's sumptuously photographed with an almost Oscar-winning high definition camera-style, highlighting the natural beauty and dark clay reds of the cavernous rock of the Grand Canyon, perfectly complementing the guys' sculpted frames. No plucked and pampered bodies here, thank you very much; these guys are big, tattooed and hairy, all-over-tanned and just plain fucking horny fuckers. Put your bibs on, let's gorge!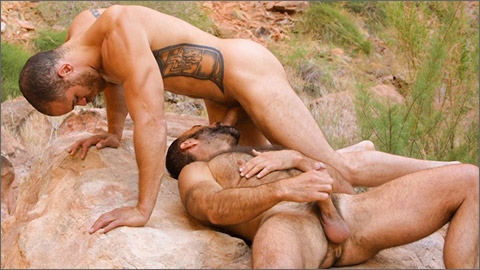 SCENE 1: Dred Scott & Ray Dragon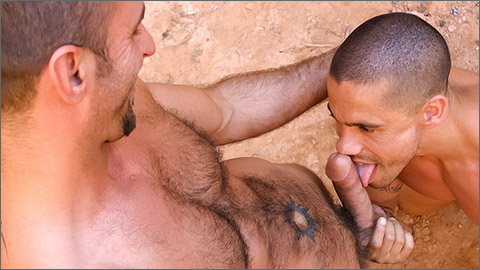 SCENE 2: Chad Williams & Carlos Marquez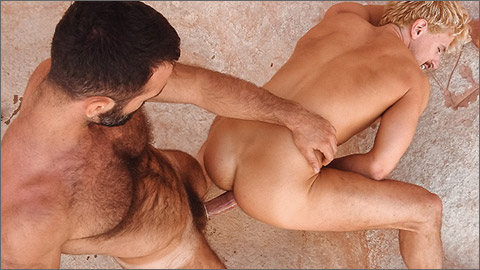 SCENE 3: Dred Scott, Matthew York, Ray Dragon & Jake Marshall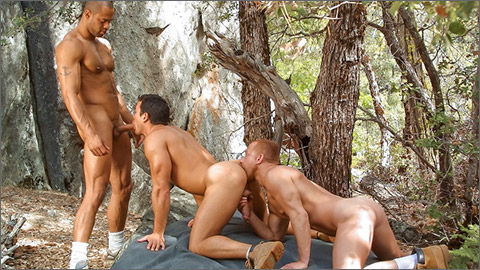 SCENE 4: Carlos Morales, Ben Jakks & Rick Hollander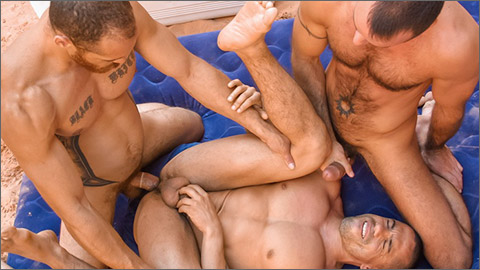 SCENE 5: Dred Scott, Chad Williams & Carlos Marquez

MORE INFO, PREVIEW OR WATCH RIGHT NOW:
TITAN MEDIA
Scenes Premier online prior to DVD release and are available to view anytime in the Member"s Area.
Members can watch scenes from almost all Titan Media releases anytime online.