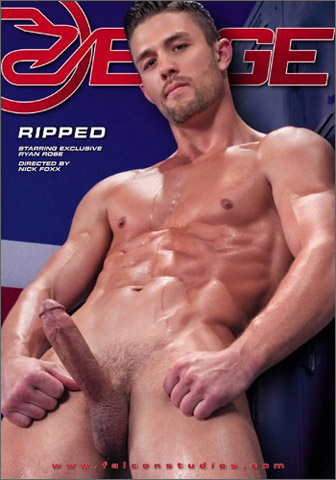 Studio: Falcon Studios / Falcon Edge
Directed by: Nick Foxx
Year of Production / Release: 2015
Country of Production: U.S.A.

CAST:
Gabriel Cross
JP Dubois
Dorian Ferro
Addison Graham
Sebastian Kross
Ryan Rose
Gavin Waters
FROM FALCON STUDIOS:
Getting 'RIPPED' isn't the only thing that happens in the gym! For these muscled studs, the gym's locker room is a sexual playground where they have blazing hot sex: the reward for all the hard time spent in the gym, sculpting their bodies for maximum attraction. Director Nick Foxx takes seven pumped up studs and pairs them to perfection in this Falcon Edge locker room fuck fest. Ryan Rose may be the most ripped of the bunch. His magnetic personality and hot body provoke hard-ons from across the room, and JP Dubois is the lucky stud Ryan targets for a flip-fuck. Another flip follows when handsome Addison Graham puts a locker room bench to intimate use with compact, muscle-packed Gabriel Cross. Gavin Waters scores the prized ass of Dorian Ferro, whose hot muscle complements his body hair and whose hole is at its best when being packed and stretched. Gabriel Cross comes back for more and catches the wandering eye of stunning Sebastian Kross, whose nuts are ready to bust for a hot stud. Get 'Ripped' with seven iron pumping studs who get horned to the max in this locker room where the let it all hang out and hit it hard.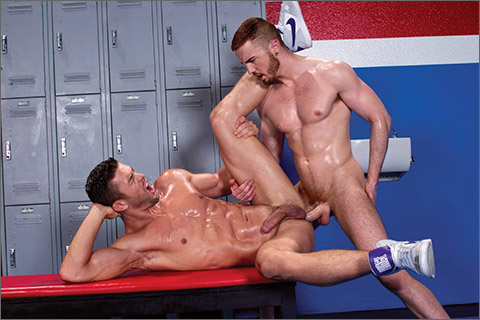 SCENE 1: JP Dubois & Ryan Rose flip-fuck
Exceptional stud JP Dubois' sexy Scots accent can't be heard, because when he's not grunting and groaning, his mouth is filled with some part of Ryan Rose's 'Ripped' anatomy. JP has a buzzed head, full beard and mustache, and sparse chest hair. Ryan's smooth torso is as tan and ripped as ever, and it looks hard enough for bullets to ricochet off it. JP's is beefed up and he's got a rockin' chest too. The action takes place in a locker room, where the smell of sweat and jock straps is a powerful aphrodisiac. After lots of mutual muscle worship, JP sucks Ryan in deep gulps with lots of spit. Ryan slides a finger in and out of JP's tight ass, causing the blue mesh of JP's jock strap to swell. Ryan yanks out JP's cock, plays with the foreskin, and sucks it, running his tongue around the balls, across the taint and up to JP's hole. He stretches the hole with two fingers from each hand, reams it with his tongue, then fucks it. Then it's Ryan's turn to get his hole stretched when JP wants to top. Ryan's cum flies in all directions, and JP scoops it up and feeds it to both of them, adding his own load is a straight shot to Ryan's mouth.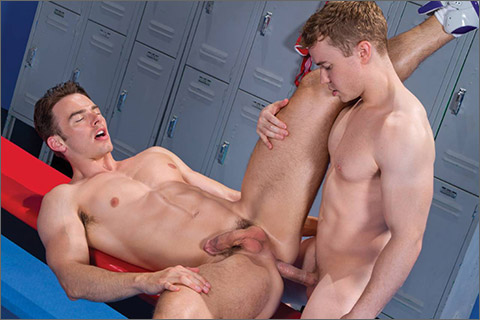 SCENE 2: Gabriel Cross fucks Addison Graham
Dark-haired dreamboat Addison Graham and gymnast-bodied muscle-boy Gabriel Cross perch knee-to-knee and nipple-to-nipple on a bench in the locker room, making out. Gabriel's smooth, pale body is quivering with excitement. Hands and mouths explore each other's sexually eager young bodies. When the lure of Addison's cock becomes too tempting to resist, Gabriel grabs it and puts it in his mouth. They swivel into a sixty-nine position. Gabriel kneels and offers his plump buns to Addison's probing tongue and penetrating cock. Addison lies on the floor in a shoulder stand, spreading his legs ordering Gabriel to 'stick it in me.' Their legs make an enormous 'X' as Gabriel plunges his cock repeatedly into Addison's hungry hole. Gabriel leans over for a kiss, then they move to the bench, jacking their hung cocks and encouraging each other to shoot heavy, creamy loads. Gabriel laps up Addison's cum and lets it drip back into his mouth, adding his own jizz seconds later.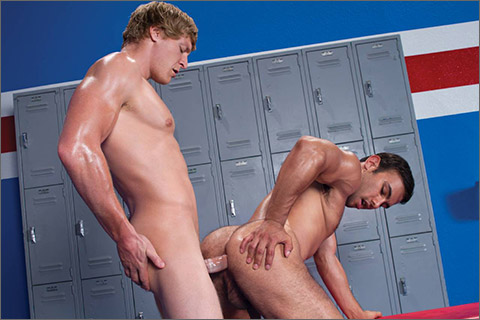 SCENE 3: Gavin Waters fucks Dorian Ferro
Lean and athletic Gavin Waters is readily on his knees sucking the cock of sun-kissed stud Dorian Ferro. Gavin licks his way to a standing position, slurping up the salty perspiration that glistens on Dorian's chest. They slap their uncut cocks together, then Dorian stoops to give Gavin a brief but deep blow job before giving Gavin his ass. They move in tandem, in a repeating cycle of push-withdraw-push back. Dorian's hole moves in every direction as he bounces on Gavin's throbbing cock. Gavin's hefty load shoots across the room in rapid spurts. Dorian captures the last of them in his mouth as he shoots his own load onto his abs.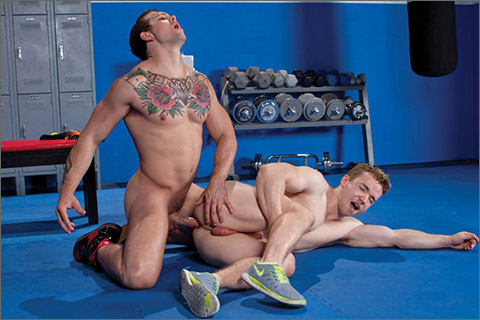 SCENE 4: Sebastian Kross fucks Gabriel Cross
Sebastian Kross is showing off his hard earned physique to gym-buffed Gabriel Cross. Hands roam as they kiss, and cocks leap to erection in the confines of their jock straps. Gabriel zeroes in on Sebastian's pits with broad, sweeping strokes of his tongue. Then he kneels, peels off Sebastian's jock strap and inhales his cock to the base. Gabriel wraps his hunky limbs around a massive exercise ball, presenting his scrumptious bubble-butt. Wasting no time burying his face, Sebastian devours the hole and Gabriel assists by reaching back to spread his glutes. Abandoning the ball for the stability of the floor, Gabriel lies spread-eagled and Sebastian drives his cock into him in long, slippery strokes. Gabriel rolls onto his side, then stand and grabs a punching bag for support while Sebastian pummels him with abandon. Sebastian delivers his built-up load directly to Gabriel's throat and Gabriel massages his own cum into Sebastian's rippled torso.

WATCH IT NOW AT:
FALCON STUDIOS
Falcon Members can watch scenes from this Release anytime online.
DVD Releases debut online prior to DVD Release.