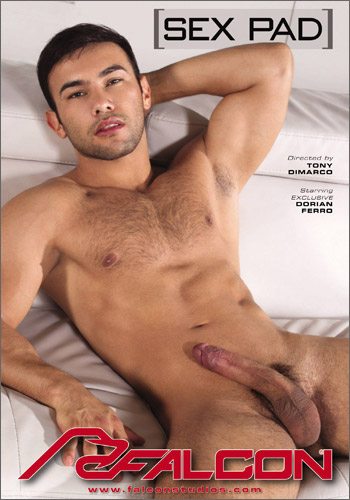 Studio: Falcon Studios
Directed by: Tony Dimarco
Year of Production / Release: 2015
Country of Production: U.S.A.

CAST:
Nicoli Cole
Tom Faulk
Dorian Ferro
Colt Rivers
Ryan Rose
Austin Wolf


[jwplayer mediaid="80948″]

FROM FALCON STUDIOS:
Welcome to the 'SEX PAD': an upscale high-rise apartment of discreet decadence, a sexual hideout where men go to hook up. They "play it forward" by passing the key onto their latest trick, so he can enjoy his next steamy, anonymous conquest there. Award winning director Tony Dimarco takes you into the 'SEX PAD' and captures the uninhibited action filled with visions of hungry cocksuckers, power bottoms, and tops who know how to make guys beg for it. Key holder Austin Wolf sheds coat and tie to get nasty with co-worker Nicoli Cole. Austin's massive, muscled physique and thick dick inspire Nicoli to assume any position that lets Austin fuck him deeper. Inheriting the key, wavy-haired Nicoli invites Ryan Rose up to the pad. Nicoli's hot gymnast's body calls for full body contact, deep penetration and massive cum shots. Handsome and masterful Ryan uses the key to bed Dorian Ferro, a stud whose ass makes any sexual encounter a quantum leap hotter. Dorian lures Colt Rivers to the pad for a blowjob swap with a stiff cum chaser. Colt snags longhaired, blond slacker Tom Faulk for the final tryst. Tom's cock is completely consumed in every sense by supercharged bottom Colt. Get your key to the 'SEX PAD' and watch see these six ripped studs let it all hang out and go wild.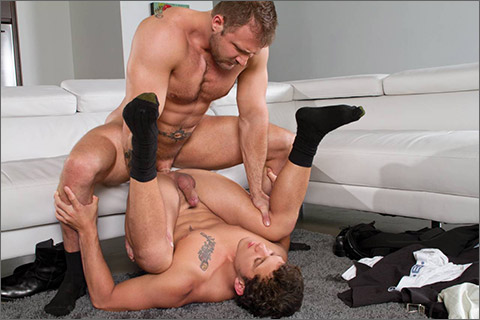 SCENE 1: Austin Wolf fucks Nicoli Cole
Instead of a power lunch with clients, sexy executive Austin Wolf opts for a power fuck at the 'Sex Pad' with hot copy-boy Nicoli Cole. Curly-haired Nicoli is on his knees and sucking as soon as the door shuts. The blow job turns into a rhythmic face-fuck that threatens to stain Nicoli's tie with cock slobber. Austin leads him by the hand to the sofa, and they shed their clothes on the way. Once Nicoli's ass is bare, Austin plunges two fingers in. Nicoli's smooth buns react as if they've just been switched on. He drops to his knees and arches his back. But before taking Nicoli's hole, Austin needs to taste it, and he grabs Nicoli's cock stealing a taste in between. He enlists gravity to get his tongue deeper, hoisting Nicoli upside-down until he's resting on his elbows, then his shoulders. Nicoli is a sturdy man, but Austin's massive, hairy muscular body is up for the task. They fuck in four prostate-pounding positions, each working extra hard. Nicoli reaches behind to grab Austin's cock and spear his ass with it over and over. Their ejaculations paint their torsos with white-hot jizz, and Nicoli sucks the final drops from Austin's emptied cock.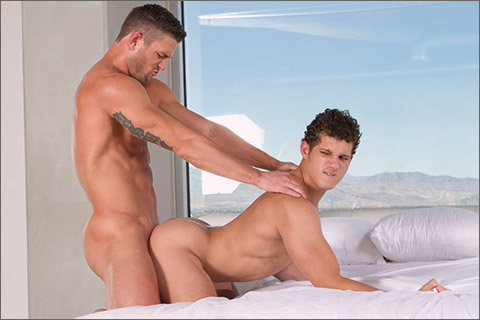 SCENE 2: Ryan Rose fucks Nicoli Cole
When Ryan Rose compliments the view from the Sex Pad, Nicoli Cole interjects, 'it's beautiful'… but he's more mesmerized by Ryan's luscious butt, not the sprawling view outside. Kissing, they instantly take each other's clothes off. Nicoli is eager to feast on Ryan's hard cock and lick his smooth torso. Ryan smiles, squeezes his pecs and pushes Nicoli onto the bed, sprawled out and ready to be taken. Ryan swallows Nicoli's cock fully and sucks on his balls. Nicoli rolls over and Ryan sticks out his tongue for Nicoli to rub against. Ryan mounts him doggie style, corkscrewing while Nicoli moans in tune to the rhythm. Two hot butts move sensuously, Ryan's sliding into Nicoli, and Nicoli's as it takes each stroke. Sounds of passionate man-sex ricochet off the walls. Nicoli aggressively detaches and flips Ryan onto his back, re-mounting on his cock and squeezing Ryan's throat. Screaming that he's 'gonna cum,' Nicoli expels a stream of hot cum onto Ryan's torso, then dismounts and jacks out Ryan's load for him, slurping up the semen and the sweat, then bending forward for one last kiss.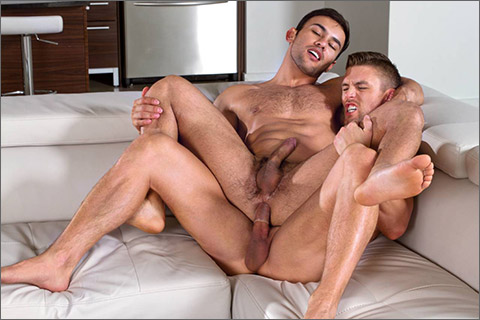 SCENE 3: Ryan Rose fucks Dorian Ferro
Ryan Rose ushers Dorian Ferro into the Sex Pad, both instantly peeling off clothes as they go. Dorian's deep chest and plump ass cheeks are sprinkled with hairs. Ryan is defined and smooth, and his stunning abs contract whenever he moves. Dorian's tongue is in constant motion as they kiss. He showcases his oral skills with deep suction, lip work and tongue maneuvers that leave Ryan's cock shiny with drool and pre-cum. When Ryan commands, 'Gimme that ass,' Dorian quickly presents his trophy-worthy butt. Ryan's tongue goes deep, and Dorian grabs the back of Ryan's neck to keep it there. Dorian bears down, clenching and relaxing his hole so fiercely that the muscles pop out on his torso. Then Dorian whispers, 'Fuck me,' and there's no stopping Ryan. Dorian's hole is wet and primed, and Ryan's cock slides in all the way on contact. Thrusting back with the entire weight of his body, Dorian wants it even deeper. Ryan knows the score, and ups the ante, slamming Dorian so hard and fast and fanning the flames of both their eager lust. It builds and it swells until both of them are completely consumed they can't hold back their ultimate orgasms any longer. Dorian unloads first, and then submerges his tongue into Ryan's hole as Ryan shoots from wall-to-wall. As they get dressed after their romp, there cocks are still hard from the intense action they shared.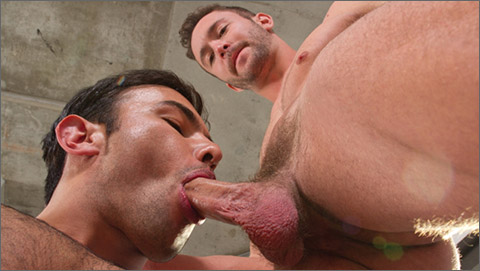 SCENE 4: Colt Rivers and Dorian Ferro
Colt Rivers cheerfully follows Dorian Ferro to the Sex Pad, hoping to get up close and personal with Dorian's delicious butt. They strip and make out in front of a high-rise window with a panoramic view that can't compete with the view of Dorian's furry and muscular body. An exchange of blow jobs, with plenty of lips, mouth and tongue, ensures that both cocks are at their hardest. They joust with their cocks, aligning them one on top of the other. Colt has broken out in a sweat and he's sucking with such frenzy that Dorian shudders and cums in his mouth. Then Dorian aims to make Colt do the same, sucking and working the shaft of his cock until it spurts. Colt's orgasm strikes Dorian squarely in the chest, then he clasps the head of Colt's cock in his mouth to catch the final spurts as cum and drool run down his chin. Dorian licks up every drop and shares the taste with a deep tongue kiss.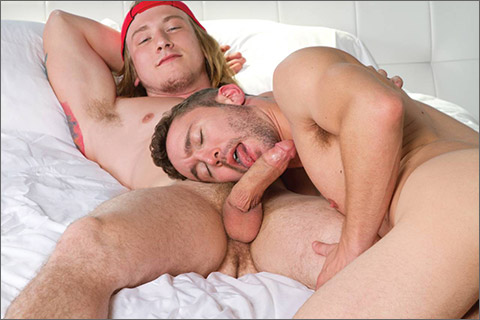 SCENE 5: Tom Faulk fucks Colt Rivers
Colt Rivers brings skater-hunk Tom Faulk to the Sex Pad for a hot fuck. Tom has scruffy facial hair, a shaggy blond mane that cascades to his shoulders and pubes that match his flowing locks. Tom is completely content in letting Colt pig out on his juicy cock. Colt, who's smooth and athletic, swallows the whole fat cylinder expertly. Coming up for air, he lies full-length on Tom, grinding hips to hips and lets Tom suck the cock juices off his tongue. Then, Colt flips Tom onto his belly and attacks his hole with the same oral intensity. The hairiness of Tom's crack contrasts with his smooth chest and back. Colt may be in charge, but Tom's the top, and Colt makes sure his hole gets the pounding he wants. They fuck in doggie variations until Colt collapses face-down on the bed. He saves enough energy to flip over for the home stretch, planting the soles of his feet on the sides of Tom's waist and blasting a load across his abs. Tom says, "I feel your ass grip my cock'" as he pulls out and shoots his creamy load all over Colt's face, shoving his cock in Colt's mouth for the final drops.

WATCH IT NOW AT:
FALCON STUDIOS
Falcon Members can watch scenes from this Release anytime online.
DVD Releases debut online prior to DVD Release.