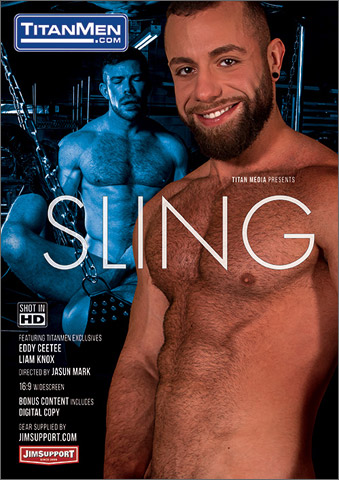 Studio: Titan Media
Directed by: Jasun Mark
Year of Production / Release: 2017
Country of Production: U.S.A.

CAST:
Eddy Ceetee
Liam Knox
Alex Mecum
Adam Ramzi
Jason Vario
FROM TITAN MEDIA WEB SITE:
Lie back, put your feet up and grab on to those chains… this is gonna be a fast and furious ride. A sex shop warehouse and its superior Sling leaves its playful employees and customers — including TitanMen exclusives Eddy CeeTee and Liam Knox — begging for more.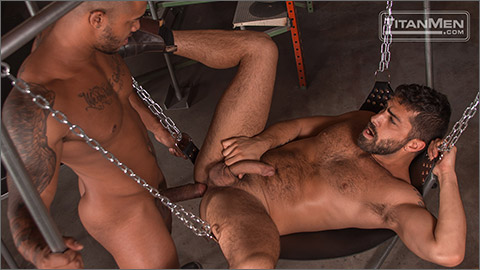 SCENE 1: Jason Vario fucks Adam Ramzi
Adam Ramzi has a package for warehouse stud Jason Vario, who tells the deliveryman that they make play gear. "Like for playgrounds?" asks Adam. "No," laughs Jason, leading him to a sling. "Think a little more adult." Jason deep throats Adam's uncut cock, which bursts out of his uniform. Adam bends over for a kiss, beating the sucker's pecs with his dick. Jason slides off his overalls to release his monster, Adam gasping for breath as he worships it. Jason whips it on the sucker's face, Adam slapping Jason's huge pecs. Adam sits on a rim seat, their cocks rock hard as Jason tongues the quivering stud's hole. Adam sucks Jason as he gets eaten, then gets on all fours. Jason wraps his arm around the bottom, who grips it as he gets plowed ("It's so fucking big!"). Adam straddles the sling as he gets it doggie style, then gets on his back — his cock bouncing as Jason thrusts inside him. Jason jacks Adam's load out, then spurts on the bottom's beard.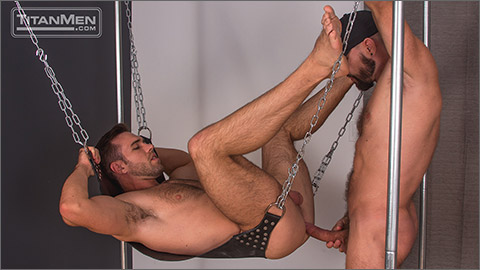 SCENE 2: Tex Davidson & Alex Mecum flip-fuck
Tex Davidson delivers a sling to Alex Mecum, the clean-cut jock staring at the blue-collar stud as they set it up. "Anything else I can do for you?" asks Tex, getting up close to the tall Alex as they rub each other's bulges. Tex releases his huge cock, Alex smiling as he drops to his knees: "Fuck, you're so big!" Tex fucks his face, repeatedly dick whipping the sucker's eager mouth. Tex unzips Alex: "Damn, you got a big dick," he says with his southern twang, turning his baseball cap around so he can suck it deep. Tex plants his bearded lips to the base, his own boner throbbing as he chokes on it. He pulls on Alex's low hangers as he spits on it, the two soon 69ing. Tex gets his furry ass tongued, then sits down on the jock… his own massive cock slamming against the top's tight abs ("Jesus!" Tex smiles as his ass muscles squeeze Alex's shaft). Tex rams Alex from behind, the bottom gripping the sheets. Alex gets in the sling, stroking as Tex's dick disappears inside him. The top dumps his big wad on Alex's smooth sac, the bottom unleashing his load.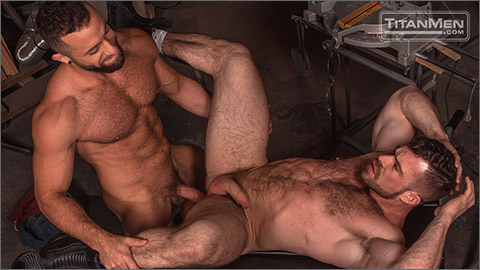 SCENE 3: Eddy CeeTee & Liam Knox flip-fuck
Store manager Eddy CeeTee heads to the factory to check out hot new designer Liam Knox who shows off a new fuck bench, hopping on to test it out. Eddy grinds his bulge against Liam's ass: "Looks good. How does it feel?" They rub each other's buff bodies and take off their tanks, kissing as their hairy pecs meet. Eddy releases Liam's cock, sucking the moaner deep. He gets pulled up for a kiss before Liam returns the favor grunting as he swallows Eddy's thick beauty ("Play with my balls!"). Liam bends over, offering his furry hole for Eddy's tongue ("Arch that ass up!"). Eddy pounds the verbal bottom from behind, Liam's tight ass rippling ("Gimmie that fucking dick!"). Liam turns over, his hard cock bouncing as Eddy fucks him fast. Eddy then offers his ass in the sling, gripping onto the chain as he gets owned ("You like that dick?"). The excited stud gets on his back, yelling "Keep fucking me! Fuck me hard!" as he strokes out his load, his sac sliding against Liam's hairy groin. Liam then dumps his hot load all over the bottom's cock.

MORE INFO, PREVIEW OR WATCH RIGHT NOW:
TITAN MEDIA
Scenes Premier online prior to DVD release and are available to view anytime in the Member's Area.
Members can watch scenes from almost all Titan Media releases anytime online.