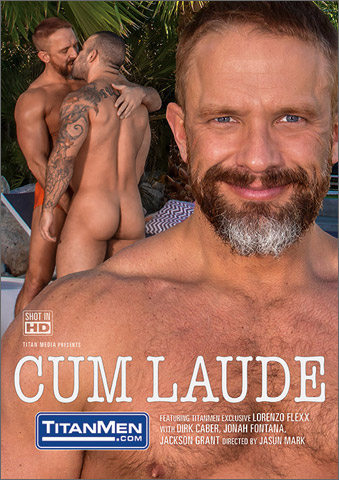 Studio: Titan Media
Directed by: Jasun Mark
Year of Production / Release: 2017
Country of Production: U.S.A.

CAST:
Dirk Caber
Lorenzo Flexx
Jonah Fontana
Jackson Grant
FROM TITAN MEDIA WEB SITE:
You've studied hard. Now it's time to work on your extracurricular activities. Join TitanMen exclusive Lorenzo Flexx and other star students as they get a special erective degree from their professor at a retreat where everyone gets to Cum Laude.
   Professor Dirk Caber is thrilled that Jackson Grant is graduating, taking advantage of the situation with a poolside flip fuck that passes with flying colors.
   Voyeurs Lorenzo Flexx and Jonah Fontana sport serious wood that needs immediate attention. After acing their oral exams, Jonah shows why he's top of the class.
   Who's the biggest man on campus? It's a close call as Jonah Fontana tracks down classmate crush Jackson Grant their sizable assets each making impressive cases.
   Lorenzo Flexx has been wanting to get inside professor Dirk Caber's pants since the first day of class. He finally gets his wish as their retreat comes to a close with one final hands-on lesson.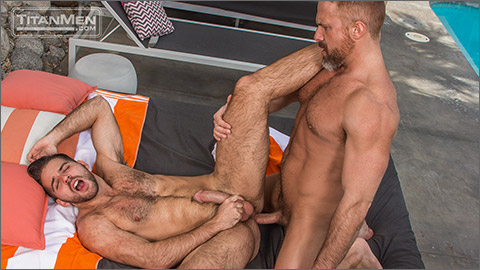 SCENE 1: Dirk Caber & Jackson Grant flip-fuck
Lounging by the pool, Jackson Grant is joined by professor Dirk Caber: "I knew you looked good under that suit and tie, but damn!" He smiles up at Dirk, whose cock pops out in the bearded stud's face. Jackson takes it to the root, Dirk smacking the sucker's hairy pecs. He pulls Jackson up for a kiss, unleashing the jock's big boner as his salt-and-pepper scruff tickles the hunk's nuts: "Fuck, you taste good!" Dirk eats him out and rams him from behind – then gets on his back. "You want some of this dick, don't you?" smiles Jackson, going deep as the bottom strokes his own steel shaft. They switch positions, Jackson yelling "Feed me that cum!" as his face gets doused.

SCENE 2: Jonah Fontana fucks Lorenzo Flexx
Voyeurs Lorenzo Flexx and Jonah Fontana grow huge wood. Jonah guides Lorenzo down to his big dick, slapping it on his face and spitting into his mouth. Jonah pulls him up, staring into Lorenzo's eyes as their noses touch, kissing him as they passionately embrace. Jonah fucks his face, then sucks Lorenzo's thick slab while fingering his hairy hole. Jonah munches him, stroking the sub's boner before pounding him from behind ("Gimmie that dick!"). The tattooed bottom sits on Jonah ("There you go! Ride that fucking dick!"), then gets on his back for more before shooting a thick load. "Open that mouth!" demands the top, who blasts a rocket onto Lorenzo's face.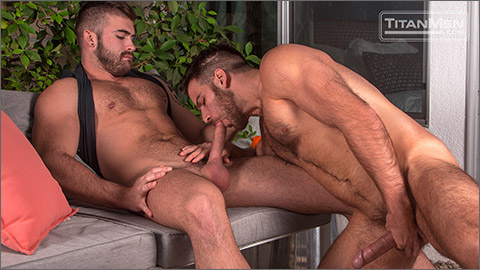 SCENE 3: Jonah Fontana fucks Jackson Grant
Anxious to get inside Jackson's shorts, Jonah grabs his own groin while chatting about their steamy encounters. Jackson strokes his big meat between his hairy legs, moaning "Choke on it! Spit on that dick!" as Jonah dives down on it, gasping for breath. Deep throat it! Jackson sucks the hung stud back, his hairy chest sliding against Jonah's boner as the sucker comes up for a kiss. Jonah spits on the verbal bottom's ass, taking him to the bedroom to fuck him doggie style (Take that dick!). Jackson sits on it, then gets on his back Jonah fucking the cum out of him before aiming his stream at the bottom's face, Jackson licking the load off the top's fingers.

SCENE 4: Dirk Caber fucks Lorenzo Flexx
A lounging Lorenzo catches the professor's attention from across the pool, eliciting a smile from Dirk. Lorenzo rubs oil on his own huge pecs, asking "Can you get my back?" Dirk obliges, the growing bulge in his swimsuit grazing Lorenzo's ass. Dirk helps himself, rubbing, fingering and tonguing Lorenzo's hairy hole before turning him over – feasting on his chest and cock. Lorenzo then makes Dirk's dick disappear, the professor moaning as his knob gets slobbered. Lorenzo's ass shakes as he gets slammed from behind, the bottom then sitting on Dirk before getting on his back – unleashing his load and then yelling "I want your cum!" before he gets a messy facial.

MORE INFO, PREVIEW OR WATCH RIGHT NOW:
TITAN MEDIA
Scenes Premier online prior to DVD release and are available to view anytime in the Member's Area.
Members can watch scenes from almost all Titan Media releases anytime online.