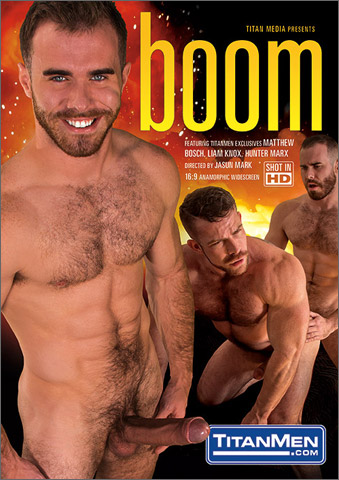 Studio: Titan Media
Directed by: Jasun Mark
Year of Production / Release: 2017
Country of Production: U.S.A.

CAST:
Matthew Bosch
Jack Hunter
Liam Knox
Hunter Marx
Adam Ramzi
Adam Thicke
Jason Vario
FROM TITAN MEDIA WEB SITE:
The hats aren't the only things that are hard as the men of Big D Construction return to the job. Watch their sticks go Boom as TitanMen exclusives Matthew Bosch, Liam Knox and Hunter Marx continue wrecking woodóand each other.
   At the construction site, Liam Knox can't keep his eyes of Matthew Bosch's bulgeówhich is soon banging both of his holes in a fast fuck that has the verbal bottom moaning like a man.
   Foreman Adam Thicke has a tool that Hunter Mark can't put down, the hairy stud's own jockstrap bursting at the seams before he gets his ass owned.
   A piss bucket brings workers Adam Ramzi and Jack Hunter together, the two worshipping each other's cocks before a fast and sweaty flip fuck leaves Adam's beard coated. Fresh from his fuck, Jack Hunter gets another round from hung and horned co-worker Jason Varioóa verbal boss who uses his thick hammer to pound the breathless bottom.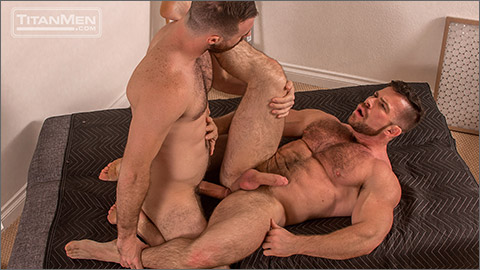 SCENE 1: Matthew Bosch fucks Liam Knox
While being shown around their latest project by Matthew Bosch, Liam Knox is instantly distracted: "Big D told me you had a big dick," says Knox. "But I didn't realize it was that fucking huge!" Matthew smiles: "You wanna see it?" Liam worships Matthew's beast, breathing heavy as he sucks. Matthew swallows the verbal stud's thick cock, then eats his jock ass before pounding him from behindóthe top's low hangers slamming against Liam's ass, the bottom staying rock hard. Liam sits down on Matthew and rides, his steel shaft slamming against the top's tight abs. Liam gets on his back, Matthew fucking a load out of him before shooting all over his hairy bod.

SCENE 2: Adam Thicke fucks Hunter Marx
At their latest renovation project, Hunter Marx is drawn to foreman Adam Thicke's bulge: "Jesus, does everyone at Big D have a big dick?" Adam smiles, grabbing his groin: "It's a job requirement." Adam whips out his beauty, tugging his foreskin as he shows it off. Hunter feasts on it, nibbling the fleshy hood. Hunter's cock bursts out of his jockstrap. Adam deep throats it, then munches on his hairy hole and fucks him doggie style. Getting Hunter on his back, the hairy top's big dick disappears inside him as he strokes the bottom while fucking him. He grabs hold of Hunter's hairy pecs, the two soon exploding on his furóHunter licking a drop of cum off his finger.

SCENE 3: Jack Hunter & Adam Ramzi flip-fuck
Adam Ramzi uses a piss bucket in front of construction bud Jack Hunter. They stroke each other, kissing deep before Adam wraps his bearded lips around Jack's tool. "Suck that big dick," moans Jack, guiding Adam's head down. Adam gasps for breath, Jack beating his dick on the sucker's mouth. Adam fucks Jack's face, the sucker chewing on his foreskin. Adam plants his beard in Jack's ass before ramming him from behind, the two then switching positions. "Give it to me slow," says Adam, who takes it deep. He gets on his backópropping up his boner for the top to stroke. Jack fucks a load out of Adam, then dumps a big wad all over his beard.

SCENE 4: Jason Vario fucks Jack Hunter
Catching Jack fresh from his fuck, Jason Vario asks: "Want some more?" He frees his huge meat, a spit strand connecting it to Jack's hungry mouth. "Choke on that," moans Jason as Jack gulps it up, spit dripping from his chin. "Let's see what you got," says Jason, marveling as Jack drops his jockstrap, "Jesus, big as I am!" He sucks him back, his nose planted in Jack's pubes. He turns Jack around and eats him, then slams him fast and hard from behind. Jack sits on it, his own dick smacking Jason's quad. Jason strokes the bottom as he rides, then gets him on his back. Jack squeezes out a big loadóthen gets a massive facial, nursing on Jason's cock after they kiss.

MORE INFO, PREVIEW OR WATCH RIGHT NOW:
TITAN MEDIA
Scenes Premier online prior to DVD release and are available to view anytime in the Member's Area.
Members can watch scenes from almost all Titan Media releases anytime online.