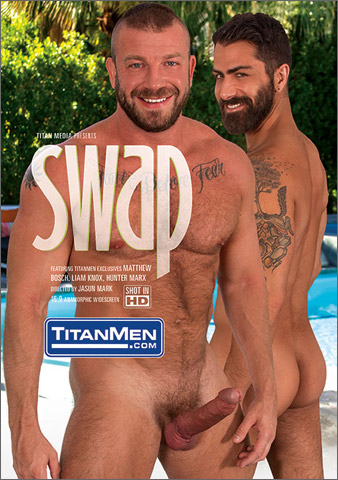 Studio: Titan Media
Directed by: Jasun Mark
Year of Production / Release: 2017
Country of Production: U.S.A.

CAST:
Luke Adams
Matthew Bosch
Tex Davidson
Liam Knox
Hunter Marx
Adam Ramzi
Steve Roman
Adam Thicke
FROM TITAN MEDIA WEB SITE:
Do you like to share? TitanMen exclusives Matthew Bosch, Liam Knox and Hunter Marx are among the generous studs anxious to Swap more than just smiles when open couples visit their friends for a fun getaway. Matthew Bosch proves to be accommodating when friend Adam Ramzi reveals his open relationship—and a desire to play with his host's big dick. Fresh from a workout, beefy buds Liam Knox and Steve Roman head to the shower for a wet exchange before Liam takes control in bed. Passions ignite when Tex Davidson and Hunter Mark show each other their beasty boners, the duo worshipping each other's manhood before Hunter happily offers his hairy hole. Diving into the pool, smooth jock Luke Adams distracts hairy stroker Adam Thicke—the two fucking each other's faces before Luke's ass gets slapped and slammed red.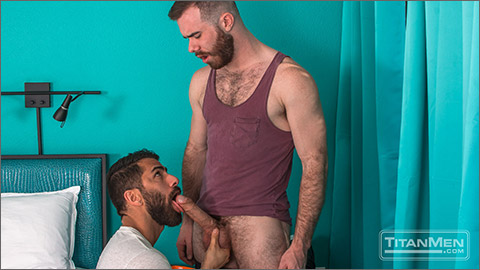 SCENE 1: Matthew Bosch fucks Adam Ramzi
As their partners head off to work out, host Matthew Bosch shows visiting friend Adam Ramzi to his room. But the distracted Adam has his eyes fixated on Matthew's groin: "Can I see it?" Matthew's massive uncut meat is quickly in Adam's eager hand. The bearded visitor wraps his lips around it, playing with the hairy jock's low hangers. He whips the sizeable shaft onto his chest, then slams it against his face. Matthew shoves him onto the bed and sucks him back. He eats him out, getting Adam to moan "Fuck me with that big dick!" He rams him from behind, then turns Adam over for more, their hairy groins slamming against each other. The sweaty Adam sits down on Matthew and rides, his own boner slamming against the top's chiseled stomach—so excited that he releases a big hands-free squirt onto the top, then takes a facial before stroking out his second load. With cum clinging to both of their beards, they share a final wet kiss.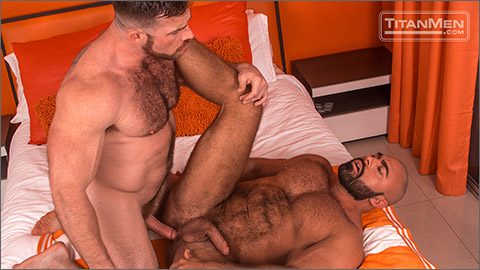 SCENE 2: Liam Knox fucks Steve Roman
Steve Roman hops in the shower—water cascading down every inch of his furry muscles. Beefy Liam Knox joins him for a kiss as their groins grind. He buries his face in Steve's massive pecs, bicep and pit as the two grunt. Steve pins Liam against the wall and licks down to his jock ass, spreading his cheeks and diving his tongue inside. Steve slurps the verbal moaner ("Suck those nuts!"), then offers his own cock—his fuzzy nuts caked in spit as he fucks Liam's face. In the bedroom, their boners touch as they kiss. Steve offers his hole, his deep voice moaning as he takes it. Liam fucks him fast, then lets the bottom take control—grinding his jock ass down on it. "You want more of this dick?" asks Liam, the bottom sitting his hairy ass on it. Liam plows him like a jackrabbit from below, Steve yelling "Harder!" as he grips the top's thick neck. Steve gets on his back, his pecs shaking as he gets pounded—his hairy groin soon coated in their cum.

SCENE 3: Tex Davidson fucks Hunter Marx
"I hear you're the one with the big dick," says Hunter Marx, rubbing Tex Davidson's jean bulge. Tex frees his meat, Hunter dropping down to worship it. He gets a dick whipping before spitting on it, Tex slamming his beast against Hunter's hairy pecs. Tex eats the stud, slapping and spreading his cheeks ("You like how it tastes? It's all yours!"). Tex slaps his ass, then turns Hunter around—the big boner soon inside the alpha's mouth, his nose and beard rubbing Hunter's groin. Tex spits on it and snaps it up, enraptured with Hunter's beauty. Hunter sucks Tex back, then sits on the top. The bottom's muscular ass squeezes the shaft as his boner bounces off Tex's bod. Tex rams him from behind ("Fuckin' own my hole!"), Hunter watching in the mirror and moaning "Yeah buddy!" as his boner slams against the bedsheet with each deep thrust. Hunter gets on his back, staring at Tex as he goes all in. Hunter strokes out a wad, then moans "Gimmie your load!" as he top dumps on Hunter's shaft—the bottom licking it up off his finger.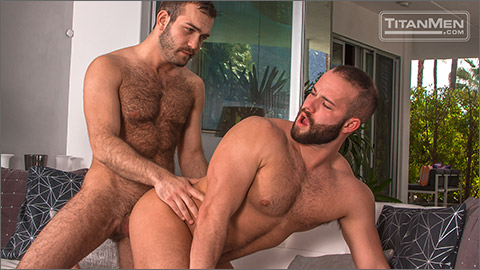 SCENE 4: Adam Thicke fucks Luke Adams
Stroking his cock, Adam Thicke gets distracted by smooth Luke Adams and joins him in the pool. Luke wraps his legs around the hairy stud, the two kissing before hopping out—Adam's thick, uncut piece dripping wet. "You're such a tease," smiles Adam as Luke shows off his backside, tempting his host. Luke feasts on Adam's pole, sliding his tongue under the foreskin. Luke beats it on his beard, deep throating Adam before straddling his chest—his smooth ass sliding against Adam's shaft. Luke fucks Adam's face, the sucker pinned against the pillow. He slaps his dick on Adam's tongue, then feeds him his smooth sac. Adam munches on Luke's hole, then takes him inside to feed him again—slapping his ass red as he fucks him doggie style. Luke sits on Adam, his own boner slamming up against his abs. The top gets Luke on his back, fucking the cum out of him before dousing his chest—Luke licking a drop off his thumb before feeding it to the top.

MORE INFO, PREVIEW OR WATCH RIGHT NOW:
TITAN MEDIA
Scenes Premier online prior to DVD release and are available to view anytime in the Member's Area.
Members can watch scenes from almost all Titan Media releases anytime online.