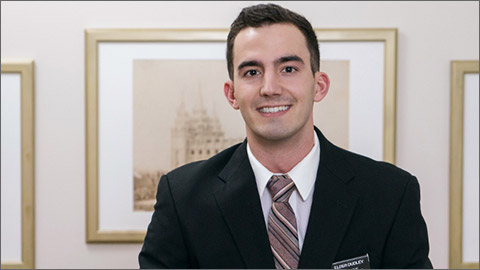 Studio: Mormon Boyz / MormonBoyz.com
Directed by: Paul Jackson
Year of Production / Release: 2016
Country of Production: U.S.A.

CAST:
Elder Dudley
Elder Ence
Elder Sorensen
President Nelson
President Oaks
INFORMATION FROM MORMON BOYZ:
Elder Dudley has been a full-time missionary for only a few months, but already the brethren have decided to summon him to the temple. The same things that have endeared him to the other missionaries have likewise drawn attention to him. His handsome face, killer smile, and gorgeous eyes make him a real knockout. He's a good natured kid with an incredible ass that looks great in in his tight-fitting suit pants.
   He had only been in the mission a few weeks when the brethren of The Order summoned him for initiation… and if he's lucky, ordination by insemination.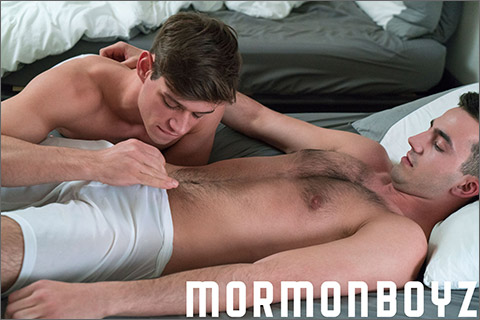 CHAPTER 8 – COMPANIONSHIP INVENTORY w/ ELDER ENCE
Shy but gorgeous Elder Dudley has had intense feelings for Elder Ence. And these feelings have been slowly building for weeks, to the point where now the feelings are unmistakably a crush!
   Before his mission Elder Dudley had a girlfriend at his farewell. She was there with his family when he went into the MTC, but a few months later she Dear John'd him with no explanation.
   A few days after he got dumped, he was recruited by the Brethren of The Order. Since then he's started having new and strange feelings. He even had a vivid dream where he and Elder Ence got married.
   Because Dudley has been a dutiful initiate, his mission president, a presiding authority in The Order gave the boy the option of choosing his mission companion at transfers. Naturally, Dudley jumped at the chance to request Elder Ence.


CHAPTER 7 – THE NEW NAME w/ PRESIDENT NELSON
One of the final secret rituals The Order performs on the hot young men undergoing initiation is the giving of the new name. A boy who reaches this step leaves his old identity behind and becomes his true, sex-loving self.
   Because the ritual involves the boy being fucked raw and drenched in cum, it can be painful and hard to endure. But the change that accompanies the ceremony is well worth it.
   As Elder Dudley understands it, your mom and dad give you one name at birth, but in the temple your new daddy gives you a secret, new name, your true name, the name you had before you were even born.
   Once Elder Dudley is given this name, he knows he must never tell it to anyone. Only he and the man who gives it to him will know it.


CHAPTER 6 – SECOND ANOINTING w/ PRESIDENT NELSON
When Elder Dudley's alarm goes off, he groans and hits snooze. But he's not alone in the bed — Elder Sorensen is sprawled out on his furry chest.
   Dudley is exhausted from fucking all night long, but he has an appointment with with his favorite Mormon muscle daddy, President Nelson, and he doesn't want to be late.
   He wakes Elder Sorensen up and the two boys hop in the shower together. Now that they've boned, there's no awkwardness at all between them. They talk and laugh and wash each other's bodies.
   Elder Sorensen soaps up Dudley's hole because he knows that's the part of the handsome boy President Nelson will be most interested in.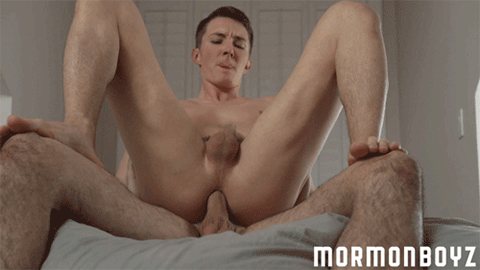 CHAPTER 5 – COMPANIONSHIP SPLITS w/ ELDER SORENSEN
Elder Dudley and Elder Sorensen have been very busy recently satisfying the sexual desires of the older men of The Order.
   Passed back and forth between the handsome father-figures, eager to please them and prove their worth, the boys are happy and exhausted.
   As eager as President Oaks is to continue the initiation process for the two extraordinarily handsome boys, he knows their tender holes could use a break.
   So he pairs the boys for the evening and sends them to get some rest in a missionary apartment.

CHAPTER 4 – INITIATION w/ PRESIDENT OAKS
President Oaks loves to perform the washing and anointing ceremony on the handsome boys selected by The Order.
   Of all the secret erotic rituals performed in the Mormon temple, it's the one with the longest tease.
   The missionaries like Elder Dudley who are lucky enough to meet him in the ordinance room have no idea what is coming.
   He tortures them with anticipation as the ritual slowly slides from innocent touching to hardcore sex.
   He finds it thrilling the way they surrender to him without knowing what's in store for them.
   He knows just what to say to a boy, just how to touch him, to make him do anything President Oaks wants.


CHAPTER 3 – WASHING & ANOINTING w/ PRESIDENT OAKS
Elder Dudley understood he was going to the temple for something very out of the ordinary; but was still caught off guard by the series of events that led to him on his back, being bred by a ripped priesthood leader with an enormous cock.
   The missionary didn't want to cum with the man's dick in his butt, and he fought the urge as long as he could.
   But eventually the hard pounding of that fat dick against his tender prostate had forced the boy's nuts to explode and spray his seed all over his hairy belly.
   The boy had been conquered. He wasn't sure if he was supposed to like being penetrated, or if it was natural for it to feel so good that it made him cum.
   But President Nelson wasn't angry. He pulled his still massively engorged cock out of the boy's velvety teenage hole, kissed him, and then told him to get cleaned up.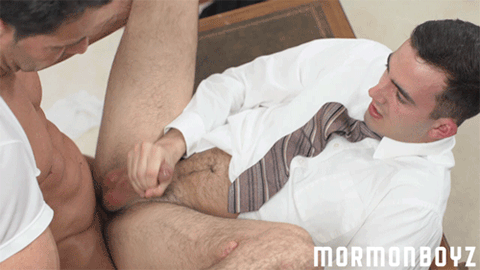 CHAPTER 2 – THE CALLING w/ PRESIDENT NELSON
Elder Dudley doesn't for one moment regret becoming a missionary, but he can't help thinking sometimes about all the fun other boys his age are having while he works his butt off, day in, day out. He knows that his buds from high school are going to college, having sex, and throwing wild parties.
   But Elder Dudley is a Mormon. Even though he was one of the most popular boys in high school, he has decided to sacrifice two years of his life to serve a Mormon mission, where he has to live by a strict set of rules, wear a suit all the time and miss out on all the sex his friends are having.
   As a handsome, athletic boy, Dudley has always gotten pretty much everything he wants. He was a starter on the basketball team. His teachers let him cheat on tests. He dated the hottest girls.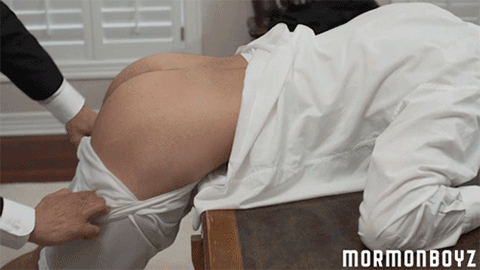 CHAPTER 1 – THE INVITATION w/ PRESIDENT NELSON
Elder Dudley's handsome face, killer smile and gorgeous eyes make him a real knockout.
   Dudley's kind nature and evident goodness are just as impressive as his incredible ass in his tight fitting suit pants.
   These qualities have not gone unnoticed. The other missionaries want to be around him. Every time transfers happen in his mission, the mission president gets special requests from the other missionaries hoping to be paired with him.
   Early on, his mission leaders recommended him for leadership positions.
   The same things that have endeared him to the other missionaries have likewise drawn the attention of the brethren.

WATCH OR DOWNLOAD THIS AT: MORMON BOYZ
On-Line Only Presentation & extensive photos from each scene.