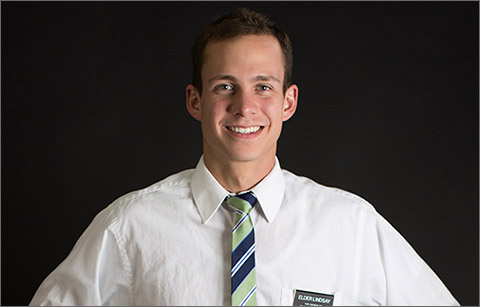 Studio: Mormon Boyz / MormonBoyz.com
Directed by: Paul Jackson
Year of Production / Release: 2015 – 2016
Country of Production: U.S.A.

CAST:
Elder Lindsay
Bishop Angus
Brother Daniels
Brother Johnson
Elder Ricci
Patriarch Smith
INFORMATION FROM MORMON BOYZ:
The first few weeks of Elder Lindsay's Mormon mission have been a fast-paced blur. It was practically yesterday that his family and friends gathered at his home as he opened his call and discovered where he would serve.
   Now that it's been a few weeks, he sometimes likes to recall that first night when he watched his companion strip down to his form-fitting Mormon garments, and it took all of his willpower not to get an erection then and there. His companion, Elder Ricci had turned off the light and crawled into bed, but Elder Lindsay could not sleep. He couldn't get the sight of his companion nearly naked out of his head.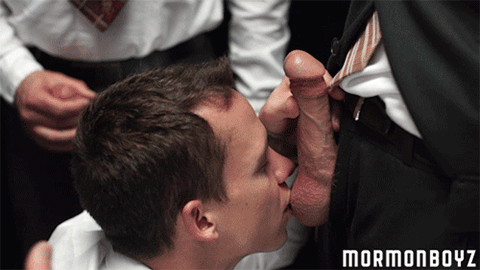 CHAPTER 14 – SETTING APART w/ Elder Ricci & Brother Johnson & Brother Daniels & Bishop Angus
Elder Lindsay has always been an eager initiate and today is no different. As he enters the Temple, to be set apart, he feels his erection already straining against his trousers.
   Where Lindsay's missionary companion, Elder Ricci, had his doubts about joining The Order, Lindsay had no problem surrendering to the Brethen, letting them fill his mouth and tight, young ass with their massive cocks all through his vetting and initiation.
   Bishop Angus whose thick muscular body, masterfully dominated Lindsay's holes during the inspection, even feels like a father to him, and he wants to make sure he stays a good young son and does everything he's told.
   Lindsay is especially grateful to Brother Johnson, the handsome ward mission leader who invited him to join The Order after discovering Elder Lindsay and Elder Ricci going at it in the church. Lindsay finds himself still thinking about the boyish blonde man and his long hot dick as he winds his way through the dark passages of the Temple.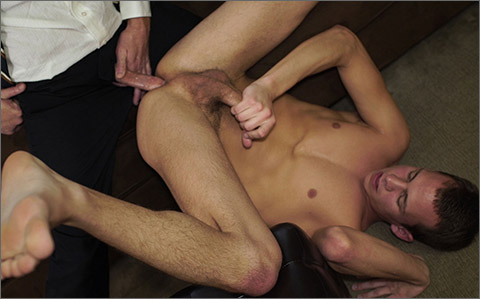 CHAPTER 13 – EVALUATION w/ Brother Daniels
Nearly every son who's ever been spanked by his dad knows how good it can feel, despite the pain. For Elder Lindsay, there's a special comfort that comes along with being punished for things you've done wrong.
   Elder Lindsay has been disciplined by Patriarch Smith for his countless sins.
   Stark naked, bent over the man's knee, the boy had surrendered completely to the brutal spanking.
   That doesn't mean the beating didn't hurt, or that he didn't yelp after each spank because of the pain.
   But along with the pain came a deep primal sensation, the feeling that the Patriarch loved him and would take care of him. And, oddly enough, he also felt a sharp physical pleasure every time the flat hand connected with his raw ass.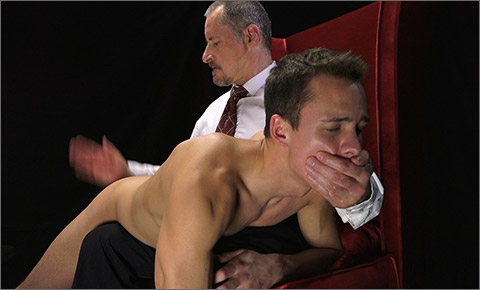 CHAPTER 12 – DISCIPLINARY ACTION w/ Patriarch Smith
At Elder Lindsay's Initiation, Brother Daniels pumps a hot load of cum out of the young man. Elder Lindsay writhes as his cock shoots the hot white gobs that splash on his smooth, hard stomach.
   Brother Daniels squeezes the boy's nuts and dick greedily as the boy orgasms. Then, while he's still breathing hard, Daniels takes a handful of the semen and anoints Elder Lindsay's forehead with it, sealing his initiation.
   Elder Lindsay feels great. His whole body is suffused with a post-orgasm happy calm, and he's proud to have taken another step toward joining The Order.
   And Lindsay wonders what's next.
   The smell of semen is heavy in the small room, and Brother Daniels guides the boy to the showers to wash off the drying cum.
   As Brother Daniels washes the boy's body, the young man can't help but get a raging boner once again.
   But instead of getting him off, Brother Daniels instructs him to put his clothes back on.
   Instead of being sent out of the temple, he is led past the pretty initiatory rooms, down a narrow flight of stairs, and into a huge dark basement with incredibly high ceilings.
   One light illuminates the center of the room, where Patriarch Smith sits in a tall red velvet chair.
   He looks stern.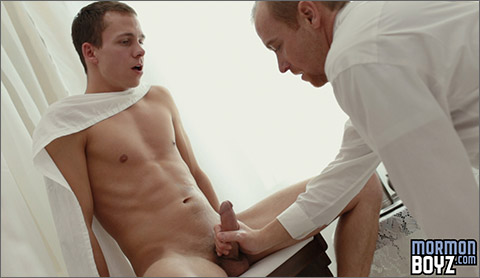 CHAPTER 11 – INITIATION w/ Brother Daniels
Elder Lindsay thinks he must have passed his inspection, since he has been invited to come to the temple for the next stage of his initiation into The Order.
   He had enjoyed every second of the inspection by Bishop Angus, whose stern, authoritative presence had made the boy weak in the knees, willing to say or do anything to please the man.
   The Bishop had touched and tasted every inch of the boy's gorgeous body, before bending him over and drilling his tight hole.
   But when it was all over, and Elder Lindsay had washed off the cum, he had waited many days in vain for more information. But he knew better than to go looking for answers.
   He knew The Order would find him when they were ready.
   After he undresses in a private stall he slips the clean white shield over his naked body.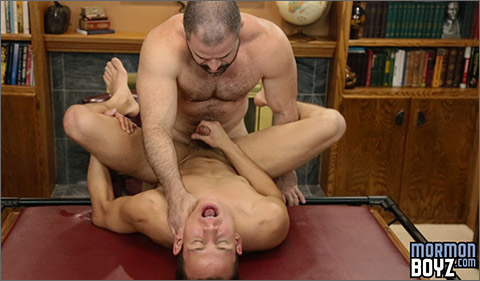 CHAPTER 10 – INSPECTION w/ Bishop Angus
"Enter and be seated," Bishop Angus says flatly, wearing a mischievous smile. Elder Lindsay knows why he is here, but even so he has butterflies in his stomach.
   Today is his inspection. He's going to be initiated into the sacred priesthood Order.
   When the mission President transferred Elders Lindsay and Ricci to a new area, they had never met Bishop Angus, the president of The Order's presiding bishopric.
   When he showed up at the mission home and introduced himself, the boys were caught off guard. He had clearly been informed and knew all about the sex they had been having and wasn't upset.
   He also knew that they had taken advantage of the mission president's absence to have copious sex, right there at missionary headquarters.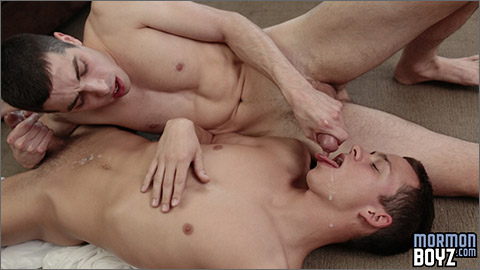 CHAPTER 9 – COMPANIONSHIP STUDY w/ Elder Ricci
Elder Ricci doesn't know why the mission president asked him and his companion, Elder Lindsay, to come stay at the mission home for a few days — but he sure is glad to be there.
   Up to now, his mission has been a grinding chore, long work days with little time to rest, his missionary apartment is hardly fancy, and his stipend is barely enough to feed himself.
   But here at the mission home, there's nothing to do all day but read the scriptures (and fantasize about having sex with his hot, and willing, companion), and the home is way more comfortable than their little apartment, and the food here is great.
   The only downside to living here at the mission headquarters is the lack of privacy. Back in their own apartment, Elder Ricci and Elder Lindsay have become totally reckless about their sexual adventures.
   What began as a solitary indiscretion has blossomed into a full-blown, torrid affair. They've been having so much sex that they're surprised their beds haven't collapsed.
   And they have such loud sex that they sometimes wonder if the neighbors can hear them and wonder has gotten into those nice Mormon boys.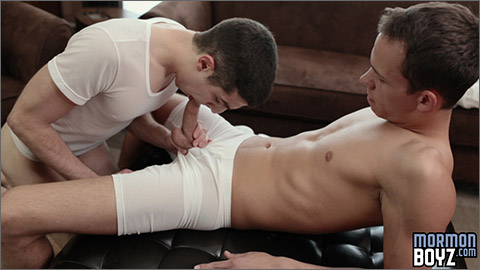 CHAPTER 8 – COMPANIONSHIP STUDY w/ Elder Ricci
The mission home is the heart and the brain of the Mormon missionary operation. The mission president lives here, and all of the young missionaries pass through the home when they get a new companion or transfer from serving in one area in the mission to another.
   It's also where many of the secret, sexual rituals of the Order take place, but only a handful of the best looking missionaries will ever know it.
   Elder Lindsay and Elder Ricci have each been through the mission home several times, but neither of them has a clue that the mission president uses the home first to select worthy young men and then to initiate them into an erotic brotherhood.
   They have no clue that such an organization exists, and they feel as though they have to keep secret their many violations of the strict codes of sexual conduct given to missionaries.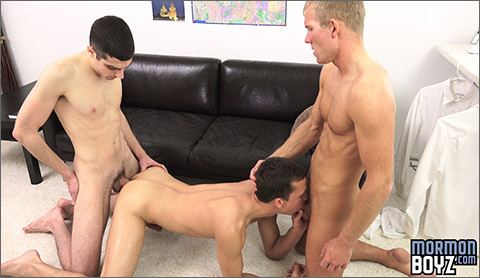 CHAPTER 7 – CORRELATION MEETING w/ Elder Ricci & Brother Johnson
Elder Lindsay and Elder Ricci have been dreaming about cock. Specifically, they've been dreaming about Brother Johnson's cock since he fucked them both. And Brother Johnson has been thinking about another meeting with these boys, too.
   Ever since he discovered them hooking up in the local church, and got in on the action, he hasn't been able to stop fantasizing about the wild erotic romp they enjoyed together.
   Brother Johnson had been fantasizing about clean-cut, handsome, polite, young missionaries for a long time, and to finally have not one, but two of them at once is a dream come true. And to have done all the things they did right inside the church added to the illicit thrill.
   But there are also limitations when having sex inside a church. They'd had to keep pretty quiet, and they'd all hurried a bit to avoid being caught.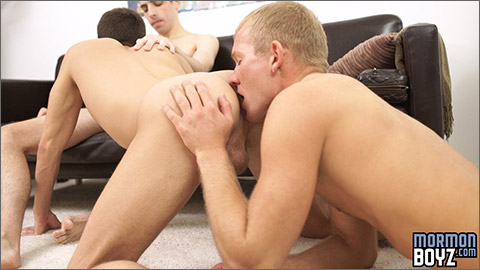 CHAPTER 6 – CORRELATION MEETING w/ Elder Ricci & Brother Johnson
Elders Lindsay and Ricci are Mormon missionaries … and secret boyfriends. The two cute boys have been companions for several weeks, and ever since the first time they hooked up, their feelings for each other have grown deeper and more intense.
   What began as a furtive encounter between two sexually-frustrated boys has turned into something much more.
   But this afternoon, however, they're both a little irritable with each other. They're waiting for Brother Johnson, the ward mission leader, and he's a little late, and the anticipation is killing them.
   That's because last week Brother Johnson caught the two horny missionaries having sex inside the church. When they saw the handsome, intimidating older man poke his head through the curtain, they had both been terrified that he would snitch on them. But he hadn't.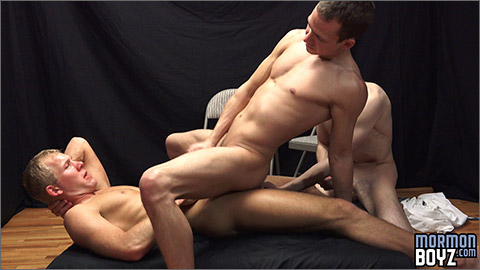 CHAPTER 5 – P-DAY w/ Brother Johnson & Elder Ricci
The ward mission leader, Brother Johnson, is in a dark, empty meetinghouse to collect some teaching materials for the lesson he'll teach on Sunday. But as he's walking down the dark hallway, he's surprised to hear some noise coming from the basketball court.
   Not that many people have keys to the church building, and he wonders who could be in there. Are they supposed to be here? Could someone have broken into the church? His heart starts to race, and he decides to investigate.
   He silently opens the door and pokes his head in. The court is completely empty, but he notices that the curtains have been closed on the stage. So he carefully sneaks over to the side of the stage and parts the curtain.
   Whatever he expected to see, he's totally shocked to see two of his favorite missionaries, stark naked, fully aroused, messing around with each other.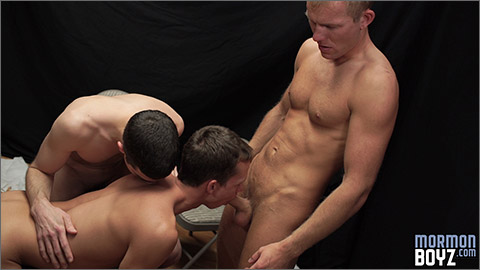 CHAPTER 4 – P-DAY w/ Brother Johnson & Elder Ricci
Elder Ricci is spending his Preparation Day in a haze. Ever since his missionary companion, Elder Lindsay, seduced him yesterday, Elder Ricci can't stop thinking about their hot transgression.
   For years, Elder Ricci has fantasized about having sex with another boy, but those fantasies were just a shadow of the passion and pleasure he actually felt when Elder Lindsay put him on his back and plowed him, and then he flipped Elder Lindsay over and filled up the boy's tight hole with his big penis.
   And so today he's going through the motions, his mind rehearsing everything that happened the day before.
   Elder Lindsay notices that his companion is completely absent-minded, and also realizes that it must be because of the mind-blowing sex they had. But Elder Lindsay acts normal and doesn't say a word. He thinks that, it being P-Day, he'll be able to fool around with Ricci again before sunset.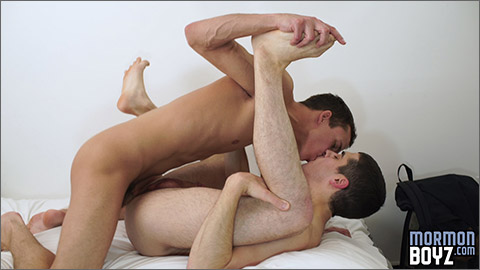 CHAPTER 3 – COMPANIONSHIP INVENTORY w/ Elder Ricci
Elder Lindsay hoped for an opportunity to seduce his hot missionary companion, Elder Ricci. But Ricci is one of those Mormon boys who follow all of the mission rules exactly without a single murmur or complaint.
   But earlier in the day, Ricci slipped up. Elder Lindsay caught him covertly checking him out on the train, and as soon as they're back in their bedroom, Lindsay uses his knowledge to pressure the other boy into confessing his secret sexual desires.
   Elder Ricci has never told anyone that he's attracted to men. He has never explored his same sex attraction with another guy. The very thought scares him speechless.
   But suddenly, here is his handsome companion, confronting him with the fact that he lusted after another guy; his missionary companion, no less.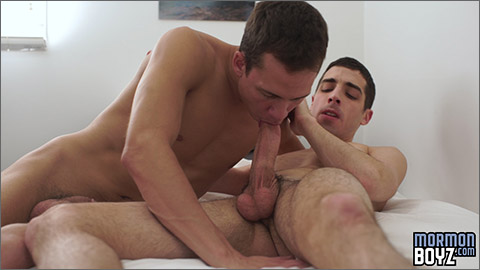 CHAPTER 2 COMPANIONSHIP INVENTORY Elder Lindsay Elder Ricci
Although Elder Lindsay is new to his Mormon mission, he has the confidence and poise of a much older missionary. With his good looks and his charming personality, people have always been happy to give him what he wants. So, naturally, the kid is a little cocky.
   His companion, Elder Ricci, has a more rigid personality. He has been in the mission for almost a year, and he is very careful to obey all the rules.
   Elder Lindsay finds his companion really attractive, but he's hesitant to try anything with him. He knows that if Elder Ricci tells the mission president, he'll be in big trouble, and possibly even sent home.
   And so when Elder Lindsay catches Elder Ricci checking him out on the train, he smiles to himself.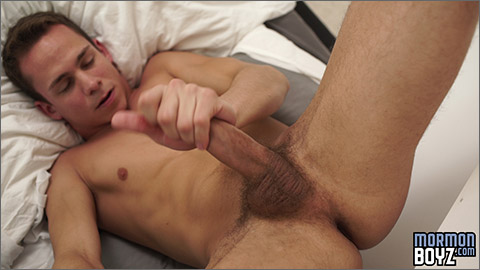 CHAPTER 1 – PERSONAL STUDY
The first few weeks of Elder Lindsay's Mormon mission have been a fast-paced blur. It was practically yesterday that his family and friends gathered at his home as he opened his call and discovered where he would serve.
   His time in the Missionary Training Center flew by, and before he knew it he was getting off the plane in his new home for the next two years. He was excited to join the other young Mormon men on a mission.
   At the Mission Home, he and all of the new missionaries were greeted by the Mission President and the more experienced missionaries who would train them. He hoped that he would be paired with one handsome stranger in particular, and when the Mission President called his name — Elder Ricci — and said that he would be Elder Lindsay's trainer, the young missionary couldn't hide his being pleased.
   He gave his new companion a big hug, and then the two hopped on public transport and headed to the apartment where they would live together.

WATCH OR DOWNLOAD THIS AT: MORMON BOYZ
On-Line Only Presentation & extensive photos from each scene.