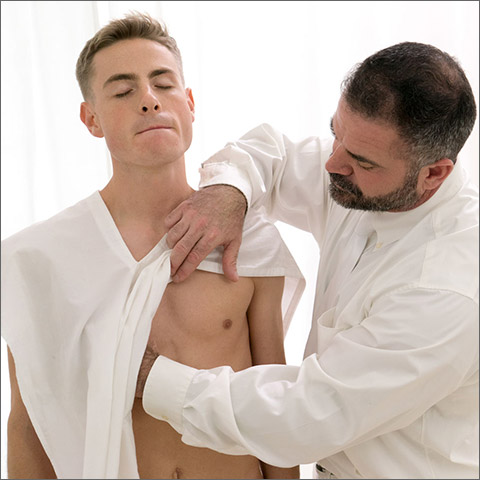 Studio: Mormon Boyz / MormonBoyz.com
Directed by: Paul Jackson
Year of Production / Release: 2017
Country of Production: U.S.A.

CAST:
Bishop Angus
Brother Eyring
Brother Strang
Elder Garrett
Elder Sorensen
Elder Xanders
President Nelson
President Oaks
INFORMATION FROM MORMON BOYZ:
Elder Garrett is a quiet, introspective boy who has never been one to seek attention or praise. He prefers to keep his nose out of trouble and do as he's told. Now that he's on his mission, he's finding it harder than expected to stay hidden.
   With his handsome good looks and beautiful butt, he's getting the attention of boys and men alike. He's unsure of how to handle it, and he's desperate to stay in the good graces of his leaders.
   The Brethren know this young man is bursting with potential. They're eager to get him out of his shell and put him on full display.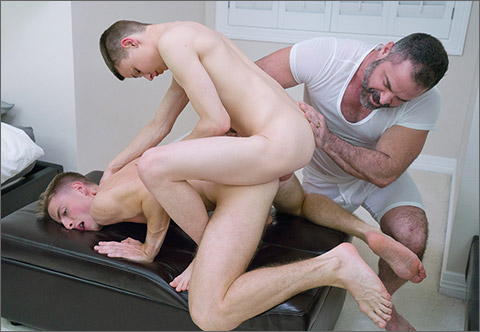 CHAPTER 1: PROBATION
Elder Xanders woke up and got undressed. He made his way into the bathroom and turned on the shower. He felt the water to see that it was warm and got under the stream. All this was normal and routine except for one thing: he had to leave the bathroom door open.
   During his recent meetings with President Oaks about his induction into the Order, Xanders was asked if he touched himself during the few alone times he had as a missionary.
   This, of course, was something Xanders could not deny. And the brethren expressly forbade unsanctioned sexual activity.
   During a follow up meeting with the mission president, Xanders and his companion, Elder Garrett, were instructed to leave the bathroom door open in their apartment at all times.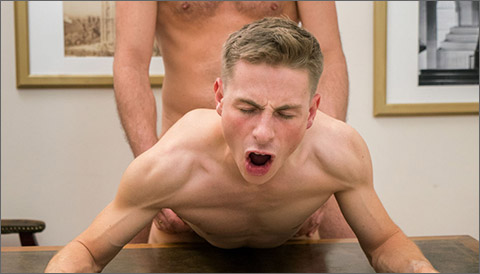 CHAPTER 2: THE CALLING
Things between Elder Garrett and his companion definitely changed after the two of them had sex. For one, Elder Xanders was less shy about being naked. Even after his probationary period ended, the two maintained the same open-door policy that they'd had before.
   It was very hard for Garrett, however, to be that open. He never felt comfortable in his body and had been raised to think any sexual urges he had were bad and sinful.
   Still, he felt compelled to check out other guys and compare himself to them. And every time he got aroused.
   Practically everything about other boys turned him on. He was turned on by boys who were taller, more muscular, or simply had adult body hair.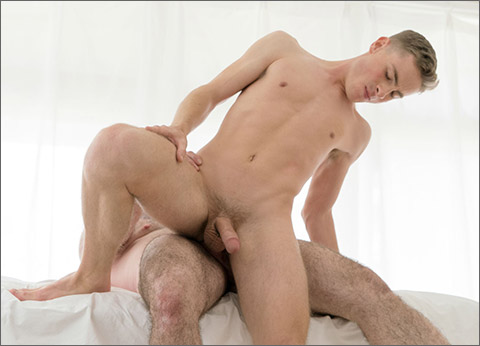 CHAPTER 3: INITIATION
Despite wearing the temple shield, Elder Garrett still felt exposed. The shield should help a boy feel more modest, but somehow it emphasizes the fact that essentially, he is still naked.
   He kept repositioning the draped the material, subconsciously trying to make himself less vulnerable.
   Once again he'd been called to the temple. Once again he was not entirely sure what was going to happen. His companion had hinted some of what to expect, but never gave any clear details.
   It was understood that sacred matters of the temple, and the clandestine rituals conducted therein must be kept confidential.
   During his meeting with President Oaks, the older man explained that Garrett was to be initiated into the true priesthood organization, known as The Order.

CHAPTER 4: SETTING APART
Elder Garrett wasn't quite sure how to proceed with his mission. He was terribly conflicted between what he thought he should do and what his leaders were telling him to do.
   While he was at the MTC, Garrett understood that unquestioned obedience was critical to the success of a young Mormon. And he wanted more than anything to be seen highly by his leaders. But since having a secret calling extended to him by President Oaks, he found himself questioning everything he understood to be true.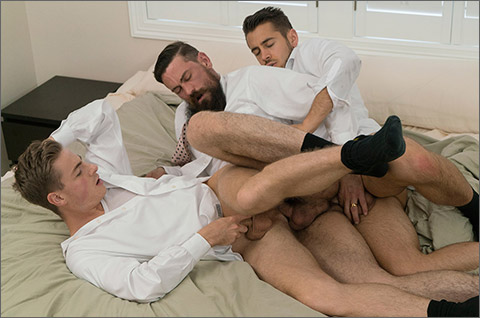 CHAPTER 5: BROTHER'S OATH
Elder Garrett had been spending a lot of time with Brother Calhoun, the ward mission leader. His companion gets called into the mission office several times a week, so he is often on splits with Calhoun these days.
   Not that this bothered him. Brother Calhoun was extremely attractive.
   One morning when Elder Garrett was getting ready, and Brother Calhoun was on the phone with a ward member in the other room, he saw Brother Calhoun's journal out and exposed. Journals were meant to be private and not shared with anyone. Elder Garrett respected this, but his curiously got the better of him.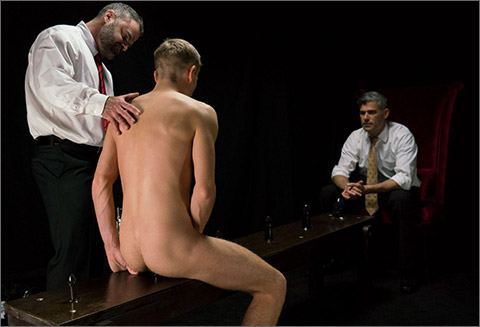 CHAPTER 6: ATONEMENT
Elder Garrett made his way into a dark room in the temple, moving cautiously as his eyes adjusted to the dark. Every part of the temple was bright and white except for this secret space.
   There was so much that Garrett did not know about this history of the priesthood in the church, and the higher priesthood order. He would have never known to ask what secrets were guarded and passed down by early priesthood leaders.
   As the Brethren have called him back to meet with them, he blindly obeyed, trusting his leaders completely. This time was no different in that sense. Though having been called before, he knew he would be expected to service the men of the Order in some way.
   At no time in his life previously could he have imagined repeatedly and routinely sexually satisfying his priesthood leaders while on his mission.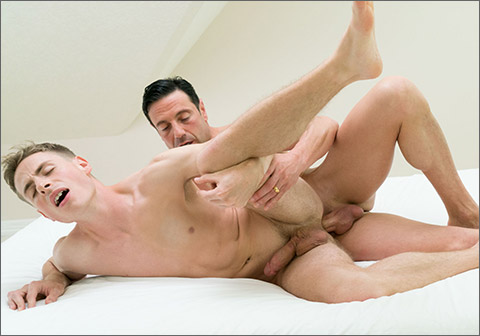 CHAPTER 7: THE COVENANT
Elder Garrett put his sacred temple robe back on, fidgeting with the string and draping fabric to cover his body.
   He had just been presented at the ceremonial veil to the Brethren by Bishop Angus. He was instructed to touch and service a substantial manhood jutting through the sacred cloth.
   Through a small hole in the center, the stranger's large, hard erection poked through, seemingly growing longer as the boy's shy mouth leant down to receive it.
   Doing what he was told and hoping to make his leader's proud, the young boy forced himself down on the silky skin stretched wide over the long hard shaft, working through the gagging and choking to see it through to its intended climax.
   Elder Garrett was happy to do as the Brethren commanded. They'd shown him amazing love and affection throughout his induction. As a result, he managed to get further on the priesthood stretcher than he ever would have imagined.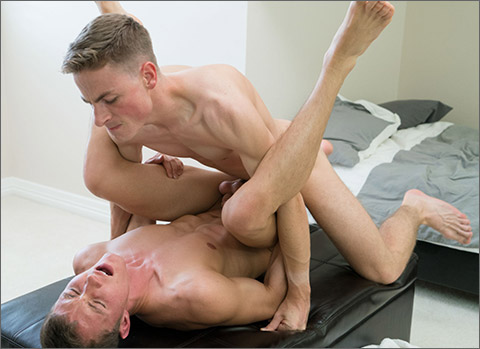 CHAPTER 8: P-DAY
Preparation Day is a unique time for a Mormon missionary. When most people think of free time, they think of all the hours in a day–every day–they're not at school or work. Missionaries, however, only have a handful of hours on one day a week to do things for themselves.
   Elder Garrett obeyed the rules on all days including P-Day, getting up at the right time and getting all his chores and work done. Even with this diligent behavior, his desires always got the better of him.
   This particular week, he was placed on splits with Elder Sorenson, a missionary with whom he'd never really had any interaction despite being AP. He was plenty nice and polite, but they'd only been together since the evening before. Without his regular companion, he'd been stuck unable to even masturbate, making his hormones go crazy.

CHAPTER 9: FORGING BONDS
Elders Garrett and Xanders walked through the temple together, neither saying a word.
   The Brethren had summoned them both to meet in the holy of holies. The boys were escorted to this sacred space in the temple, and instructed to not speak, but simply present themselves and do as directed
   The two boys were cleanly showered, well-groomed, and dressed appropriate for a visit to the temple.
   Both boys had become accustomed to doing as the men of the Brethren asked, not asking questions or expressing any personal hesitation or doubt. They knew their role and their place and were dedicated to satisfying those in authority.
   In a private room of the temple, Brothers Erying and Strang sat on a couch and waited for the young boys to arrive. They two men had become quite close, even going so far as to indulge in their carnal pursuits together.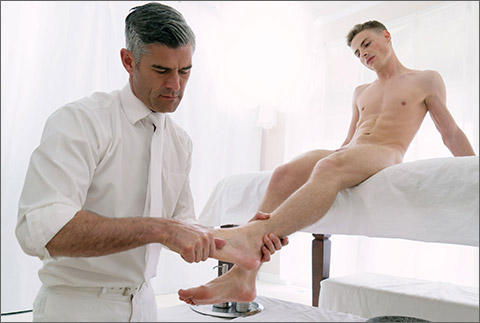 CHAPTER 10: ORDINATION
It was just before dawn when Elder Garrett woke up. His mind had never fully quieted in the night and the start of the new day filled him with excitement and anxiety.
   The Brethren had told him that he was about to be formally ordained into the higher priesthood and that this was the day he'd make his eternal promise.
   As he watched the morning light creep into his room, throwing shadows across the floor that moved up the walls and faded into daylight, he couldn't help but consider his unusual and unexpected path toward the altar of the Order.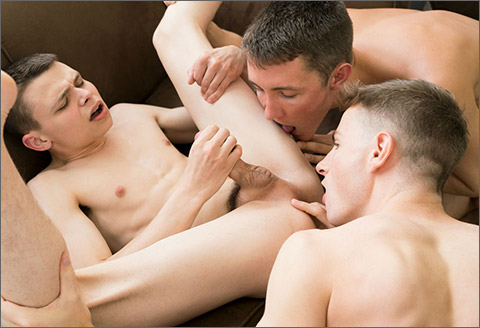 CHAPTER 11: DISTRICT MEETING
Elder Sorenson has privileges the other missionaries do not. Part of that is due to his beautiful face and lean physique. Part of it is due to his history with the Brethren and proving time and again that he can be counted on to take a cock. But mostly, it's because of his recruitment record.
   No missionary is as committed to or responsible for bringing in as many hungry, horny, submissive young missionaries as Elder Sorenson. And as such, the Brethren from time to time like to reward his good works.
   The young man had been given permission to hold a district meeting at the home of The Brethren. He was allowed to take with him whomever he chose, and naturally, he wanted to bring along his two new favorite playmates: Elder Xanders and Elder Garrett.

WATCH OR DOWNLOAD THIS AT: MORMON BOYZ
On-Line Only Presentation & extensive photos from each scene.