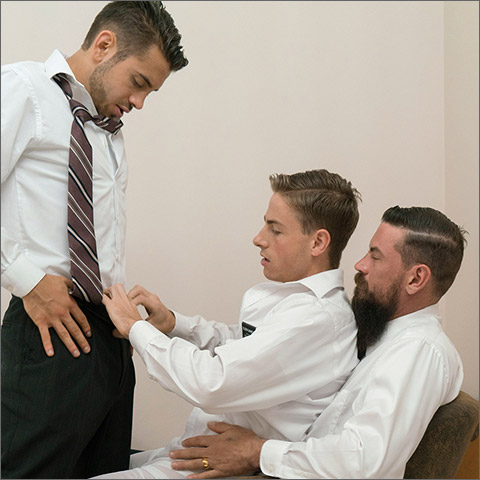 Studio: Mormon Boyz / MormonBoyz.com
Directed by: Paul Jackson
Year of Production / Release: 2017
Country of Production: U.S.A.

CAST:
Brother Calhoun
Brother Strang
Dante Colle
Elder Garrett
Elder Xanders
President Ballard
INFORMATION FROM MORMON BOYZ:
For Brother Calhoun, his time as an elder was the best years of his life. He made amazing friends and felt completely at home among the other missionaries.
   Now that his mission is over, he's enjoying his new role as ward mission leader. It gives him incredible pride and joy to be able to enrich the experiences of the missionaries he looks after.
   He trusts that his current calling will be just as fun that he'll make some new friends. Little does he know the men of the Order have a lot more in store for him.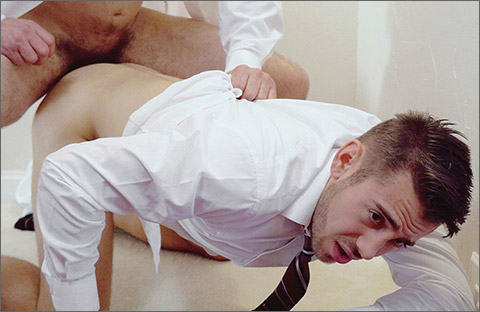 CHAPTER 1: TEMPLE VIOLATION
Brother Calhoun loves being the Ward Mission Leader. It gives him incredible pride and joy to be able to enrich the experiences of the missionaries.
   He had the time of his life when he was an elder and made good friends. He wanted his current calling to be similarly fun, and be an opportunity to bond and build new friendships.
   For the most part, this was true. But as ward mission leader, he interacted with Brother Strang in the area mission leadership. Brother Strang had a way about him that made Calhoun uncomfortable.
   For one thing, he stood out because of his long beard and a rugged look which did not exactly blend in with the otherwise clean cut, modern men of the church.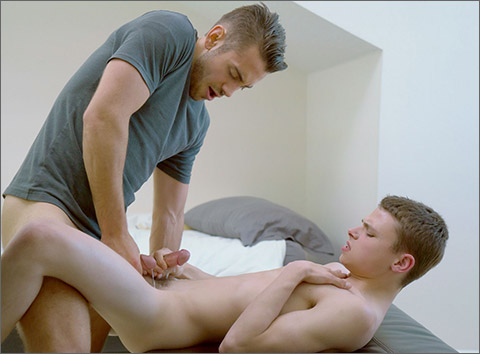 CHAPTER 2: THE WARD MISSION LEADER
Brother Calhoun couldn't stop thinking about what happened on the stairs. In the nights that followed, he even dreamt about the way Brother Strang pinned him down and fucked him.
   He was so confused and torn about how to feel. He couldn't talk to anyone about it, resigning his concerns to the echo chamber of his mind.
   He felt guilty and angry that he was made to feel so powerless. It was a complete violation, and he knew that–but at the same time, he knew it turned him on.

CHAPTER 3: BROTHER'S OATH
Elder Garrett had been spending a lot of time with Brother Calhoun, the ward mission leader. His companion gets called into the mission office several times a week, so he is often on splits with Calhoun these days.
   Not that this bothered him. Brother Calhoun was extremely attractive.
   One morning when Elder Garrett was getting ready, and Brother Calhoun was on the phone with a ward member in the other room, he saw Brother Calhoun's journal out and exposed. Journals were meant to be private and not shared with anyone. Elder Garrett respected this, but his curiously got the better of him.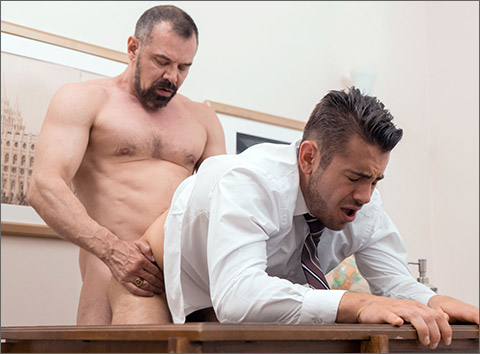 CHAPTER 4: THE CALLING
The Mormon leadership makes a regular practice of interviewing and questioning the young men of their ward. Making sure each boy is living by the proper code of conduct and discipline is routine priesthood.
   President Ballard loves watching as the boys navigate through their responses, trying to craft their answers in the space between what's honest and what's expected. The real magic happens when he can press them harder and see their true character emerge.
   President Ballard knew well what had transpired between Calhoun and Brother Strang; he just wanted to see the young man wrestle with his confession. After a series of interrogations about his sexual history, the most he got was an admission that he'd had sex before with girls before his mission.

WATCH OR DOWNLOAD THIS AT: MORMON BOYZ
On-Line Only Presentation & extensive photos from each scene.