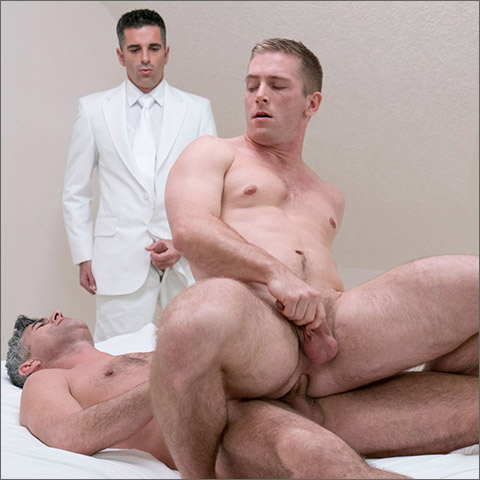 Studio: Mormon Boyz / MormonBoyz.com
Directed by: Paul Jackson
Year of Production / Release: 2017
Country of Production: U.S.A.

CAST:
Bishop Angus
Bishop Eldridge
Brother Hales
Elder Ivy
Elder Kimball
Elder Nicola
INFORMATION FROM MORMON BOYZ:
Elder Kimball has always been the center of attention. As a star football player, he's used to having girls lusting after him. Little did they know, he had one thing on his mind: cock.
   Despite what you might expect from his muscular frame and masculine appearance, Kimball is insatiable when it comes to sucking dick and getting fucked. And with a firm ass like his, the harder and rougher the better.
   Being on his mission, he's been desperately lacking his usual attention. Luckily for him, the Order has been watching him carefully and have made plans for this horny bottom boy.

CHAPTER 1: THE CALLING
Elder Kimball was confused. As he walked in to meet with Bishop Angus, his palms began to sweat and his heart was pounding in his chest. He wasn't sure what was going to happen, especially with the things he said in his worthiness interview.
   Bishop Angus has spoken with him before and asked him questions about his time before his mission. For some reason, Kimball found it hard to lie to him. He was very honest with him. Very honest. Even about the things he knew he should never have told anyone.
   The clean-cut, wholesome boy had a dark secret: he liked cock. A lot. So much so that he'd not only fantasized about it, but he'd broken all the rules and been fucked several times–and by guys in empty rooms at church when everyone else was in Sunday School!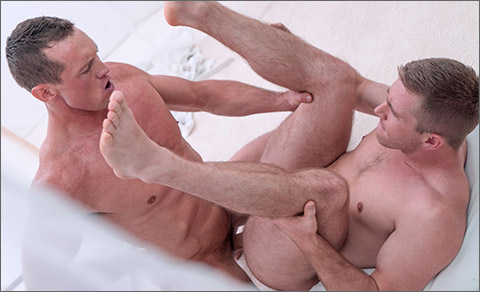 CHAPTER 2: INITIATION
Elder Kimball's heart was pounding hard in his chest. He could barely hear Brother Hales speaking next to him. The young Mormon was being washed and anointed by the handsome man, but Kimball was completely distracted by his previous encounter with Bishop Angus.
   Right after he'd met with the Bishop, Kimball found himself changing in the same room as Brother Hales. Elder Kimball was trying to hide the fact that the bishop's load was dripping out of his ass, having just been recently inseminated by the muscular leader. Without meaning to, Kimball caught a glimpse of Hales completely naked and saw the huge cock that hung between his legs…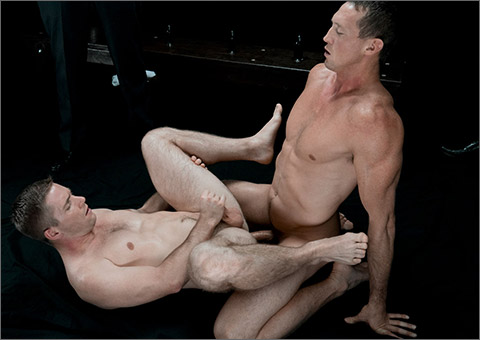 CHAPTER 3: ATONEMENT
Elder Kimball made his way into the temple basement, led by the strong but silent Brother Hales.
   It hadn't been too long since his initiation where Hales had fucked the young man with his massive cock, but he still maintained the same formal demeanor now as he did then.
   Like most inductees into the Order, Kimball was completely in the dark about what was about to happen to him. After confessing his past transgressions to Bishop Angus, he was told that he would need to be physically disciplined in order to repent…

CHAPTER 4: THE COVENANT
Elder Kimball had a rough time walking for days. Brother Hales' massive endowment proved to be more of a challenge than he'd expected.
   Every time he took a step, he was reminded of how hard he'd been fucked in the temple basement… and every time, he got excited.
   Before beginning his mission, he had struggled with the idea that he wouldn't be able to masturbate for two long years. But now that he was there, he was doing more than just masturbate…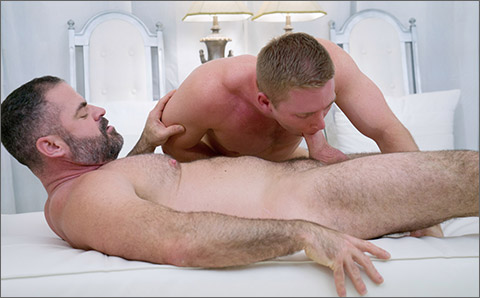 CHAPTER 5: ORDINATION
Elder Kimball made his way to the Temple, trying too hard to keep his erection tight in his garments. As he made his way through the familiar halls and rooms, he was instantly turned on.
   It hadn't been that long since Elder Kimball was double-teamed by President Oaks and Bishop Eldridge and he was practically still vibrating from their intense pounding.
   He was guided into a large beautiful, white room by the temple patrons. He took a seat on a white couch in the center of the white room. He sat, folding his hands in his lap, waiting eagerly for what would happen next.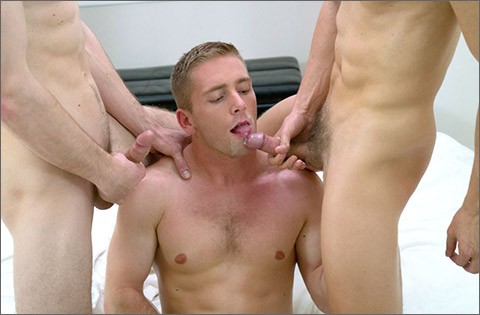 CHAPTER 6: MISSIONARY SPLITS
Elder Ivy's regular companion was called to the mission home for a zone leaders training over the weekend.
   So Elder Ivy went on splits with two other missionaries in his district, to be in a temporary "3-some" companionship.
   Elder Nicola and Elder Kimball were more than happy to buddy up with the blond Mormon.
   Following Nicola's ordination into the Order, Elder Nicola discovered that his companion, Elder Kimball, had also been selected by the brethren and had begun his induction…

WATCH OR DOWNLOAD THIS AT: MORMON BOYZ
On-Line Only Presentation & extensive photos from each scene.