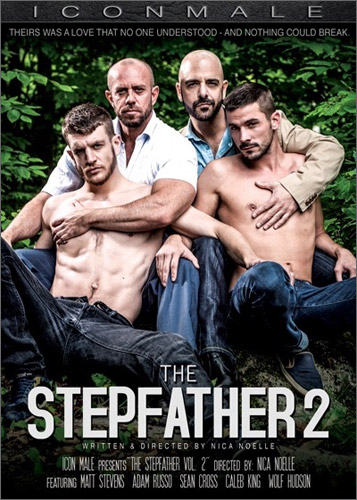 Studio: IconMale
Directed by: Nica Noelle
Year of Production / Release: 2015
Country of Production: U.S.A.

CAST:
Sean Cross
Wolf Hudson
Caleb King
Adam Russo
Matt Stevens
INFORMATION FROM ICONMALE:
Newly divorced Scott (Matt Stevens) moves in with fellow divorcee Pete (Adam Russo) and confesses to his old friend that he misses stepson Cody (Caleb King). Pete urges Scott to text Cody, and middle-aged Scott soon discovers that his handsome former son has been longing to see him again. Meanwhile, Pete has become infatuated with young, sexually adventurous housemate Alex (Sean Cross), and is trying to keep their trysts hidden from Scott. But muscular Scott will soon have a secret of his own, as his relationship with Cody blossoms into more than their previous family union would allow.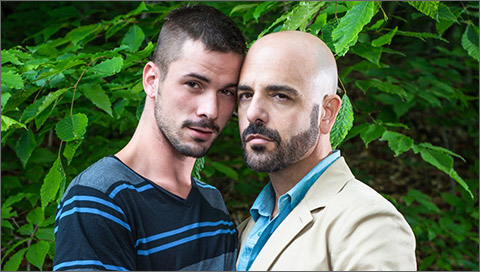 SCENE 1: Adam Russo fucks Sean Cross
Adam Russo is infatuated with his younger house-mate, but even after hooking up before he's afraid to further explore the attraction between them. Even watching football and drinking beer could lead to somewhere dangerous. Adam knows he isn't strong enough to resist him. Sean knows the sex is good, and even as Adam tries to steer clear of complication, the younger man challenges him. Sean grabs him and pulls him close, their bodies intertwined as they kiss, and Adam tongues the inside of Sean's sweet young bearded mouth. The tension between them electrifying and Sean pushes his house-mate down onto the bed, straddling him as his sorts ride up. Adam sucks on Sean's pierced nipples, exciting Sean who's got a big raging hard-on. Alex sucks Adam's big cut cock, who moans in pleasure encouragingly as he guides his head up and down. Adam flips his lover over onto his smooth stomach and and licks his hairy hole. Sean enjoys every second of the deep rimming before he's mounted and Adam plunges deep into his ass. Sean lifts himself up and down on Adam's stiff member, and as he's about to cum Adam stops him. Adam slows down his fucking and while his thick dick slowly slides in and out of him, Sean cums as passion and friction increases. Adam finishes with a guttural grunting orgasm as cum splashes onto Sean's taut stomach.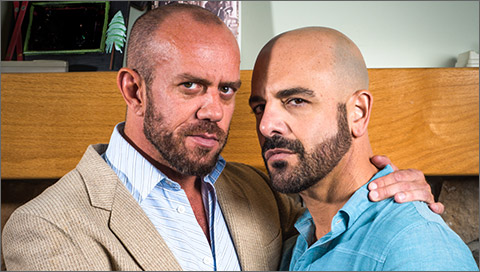 SCENE 2: Adam Russo fucks Matt Stevens
Adam Russo visits Matt Stevens while he's reading in bed. Adam can't sleep and he's not used to being alone. Sensing that he's disrupting Adam's life with Sean, Matt offers to move out to get out of their hair. Matt's ex-stepson Cody is visiting, and was invited to stay, but his ex-wife is protesting it.Adam begs him not to go, he needs someone his own age around to talk to. Loneliness gets the best of them, as they scoot closer together. Adam's hand strokes Matt's thigh, rubbing his hand, enjoying their closeness. Slowly, the sexual tension builds and as Adam plays with Matt's beard. They kiss, excitement building as they caress their hairy bodies as Adam's dick tenting out his gray jogging pants, which Matt soon pushes his face into, licking the stiff cock through the material. Matt frees the dick and sucks takes every inch into his mouth before Adam stands him up, stopping to suck on his nipples and ending in a deep rim job, his tongue circling his hole between the muscular cheeks. The fit daddies kiss again and Matt climbs onto Adam, sliding his muscular ass down onto the thick waiting pole. Matt's cock is rock hard, pre-cum glistening as it leaks from his dick while he fucks up and down. Adam spreads Matt's cheeks, before pounding him deep and hard. As they embrace, every inch of their bodies pressing against each other, Adam slides his thick dick back into Matt's waiting hole as it greedily takes every inch. Matt wanks himself to completion, his cum dripping over his belly and Adam has a roaring orgasm.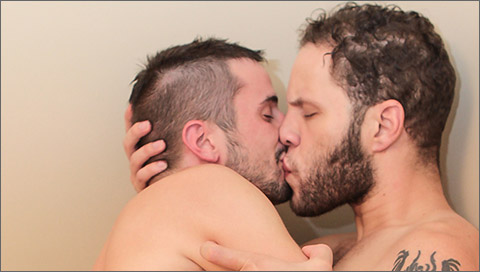 SCENE 3: Sean Cross & Wolf Hudson

SCENE 4: Matt Stevens fucks the step-son Caleb King

WATCH IT / DOWNLOAD IT NOW AT:
ICONMALE
On-Line Only Presentation, Members can Download the presentation for later for "off-line" viewing.
Members have access to a vast array of photos from each scene.
WATCH IT NOW AT: AEBN / SMUTJUNKIES THEATER