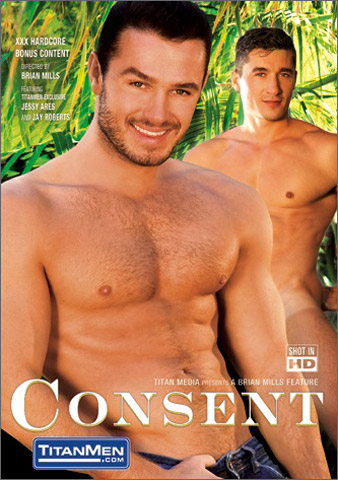 Studio: Titan Media
Directed by: Director: Brian Mills
Year of Production / Release: 2011
Country of Production: USA

CAST:
Jessy Ares
Ben Brown
Eduardo Rodriguez
Spencer Reed
Jay Roberts
Alessio Romero
Logan Scott
FROM TITAN MEDIA WEB SITE:
We give you unforgettable action marked by signature passion. We give you TitanMen exclusive Jessy Ares, a rising breakout star who headlines a hung and horny cast with vein-bursting cocks leaking at the seams. We give you Consent to get off with the latest outdoor sexfest from award-winning director Brian Mills, who continues to get the best from the best.
   After a fitness drill in the forest, smooth stud Jessy Ares and tattooed hunk Alessio Romero turns drilling each other in a kiss- and spit-filled exchange.
   A glance is all it takes for beefy laborer Spencer Reed to take a break, but he works up an even bigger sweat man-ramming the holes of handsome Logan Scott.
   Tall and toned Jay Roberts casts a spell on Ben Brown and Eduardo Rodriguez, leading the smoothies through an intensely passionate encounter by the pool.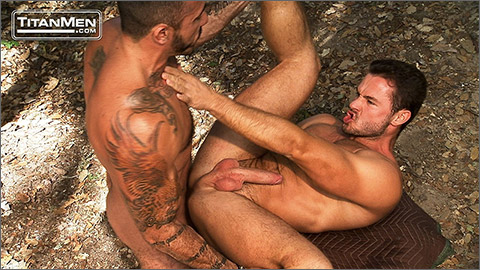 SCENE 1: Jessy Ares and Alessio Romero flip-fuck
Practicing a balance drill in the woods, Jessy Ares jumps down to the welcoming arms and lips of Alessio Romero. Their hands all over each other, the two passionately kissing as spit drips down. Jessy unzips, his steel shaft at attention. The two exchange blows in an intense sequence where the spit continues to fly. Jessy grabs hold of Alessio's head and fucks his face, getting more verbal as he whips his dick on the sucker's tongue. Alessio grips Jessy's sac, engulfing his balls before getting sucked again. Jessy tongues his bud's hole before feeding Alessio some more, drilling the hairy stud's face as his own ass muscles clench. After licking Jessy's jock hole, Alessio's impressive deep-throat skill is caught in a hot profile shot. Alessio rubs Jessy's chest, his hairy forearm caressed by the smiling stud. The two squirt, their arms wrapped around each other as they kiss. Soon on all fours, the energetic Jessy offers his ass: "That's all yours…fuck me hard!" His stiff dick bounces with each deep thrust from Alessio. On his back, Jessy's bod is caught in a great overhead shot that captures his throbbing cock and bouncing balls. The two switch positions, Jessy feeding Alessio a finger as he fucks the tattooed hunk—whose forehead clenches as he gets rammed in two positions, their sweaty bods soon coated in more cum.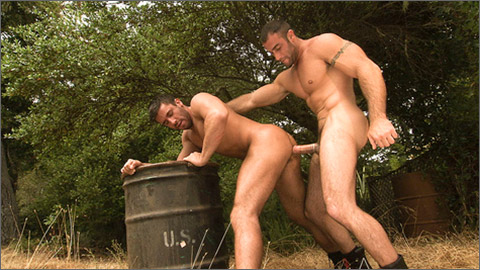 SCENE 2: Spencer Reed fucks Logan Scott
Muscle man Spencer Reed is hard at work in the woods when he's approached by smooth and beefy Logan Scott. He welcomes the distraction as the two kiss, the bulges in their jeans grinding against each other. Logan feasts on Spencer's meat, prompting a stream of manly moans from the husky-voiced stud. Spencer grabs Logan's dark hair, shoving the sucker's head further down his shaft. Logan gags while deep-throating him, gasping for air as spit drips down ("Fuckin' little pig!"). Spencer pulls Logan up and takes out his cock, their two throbbers clashing as they kiss. Spencer gets some licks in on Logan's "big fucking muscle ass" before sucking him as his own dick pulses below. He feeds Logan again, his sac getting tongued before the two shoot—including a rocket from Spencer that hits Logan's shoulder and drips down his back. Soon bent over a barrel, Logan gets plowed as flesh-smacking sounds fill the air. Spencer grabs hold of the bottom's shoulders and hair, never letting up as revealing low shots capture his penetrating cock. The top turns Logan over and strokes him as he continues to fuck away, his massive chest glistening with sweat in the sun as two more wads are soon unleashed.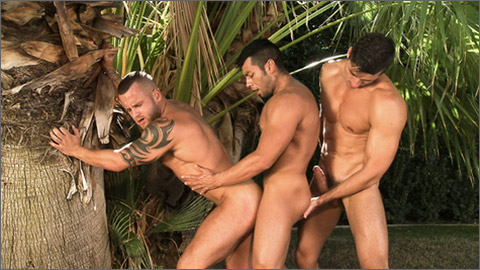 SCENE 3: Jay Roberts fucks Eduardo Rodriguez who fucks Ben Brown
As their smooth bodies bask by the pool, one thing is immediately apparent: Tall and toned Jay Roberts is in total control, casting a spell over dark and handsome Eduardo Rodriguez and tattooed and scruffy Ben Brown. The shorter studs flank the hung Jay, their hands and tongues all over his body. Jay snaps his steel shaft before cradling their heads as the passionate display continues. Ben submits first, falling to his knees as the two kiss above him. Eduardo grabs hold of Jay's dick and whips it on Ben's mouth—which soon engulfs the big cock as Eduardo's boner rubs against Jay's muscular quad. Ben then deep-throats Eduardo's thick beauty as Jay's cock grinds against the back of the sucker's head. Eduardo soon feasts on the meat, their three stiff slabs beautifully filling the frame. With his eyes half closed as his big uncut slab is slurped, Ben's face is caught in an expression of pure pleasure. He longingly looks at Jay, who forces Eduardo's head down deeper on Ben's dick. Eduardo works both boners, wrapping his luscious lips around them as spit and kisses continue to pepper the action. Ben gets on his back, his abs tightening as the three squirt. The bearded cutie then gets his ass eaten, with Jay soon sliding his meat inside as his defined muscles clench. Eduardo gets a crack inside the begging Ben's hole ("Give it to me!") as Jay slaps his boner on the top's ass. Jay plows Eduardo doggie style, the bottom's mouth filled with Ben's boner. They shift to their sides as Jay fucks like a jackrabbit, Eduardo's meaty cock staying stiff. As his abs tighten, Ben lets out another load on Jay's ass before his buds come again, more kissing ending the intensely tactile threesome.

MORE INFO, PREVIEW OR WATCH RIGHT NOW:
TITAN MEDIA
Scenes Premier online prior to DVD release and are available to view anytime in the Member's Area.
Members can watch scenes from almost all Titan Media releases anytime online.

VIDEO ON-DEMAND: TITAN MEN @ AEBN SMUTJUNKIES THEATER
DVDs & ON-DEMAND: TITAN MEN @ TLA VIDEO