Studio: Titan Media
Directed by: Brian Mills
Year of Production / Release: 2011
Country of Production: U.S.A.

CAST:
David Anthony
Dario Beck
Jay Black / Jason Diaz
Dirk Caber
Aymeric DeVille
Philippe Ferro
Logan Scott
SCENE 1: David Anthony fucks Aymeric DeVille and Philippe Ferro
SCENE 2: Jason Diaz fucks Logan Scott
SCENE 3: Dario Beck and Dirk Caber flip-fuck
FROM TITAN MEDIA WEB SITE:
Wanna ride? Hop on board, strap yourself in and hold on tight for a hard and fast drive down to Dirty Town. Shift into high gear as TitanMen exclusives David Anthony, Dario Beck, Aymeric DeVille and Philippe Ferro hit it hard, going full throttle as they masterfully work their sticks in a Thrill Ride you won't soon forget.
   Supervisor David Anthony joins Philippe Ferro in training new employee Aymeric DeVille, who does some dirty work his first day on the job.
   Muscle studs Jason Diaz and Logan Scott lock and load their pistols by the pool, getting wet as they shoot on each other with their weapons.
   Hunky driver Dirk Caber spots stranger Dario Beck by the road, the two soon engaged in an outdoor flip-fuck that has the breathless buds soaked in sweat.

SCENE 1: David Anthony fucks Aymeric DeVille and Philippe Ferro
Hard at work in the stockroom, David Anthony joins co-worker Philippe Ferro in training newbie Aymeric DeVille—who gets on his knees for some dirty work. The smooth supervisor intently watches as tattooed Aymeric slurps on Philippe. David unbuttons his jeans, his mammoth meat springing to attention. He pushes it down and releases, the steel shaft snapping up. David wraps his arm around dark and hairy Philippe, squeezing his nipple. David spits down on his own dick, then kisses Philippe as Aymeric works both cocks. Philippe drops down to feast, two big cocks flanking his face. David spits down on his veiny shaft as the two kiss above their hungry sucker. He then sits in the chair, opening wide to suck Philippe while gripping Aymeric's sac and stroking his own boner. Aymeric grabs hold of David's head for a hot face fuck as David gags and gasps, spitting on the uncut rod as his extended tongue begs for more. The three squirt before Philippe bends over, offering his hairy hole to David while sucking on Aymeric. David drives deep, then fucks Aymeric as their glistening bodies show off their tight stomachs. Philippe then plows Aymeric while starting at David, who feeds the bottom before Aymeric's hard pecs get doused.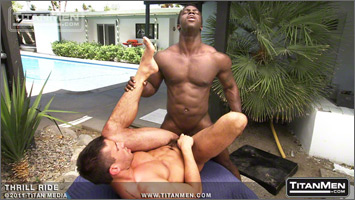 SCENE 2: Jason Diaz fucks Logan Scott
Locked and loaded with their water guns, muscle men Logan Scott and Jason Diaz exchange smiles and squirts in the pool. The two pump their weapons and shoot at each other, their huge bods shining as water cascades down. Dark and handsome Jason finally moves in for a kiss, the two leaving the pool as they lock lips. Jason licks Logan's pit and pecs, working his way down to the stud's wet bulge. Logan's jock cock is soon released, hot side shots capturing the action as Jason's dick-sucking lips pucker around the hard shaft. Jason stands for another kiss, freeing his own huge rod as the two grind against each other. Logan shows off his impressive skills by deep-throating his bud. The two stroke out their loads, Jason's ripped stomach getting even tighter. Logan offers his muscle ass as Jason warms it up with his tongue. The top slides his monster inside, the bottom's forehead clenching as he gets it hard. Soon on his back, Logan takes it like a man, stroking his own stiff meat in a solid sequence. The two stare at each other as Logan comes—the bottom then getting behind Jason to rub his massive back and shoulders as the top fires off a huge load that lands all over his tight abs, a kiss ending their encounter.

SCENE 3: Dario Beck and Dirk Caber flip-fuck
Hunky Dirk Caber picks up beach-bound Dario Beck by the road. But when the stranger starts to slumber, Dirk pulls over by the woods for a grope. The two are soon kissing outside by the truck, the passion rising as their beards and bulges grind. Dirk takes out Dario's thick, uncut slab, sucking it like a champ in an intense sequence. Dirk whips out his own boner, teasing it as he looks up at Dario. The sucker works out two big strands of his own pre-cum, licking it off his hand. Dario drops down, getting Dirk's meat to glisten with spit. The grunting Dirk runs his fingers through Dario's lush hair as he gets sucked—hot spit strands building up and sliding down his bushy shaft and sac. They jack out their loads—including a great show of restraint by Dario, who takes away his hand mid-squirt as cum continues to flow. Against the truck, Dirk gets his ass tongued before grinding it on Dario's juicy slab in anticipation. Dirk gets fucked, his stiff dick bouncing frantically. Then with the camera looking up, the bottom slides his finger into his hole, feeling the top's shaft plow him before stroking his own cock—which soon leaks more shining pre-cum strands. On his back, the still-smiling Dirk shows off his boner as he gets fucked—letting out more groans as Dario plows him faster, the picnic table creaking with each thrust. The two switch positions as Dirk takes charge, fucking Dario slow and steady before picking up the pace. Coated in sweat, Dirk's wet body hair clings to his chest and stomach. Dario's dick stays stiff, the bottom rubbing Dirk's chest as the top varies his tempo. Dario strokes as he gets fucked, coming again as he rubs Dirk's hairy forearm. The top then fires off a gusher, coating Dario's cock and bod as the cum flies into the air, the perfect exclamation mark to their intense outing.
Bonus Features
Photoshoot footage includes more boners and butts, and some hot shots of a pre-cum dripping Dirk Caber. Trailers, cumshots and a look at TitanMen Tools and Lube round it out.

MORE INFO, PREVIEW OR WATCH RIGHT NOW: TITAN MEDIA
GO TO: TITAN MEDIA STORE

*** Highly, Highly Recommended ***
FILM REVIEW: MANNET