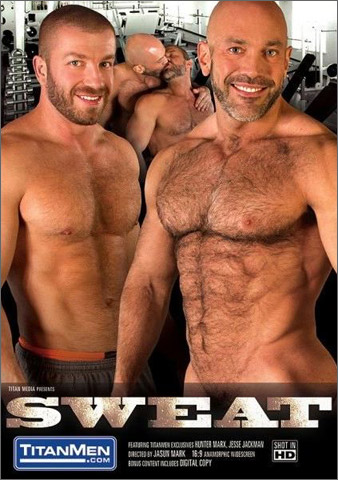 Studio: Titan Media
Directed by: Jasun Mark
Year of Production / Release: 2014
Country of Production: U.S.A.

CAST:
Dirk Caber
Troy Daniels
Alex Graham
Jesse Jackman
Hunter Marx
Matt Stevens
FROM TITAN MEDIA WEB SITE:
You can feel it building during your last rep, that throbbing muscle ache that won't go away. Let TitanMen exclusives Jesse Jackman and Hunter Marx help you Sweat out the stiffness after a hard day at the gym.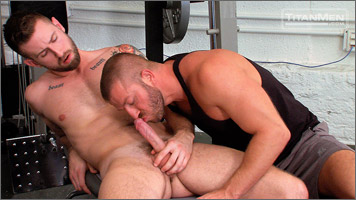 SCENE 1: Hunter Marx fucks Troy Daniels while Dirk Caber watches and jacks-off
At the gym, Troy Daniels gets instruction from trainer Hunter Marx—who steadies his client's legs during an exercise. As Troy finishes the set, Hunter moves his hands to the stud's groin and reaches up for a kiss. Hunter works on Troy's jockstrap bulge before releasing his cock and engulfing it. Hunter strokes it as they kiss, licking Troy's pec before sucking him again—sliding his tongue up the smooth sac and shaft. He spits on it, a big strand of saliva connecting his mouth to Troy's boner. Hunter nibbles his bud's foreskin, then straddles Troy's face to feed him hairy hole. Troy jacks his own cock as he rims, then gets fed Hunter's meaty cock—all being watched by stroking voyeur Dirk Caber. Hunter plows Troy's face, then fucks him from behind—Troy's boner bouncing with each thrust. Hunter reaches around to jack the bottom as he fucks him, Troy then sitting down on the top and riding him. Troy gets on his back as Hunter rams him, the bottom's big load soon dripping down the side of his stomach before the top comes on him.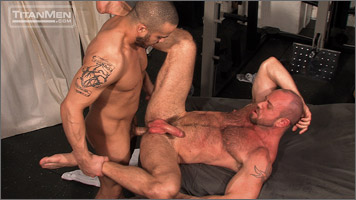 SCENE 2: Alex Graham fucks Matt Stevens
After a hard workout, Alex Graham needs to relieve lower back pain with a massage from hairy muscle man Matt Stevens. The towering masseur rubs Alex's smooth muscles, then asks him to turn over. "Oh wow! Look at that!" he exclaims when he gets a look at Alex's big, throbbing cock. "Your body's looking really good, man," he says, continuing to work his magic as his hands graze his moaning client's pulsing cock. Matt finally strokes Alex, who rubs the stud's massive arm and body—then reaches in Matt's shorts and releases his throbber. Matt sucks Alex, then feeds his dick to him. "I got something else for you to suck on," he says, sitting his jock ass down on Alex's scruffy face. Alex eats and fingers Matt, then fucks him doggie style ("Open up…you got it!"). On his back, Matt gets fucked and jacked by the top—who goes all in and out. Matt squirts a hot wad that lands on his pec, then gets soaked by Alex—who rubs his wet dick on the bottom's balls.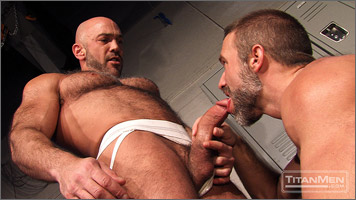 SCENE 3: Dirk Caber fucks Jesse Jackman
Horned up from watching Hunter fuck Troy, Dirk Caber—his boner pitching a tent in his shorts—gets led to the lockers by beefy Jesse Jackman. They kiss, rubbing each other's hairy muscles. Jesse pulls down Dirk's shorts to release his aching cock. Jesse sucks it deep, tonguing the underside. Dirk returns the favor, working up the bulge in Jesse's jockstrap before getting fed. Dirk rubs Jesse's massive muscles, sucking him deep before Jesse bends down for a kiss. Jesse rubs his dick on Dirk's salt-and-pepper beard, the sucker hard as a rock. Dirk bends Jesse over the bench, fucking the moaner from behind. Jesse sits down on the top, who grabs the bottom's jock ass and fucks him fast from below. Dirk rubs the bottom's nip, Jesse's big dick grazing the top's stomach. Jesse gets fucked on his back, Dirk stroking him as he fucks—a memorable aerial shot capturing Dirk's dick disappearing inside the bottom's hole before the two squirt.

MORE INFO, PREVIEW OR WATCH RIGHT NOW:
TITAN MEDIA
Scenes Premier online prior to DVD release and are available to view anytime in the Member's Area.
Members can watch scenes from almost all Titan Media releases anytime online.
TO PURCHASE THIS, GO TO: TITAN MEDIA STORE