Studio: Titan Media / Titan Rough
Directed by: Paul Wilde
Year of Production / Release: 2014
Country of Production: U.S.A.

CAST:
Nick Prescott
Thor Larsson
Matt Stevens
Jesse Jackman
Dirk Caber
Mack Manus
FROM TITAN MEDIA WEB SITE:
A hairy pit. An unwashed jockstrap. A sweaty sac. The man scents push studs over the edge as they exhibit Foul Play, where pissing, punching and fisting are just a few of the Rough-housing activities that TitanMen exclusives Jesse Jackman and Nick Prescott indulge in.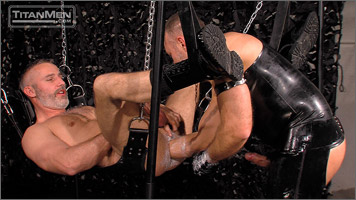 SCENE 1: Thor Larsson and Mack Manus
On his knees and covered in latex, Mack Manus gasps for breath as he deep throats the uncut boner of toned Thor Larsson. Mack chokes as he gets face fucked, the veins on his neck bulging. Thor cups his balls to feed the sucker, the two then kissing as Mack spits in the stud's mouth. Thor sucks his hung bud back, slapping his face with the thick, uncut monster. Thor gets his face fucked, spit dripping from his salt-and-pepper chin as he snaps up his own throbber. Mack pisses on the sucker, who takes it in the mouth and all over his tight bod. In a sling, Thor gets eaten ("Gimmie that tongue!") as he shows off his boner. Mack fingers and fucks the bottom, then shoves a huge, fat dildo up his ass—repeatedly ramming it all the way in and punching the base, also sliding a few fingers in at the same time. Mack then fists the moaning sub, fucking him fast and also shoving four fingers in—then pisses on the bottom before the two shoot their loads.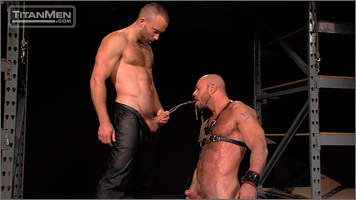 SCENE 2: Nick Prescott with Matt Stevens
Standing helpless with his hands bound in the air, hairy jock Matt Stevens is at the mercy of handsome Nick Prescott—who strokes Matt's cock, rubs his muscular frame and pinches his nips. Nick slaps Matt's ass and spits in his mouth, punching the hunk's reddening body. Matt grunts, his wild eyes fixated on his tormenter. He spits on Nick, the strand dripping from his scruffy chin. Nick spits back and delivers more punches, then forces Matt's face in his pit ("You like that?"). Matt sniffs and licks it, Nick then licking Matt's pit before sucking him deep, gurgling as he takes it all in. The breathless Nick spits on Matt's bod and rubs it in, then sucks some more as spit drips from the jock's sac. Nick frees his captive's hands and feeds him his cock, then pisses on the stud. Nick eats out Matt ("Open it up!") and spits on him before fucking him from behind, grabbing the bottom's harness as he plows before they come.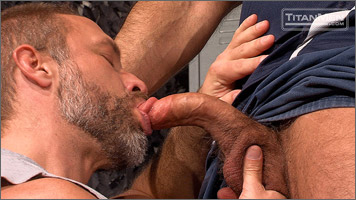 SCENE 3: Jesse Jackman with Dirk Caber
Jesse Jackman and Dirk Caber get ready for rugby—but never make it out of the locker room. The two show off their jockstraps—the scent of their used, unwashed cloth turning each other on. Dirk feeds his dirty sock to his built bud, the two peppering each other with kisses throughout—noses pressed against each other as they stare, their bristly chins meeting. The two put their shorts on and grind against each other, Jesse soon pulling Dirk's down to sniff his bulging jockstrap before licking his pit. The two sniff each other's old shoes, Jesse soon putting his scrum cap on before Dirk sucks his cock. Jesse pulls Dirk's shorts down, the boner popping out in his face. He sniffs it, then wraps his tongue around the shaft. Dirk pisses all over Jesse, soaking his tight rugby jersey. Jesse returns the favor, the two drenched. Dirk fucks Jesse over the bench—the bottom moaning with each deep thrust. Jesse sits on the top, the bottom's hairy ass rubbing against the top's fuzzy balls. Dirk jacks the bottom as he rides, the two soon squirting.

MORE INFO, PREVIEW OR WATCH RIGHT NOW:
TITAN MEDIA
Scenes Premier online prior to DVD release and are available to view anytime in the Member's Area.
Members can watch scenes from almost all Titan Media releases anytime online.