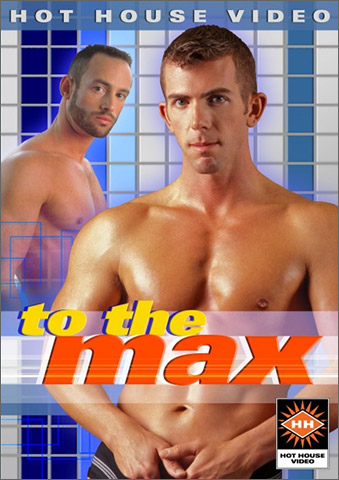 Studio: Hot House Entertainment
Directed by: Steven Scarborough
Year of Production / Release: 2000
Country of Production: U.S.A.

CAST:
Brent Banes
Robert Black
Eric Evans
Erik Michaels
Frank Parker
Ethan Payne
Tom Penn
Mark Pulver
Mike Roberts
Jack Stuart
INFORMATION FROM HOT HOUSE:
Get your adrenaline surging To The Max with an X-rated gym membership guaranteed to get you hard in all the right places. These muscle pigs have round tight asses that get the workout of their lives from the fat juicy cocks found in the notorious San Francisco Athletic Club. Slip into your jockstrap and get ready to sweat!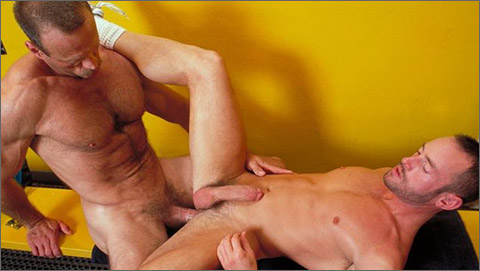 TO THE MAX – SCENE 1: Mike Roberts fucks Robert Black
Mike Roberts puts bottom boy Robert Black through the paces in the gym office. Black chokes down Roberts' sausage-sized cock with an unrepentant hunger. Roberts expect more than a gag order from Black and lays him on a nearby bench for some deep digging and hot pounding. Muscle daddy Roberts wants to go deeper and lets Black bounce on his fat cock in an attempt to further his goal. After fingering Black to orgasm, Roberts takes out his cock and plasters Black's face with a hot sticky load.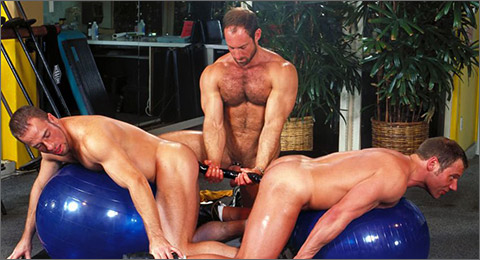 TO THE MAX – SCENE 2: Eric Evans & Mark Pulver fuck & dildo fuck Brent Banes
Eric Evans gives Brent Banes a lesson in lust in between sets. Banes swallows Evans' sweet sausage, then demands a little reciprocation. When Evans has gotten his fill, he bends Banes over a weight bench. At first he eats his eager ass, then moves his fingers in to pry open the hole for his cock. The pounding comes quick and deep as the fur-covered top jams Banes' hole full of his barbell-like cock. Mark Pulver must have heard the groaning — he arrives on scene just in time to stuff Banes' face. Evans gives Banes' ass a break and goes after Pulver (who's feasting on Banes' cock) with a big black dildo. After loosening up the muscle daddy, Evans jams in his cock and rides him hard. Evans's two willing bottoms take both ends of a double-sided dildo and push it until their assholes nearly kiss. Evans cums on their asses while Banes and Pulver shoots ropes of sticky jism.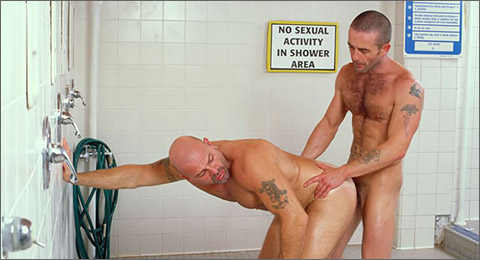 TO THE MAX – SCENE 3: Jack Stuart fucks Tom Penn
Peterbuilt Jack Stuart and muscleman Tom Penn hit the showers and trade blowjobs. Penn bends Stuart over for an ass-slapping rim job and wild finger fuck; Stuart responds by going after Penn's hard cock. After some rough housing, the two get down to business with a hardcore ass fucking, Stuart plugging Penn's pink hole. The two stroke each other to completion on the steamy tile floor.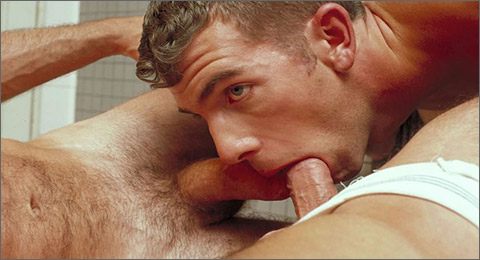 TO THE MAX – SCENE 4: Erik Michaels & Frank Parker fuck Eric Payne
Eric Payne and Erik Michaels get caught fucking around in the gym locker room by Frank Parker. He commandeers the two young men's four holes, letting Payne lick at his pits while sweet-faced Michaels goes to town on their cocks. The double sucking leads to more intensive action as Michaels starts to squat on Evan's rock hard dick. But Parker wants that ass for himself. He takes Payne from the rear while Michaels feeds him his cock. The three shoot in a wet and explosive group climax.

WATCH IT NOW / MORE INFO AT:
HOT HOUSE ENTERTAINMENT
Hot House Backroom Members can see this film anytime online.
With extensive additional photography from every scene.
Members can download their favorite Hot House scenes.