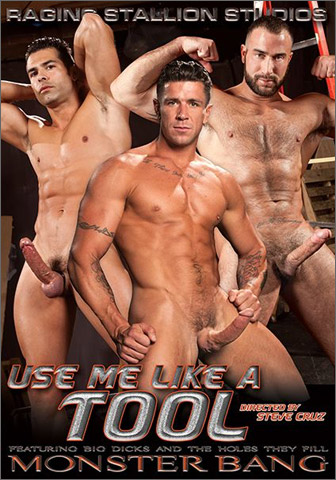 Studio: Raging Stallion / Monster Bang
Directed by: Steve Cruz
Year of Production / Release: 2012
Country of Production: U.S.A.

CAST:
Jessie Colter
D.O.
Trenton Ducati
Spencer Fox
Charlie Harding
Jason Michaels
Spencer Reed


INFORMATION FROM RAGING STALLION:
The laborers know how to use the tools of their trade. They're working overtime to get the job done, and at the end of a long day filled with sexy coworkers and physical exertion all they want to do is get off. These bottoms are thinking – Use Me Like a Tool, and these massive-cocked tops don't waste any time powering up and hammering their way deep into their workmates' eager holes. Hall-of-Fame Director Steve Cruz wasn't fuckin' around when he paired superhot and super hung Exclusive D.O. with – not only one but two amazing receivers – Trenton Ducati and Jessie Colter. Cruz didn't stop there! Next he brought in the massive Spencer Reed to pummel sexy Spencer Fox. And, finally Cruz offered up two exclusives in a riveting finale, humongous cocked Charlie Harding and furry, wild bottom Jason Michaels. Macho and monster cocked top men decimate hungry bottoms in four nut-busting scenes, piling their precision cocks into the tight holes of hunk-hungry guys who revel in the widest and deepest ass stretching of their lives. These wicked ass assaults leave lust saturated fuckers–and yourself–glazed with hot jizz.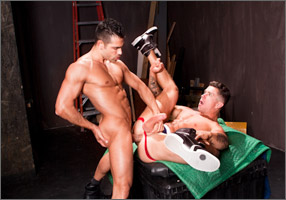 SCENE 1: D.O. fucks Trenton Ducati
Amidst the lumber and ladders of a secluded workroom, strikingly handsome D.O. and muscled Trenton Ducati lock together, sharing manic kisses while D.O. fingers Trenton' s fuckhole without mercy. Throwing Trenton on a crate covered with packing blankets, D.O. splits the Trenton's legs, and buries his face in the succulent ass for some serious tongue drilling and fine ass feeding. Trenton dives onto D.O.'s big thick cock and gets a face fucking that must have left bruises in the back of his throat. Trenton gets D.O. harder than he's ever been, and D.O. plunges his achingly stiff, big South American jackhammer into Trenton's granite ass. Trenton's yelling makes D. O. pause, and he pries the roughed up red asslips open for a view before plunging his gut churner back in with renewed intensity. There's only so long even tough Trenton can take such punishment before he explodes and cum flies across his chest. D.O. pulls his massive tool out, and his own jizz mixes with Trenton's steamy load.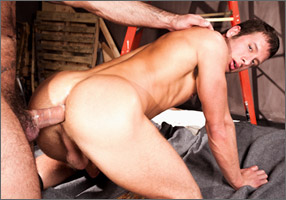 SCENE 2: Spencer Reed fucks Spencer Fox
These two stars named Spencer were bound to finally come together for a blowout scene–Spencer Fox, the smooth youth gluttonous for big cock, and Spencer Reed, the heavy hung, solid hunk of beef ready to wreak havoc on his partner's fine hole. A work area scattered drop cloths and aluminum siding can't confine their intense arousal. Fox pulls Reed's cock free of his musky jock, and Reed pumps the full bloated length of the rammer into Fox's face, holding his head down on it until the young sucker chokes. But this is no lopsided lust. "Nice fuckin' dick," Reed says as he buries the entire length of Fox's steel rod down his throat. But Reed flourishes on fucking, and he rims the fresh, hairless hole into readiness for the ruthless stretching his colossal cock's going to give it. Fox braces himself against the barrage of brute force, as Reed repeatedly pulls his ass-mauler all the way out before heaving it back in. Fox finally blows across his stomach, and Reed throws his load on, too, as he hungrily laps up Fox's hot pearls. He clamps his mouth over the shuddering bottom's cum-slick cock, and shares jizz flavored kisses with the dazed and spent youth.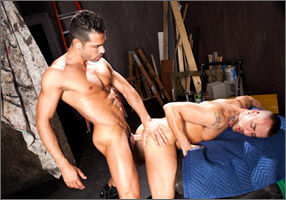 SCENE 3: D.O. fucks Jessie Colter
This scene is an all-out stunner. When statuesque D.O. gives Jessie Colter the ride of his life, we witness the scorching fucker and the screaming bottom. During a frenzy of face-rape kisses, Jessie's ass rears up high and welcoming. Its smooth and gleaming white orbs are proverbial putty in D.O.'s ass-mauling hands. The ravenous manhole hardly needs relaxing, though D.O. gives it spit lube and finger stretch. The stakes are raised by the black rubber cockring that tightens D.O.'s ballsack and darkens his blood gorged cock. He slams the gigantic manrammer in there, and Jessie surrenders to the merciless depth charge. Jessie's unrestrained moaning fires up D.O.'s relentless pounding, and the brutal fucker goes into overdrive, digging up Jessie's cavernous booty. Beat down with waves of erotic onslaught, the senseless Jessie creams himself plenty, and with magnificent, lust-powered thrusts, D.O. sends his load soaring beyond Jessie's writhing body.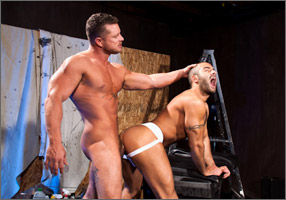 SCENE 4: Charlie Harding fucks Jason Michaels
Hardworking Charlie Harding delivers sandbags to his coworker Jason Michaels. Charlie, the handsome blond with the rugged face and burly body, sizes up Jason, the darkly furred, olive-skinned laborer. It's not long before work turns to scorcher sex. Charlie pulls Jason into incendiary, saliva soaked kisses. His hand slithers under the waistband of Jason's jeans, and his trembling tells you just when Charlie's finger starts tapping his hole. Jason grips Charlie's nipple, and the husky dude rumbles in bliss at the tit taunting. "Yeah, use your teeth," he commands in a voice that seems to growl from somewhere deep within his balls. His shiny fat cock throbs, and soon Jason is riding him. Charlie slams the mighty tool upward into Jason's ass, a bucking bronco of fuck power. The bruiser's pile driving makes Jason spew his burning load on his hairy belly before Charlie gives him the facial he craves. Jason swallows Charlie's still throbbing cock shaft one more time, sucking off its slick coat of cum.

WATCH THE SCENES AT:
RAGING STALLION'S MEMBERS SITE
Members at RAGING STALLION'S MEMBERS SITE can watch these scenes and download extensive Photo Content from this production and get discounted pricing on all DVD and Print purchases.

VIDEO ON-DEMAND: AEBN SMUTJUNKIES THEATER
DVDs & ON-DEMAND: TLA VIDEO