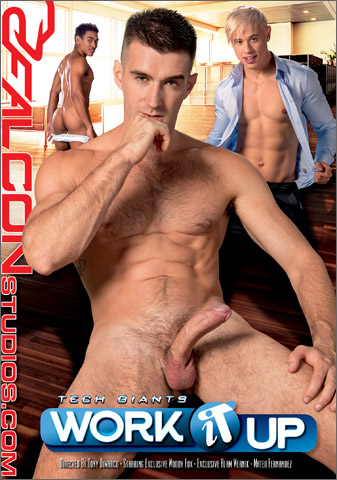 Studio: Falcon Studios
Directed by: Tony Dimarco
Year of Production / Release: 2018
Country of Production: U.S.A.

CAST:
Mateo Fernandez
Woody Fox
Devin Franco
Alex Mecum
Pierce Paris
Alam Wernik
FROM FALCON STUDIOS:
Log on and 'WORK IT UP' as six horny techies labor over computers all day only breaking to labor over each other's hot bodies, cocks and asses. These aren't you average everyday computer nerds. They're some of the hottest coders you'll ever witness, and the action may cause a meltdown in your motherboard. In Falcon's latest feature directed by Tony Dimarco, these co-workers overflow with testosterone and pent up sexual frustration that naturally leads to hardcore fucking at the office. Alam Wernik rips his slacks right after getting to work, so Alex Mecum seizes the opportunity to lick and fuck his perfect ass. Devin Franco walks in on Pierce Paris taking a leak and ends up taking his massive cock in multiple positions before eating Pierce's load. Newcomer Mateo Fernandez finds a video of his co-worker Alam Wernik fucking his insatiable ass with a fuck machine, and Mateo wants to try out the real thing. Woody Fox offers Devin Franco a ride at the end of the day. Devin soon realizes Woody meant a ride on his thick uncut cock. These tech studs invite you to spend some time at their office as they 'WORK IT UP' for you, until everyone is left drained and satisfied.

SCENE 1: Alex Mecum fucks Alam Wernik
Blond power-bottom Alam Wernik shows up to work and is greeted by his hunky co-worker, Alex Mecum. Alam can't keep his eyes from wandering over to Alex's desk in admiration. Alam goes to put some stuff in his backpack and rips his slacks right down the crack exposing his smooth hole next to Alex's face. Alex likes what he sees and seizes the opportunity to bury his face in Alam's exposed ass. After a lengthy tongue bath, Alam returns the favor on his knees by gagging down Alex's girthy shaft to the base. As Alex's eyes roll into the back of his head, Alam can tell Alex is ready for more and climbs on top of his co-worker to stuff his perfect ass with Alex's fat cock. Alex wants control next and bends Alam over a desk to drill his prostate even deeper. The techies switch it up one last time with Alam ending up on his back, so he can jerk his thick load out onto his chiseled abs while Alex continues to fuck his hole. Seeing Alam covered in his own jizz pushes Alex over edge, and he dumps his cum all over Alam's face and into his mouth.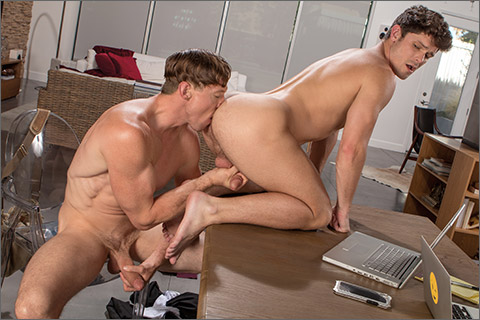 SCENE 2: Pierce Paris fucks Devin Franco
Devin Franco arrives to the offices and accidentally walks in on Pierce Paris taking a leak. Embarrassed but amazed by Pierce's huge member at the same time, he sits at the conference table and waits for his co-worker to finish. Devin tries to apologize but notices Pierce didn't mind as his cock is bulging from his jeans. Devin smiles and unbuttons Pierce's pants to reveal his massive cock and wastes no time slurping it down. Devin makes sure not to forget to give attention to Pierce's balls as he continues with his oral fixation. Pierce decides it's time to open Devin up a little to prepare him for what's to cum and bends him over the table to lick his fuzzy hole. Devin loves each lap from Pierce's tongue and stays bent over to receive Pierce's hole-stretching dick. Devin takes the rough pounding like a champ welcoming each thrust from Pierce's giant cock with a load moan. Devin switches on his back and tweaks his nipples as Pierce gapes out his hole even more. To 'Work It Up' even more, Devin switches positions one last time to ride his fellow co-workers thick meat until he unloads all over Pierce's smooth abs. Getting covered in his co-worker's cum is enough to make Pierce launch his thick load into Devin's awaiting mouth.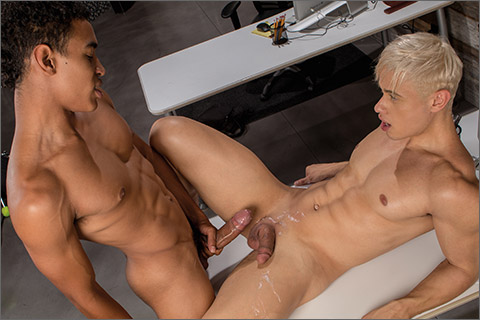 SCENE 3: Mateo Fernandez fucks Alam Wernik
Alam Wernik is back in the office after his mishap with his slacks earlier in the week. His co-worker, Mateo Fernandez opens up his computer and stumbles on a video of Alam fucking his insatiable ass with a fuck machine. Mateo instantly gets hard and pulls out his uncut cock to start stroking it. When Alam notices what's happening, Mateo taunts the techie with his cock and slaps it on the desk a few times. Alam takes that as his que to invite Mateo over to his desk and get on his knees to service the thick meat swinging in his face. Alam does as Mateo wishes and works his way from tip to balls on Mateo's uncut pole. After taking Mateo's meat down his throat, Alam offers up his succulent hole for a taste. Mateo dives right in and tongue-fucks Alam's famous ass to lube it up for something bigger. Alam begs for more, so Mateo honors his co-workers request and slides his thick cock deep into Alam's eager hole. Alam grips the edge of the desk he's bent over on to take the hard pounding that Mateo is delivering. The two techies switch position with Alam on his back so he can stoke his own uncut cock while he takes the pounding from his co-worker. With Mateo deep inside, Alam erupts with a thick load spurting onto his sweat-glistened abs. Mateo pulls out and adds his own load to the mix, glazing Alam's drained cock and balls with his creamy load.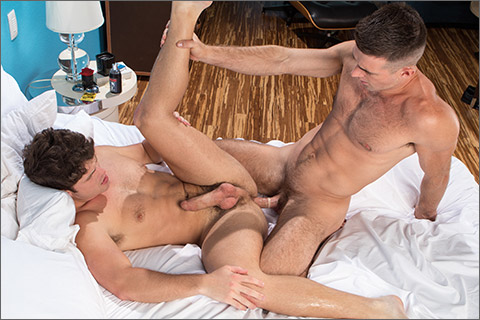 SCENE 4: Woody Fox fucks Devin Franco
Woody Fox is closing up the office when he finds Devin Franco waiting for his ride to arrive. Woody offers to give Devin a ride home. The ride home instantly turns into Devin on his knees servicing his co-worker's huge, uncut cock as thanks for the lift. As Devin is gagging on his cock, Woody can't help but slip a couple fingers into Devin's scruffy hole. Woody asserts himself, throwing Devin down on the bed and heading straight for his hole with his mouth. Devin holds his legs up and spread wide to give Woody fool access to his ass, cock, balls and taint. After having a little more than a taste of Devin's hole, Woody's ready for more. He rams his cock hard and fast into the willing stud, pounding him deep. Devin holds his legs up and out to allow Woody to reach his full depth. Devin flips over and spreads his ass apart so Woody can continue to fuck him some more. In an attempt at reach new angles, Devin climbs on top of Woody and receives the ride he was talking about at the office. Devin gives his co-worker a run for his money on the ride of his life that ends with his cock shooting out a massive load onto Woody's convulsing abs. When it's Woody's turn to nut, Devin hops off his bull and takes his warm load straight to the mouth.

WATCH IT NOW AT:
FALCON STUDIOS
Falcon Members can watch scenes from this Release anytime online.
DVD Releases debut online prior to DVD Release.