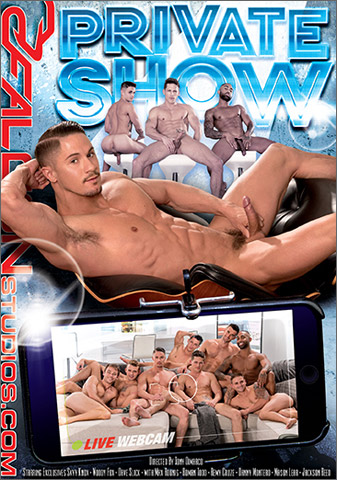 Studio: Falcon Studios
Directed by: Tony Dimarco
Year of Production / Release: 2018
Country of Production: U.S.A.

CAST:
Max Adonis
Remy Cruze
Woody Fox
Skyy Knox
Mason Lear
Danny Montero
Jackson Reed
Dave Slick
Roman Todd
FROM FALCON STUDIOS:
Welcome to the "PRIVATE SHOW", featuring nine of the hottest studs online living together in a "cam" house, where the steamy action goes on day and night. Brought to you by award-winning director Tony Dimarco, "PRIVATE SHOW" delivers an all-star cast that delivers anything-goes encounters when cocks get hard, asses get pounded, and everyone gets their turn in front of the live cameras placed all around the house. Remy Cruze is jacking his giant rod during a cam show when Skyy Knox joins in to heat up the action. Remy plants his monster deep into Skyy's ass and pounds away until Skyy blasts a load onto his own ripped abs and takes a facial from Remy's massive dick. Max Adonis brings Danny Montero home and turns on the camera before the two start to 69. Danny needs a fat dick in his ass so Max slips inside and fucks him until Danny ends up with a fist full of cream and a face full of cum. Jackson Reed is camming in the kitchen when he convinces Roman Todd to fuck him live. Roman agrees and after opening Jackson up with his tongue, Roman slips his thick dick deep into the toned stud and pumps away until Jackson's chest and face are covered in cum. Mason Lear catches Max Adonis jacking off in the hot tub but doesn't realize that he's live on cam. When Mason realizes he's being recorded, he goes with the flow and the two hunks suck each other all the way to an explosive finish that leaves both their mouths filled with a fresh load. Dave Slick is on the verge of getting kicked out of the cam house by Woody Fox for having low numbers online. Woody has a solution and leads Dave to the bedroom where he turns the camera on, bends the slender stud over, and fucks the cum out of him. In the end, Dave is a sticky mess, but will he get to stay in the house? Find out what your favorite studs are up to as you satisfy your voyeuristic curiosities by watching their dirty antics in a "PRIVATE SHOW" put on just for you!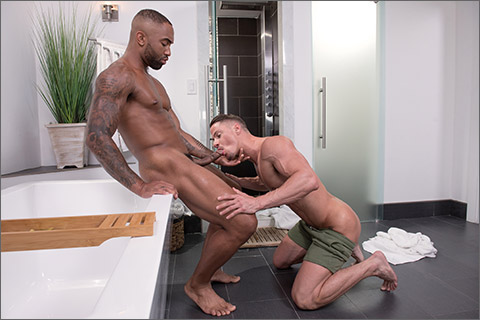 SCENE 1: Remy Cruze fucks Skyy Knox
Remy Cruze is jacking his giant rod for a cam show when Skyy Knox interrupts him. Slightly annoyed at first by the intrusion, Remy quickly asks Skyy to join in to make his show a little more special for his viewers. After showing off his insatiable ass, Skyy can't resist getting down to his knees to get a taste of the monster dangling between Remy's legs. As Remy's meat stiffens, he can't take his eyes off Skyy's perfectly toned ass and gets behind the stud to show his perfect ass some much deserved attention. Remy can no longer take the anticipation and slides his massive pole deep into Skyy's crack. He goes slowly at first, enjoying the sensation of Skyy's tight, warm hole surrounding his giant dick. When Remy is convinced that Skyy is nice and warmed up, he thrusts into his buddy harder, ramming it deeper with each pump. Getting pounded that hard makes Skyy ready for release, and after riding Remy for a bit of extra prostate pleasure, Skyy lies back and lets Remy finish him off. Remy pounds in and out of Skyy's sore ass until Skyy explodes onto his ripped abs. When Remy sees all the cum, he stands above Skyy and gives him a facial that neither Skyy nor the cam viewers will soon forget.

SCENE 2: Max Adonis fucks Danny Montero
Danny Montero comes home with Max Adonis knowing full well that Max lives in an established cam house. Danny loves the thought of being watched by people online and happily starts making out and grinding on his new buddy. Danny is horny as hell and cuts to the chase when he pulls Max's pants down to his ankles to reveal his nice, hard cock. Danny takes it in his mouth and gets Max revved up and ready for more. Max needs Danny down his throat and leans over to 69 the stud as the two suck dick and rim each other's asses. After Max gets Danny nice and opened up, he bends the hunk over and slides his hard dick deep inside. Max fucks Danny hard until Danny takes control and hops on Max to ride his probing dick. Max loves the feel of Danny doing the work and servicing his cock but wants to give Danny's hole one last plunge of his own. Max works his dick in and out of his power-bottom until Danny's cock erupts with a river of cum that shoots onto his pumping fist and runs down his arm. Max can't resist licking up Danny's mess before he aims his ready-to-burst cock at Danny's face and gives the young stud a creamy white facial to wrap up their cam house session.

SCENE 3: Roman Todd fucks Jackson Reed
Jackson Reed is live on cam when Roman Todd joins him in the kitchen. Jackson convinces Roman that they should fuck to get their numbers up and Roman agrees. Without missing a beat, Roman and Jackson lock lips as their hands make their way down each other's shorts. Jackson is happy to find a big stiffy in Roman's bulging undies and immediately drops to his knees to get it in his wet mouth. He sucks and slurps Roman's hard cock, working every inch of the extra thick shaft before Roman returns the favor. The muscle stud gets down in front of Jackson's swimmers body and takes his girthy cock in his mouth. He slowly works his way around to Jackson's ass and opens the stud up with laps from his tongue. When Roman is convinced that Jackson is ready for dick, he stands up and slides his hard rod deep into Jackson's backside. Jackson wants to watch Roman plow him and turns around to lie on his back as Roman keeps up pounding his prostate. With Roman pumping in and out, Jackson can't hold back his urge to bust any longer. He blasts his cum all over his chest and quickly gets on his knees one more time to take Roman's load on his face. Roman is happy to give Jackson his reward and covers him with a river of cum that runs down his cheeks and onto his panting, sweaty body.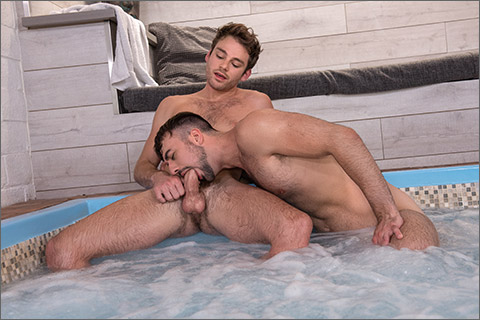 SCENE 4: Mason Lear & Max Adonis get oral in the hot-tub
Max Adonis is putting on a live show in the hot tub, jacking his stiff rod for the camera when Mason Lear decides to join him. Max is caught off guard and tries to hide his hard-on but Mason is onto him. Mason slowly slides his foot over to Max's side of the tub signaling to Max he no longer needs to hide his boner. Mason stands up to kiss the stud and give him a hand jacking his dick. Mason can't hide his excitement to get Max's cock in his mouth and makes his way down to suck on his big rod. Halfway through the steamy hummer, Mason realizes he's being filmed and gets turned on even more. Not wanting to put on a bad show, Mason opens even wider to let Max fuck his face. Both studs are raging hard now and Max wants Mason's dick in his mouth. After bending the stud over and taking a quick taste of his smooth ass, Max works his way around to the front as Mason grabs the camera for a POV presentation. Max takes Mason all the way down his throat and sucks the hard stud until Mason blasts a massive load into Max's mouth. Max needs his release and lies back to jack his rod as Mason tongues his balls. Mason's talented tongue does the trick and without hesitation, Max blows a geyser of cum all over Mason's lips and chin.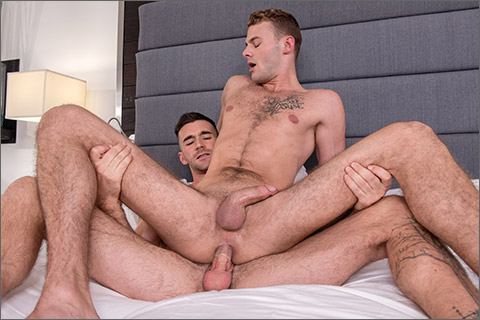 SCENE 5: Woody Fox fucks Dave Slick
Dave Slick is on the verge of getting kicked out of the cam house by taskmaster, Woody Fox due to his low numbers in previous shows. To keep his place in the house, Dave needs to get his viewer count up with a live sex show. Woody gives Dave an ultimatum that leads the two hunky studs to the bedroom where Woody turns on the camera and unzips his jeans. Dave is eager to dive in and takes Woody's big, powerful, uncut dick in his mouth until he's ready for more. Dave wants to get fucked and opens his legs wide to let Woody tongue-fuck his smooth hole. Woody can see what Dave needs and instructs Dave to bend over and spread his cheeks. Dave does as he's told and soon Woody slides his long dick deep into Dave and starts pumping. Dave's dick flops back and forth and Woody's ripped abs flex while skin slaps. Woody wants Dave to do some of the work and tells his housemate to sit on his uncut fuck-stick. Dave hops on and bounces on the hung Aussie's giant cock as Woody slides balls deep into Dave's hole. Both hung studs are working their way towards the ultimate climax when Woody throws Dave onto his back for one last pump session. Woody pounds away until Dave shoots his load all over his own hairy chest. That's Woody's cue to stand up and cover Dave's body with thick ropes of cum that leaves the heaving stud drenched and wet with jizz.

WATCH IT NOW AT:
FALCON STUDIOS
Falcon Members can watch scenes from this Release anytime online.
DVD Releases debut online prior to DVD Release.