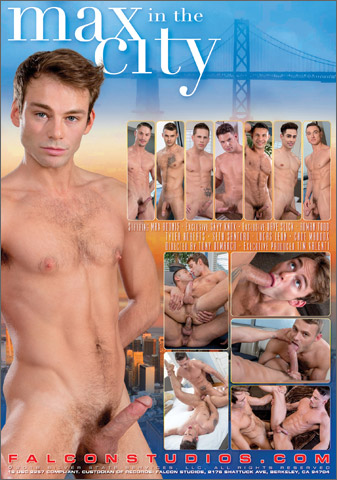 Studio: Falcon Studios
Directed by: Tony Dimarco
Year of Production / Release: 2018
Country of Production: U.S.A.

CAST:
Max Adonis
Skyy Knox
Lucas Leon
Cade Maddox
Tyler Roberts
Seth Santoro
Dave Slick
Roman Todd
FROM FALCON STUDIOS:
When Max Adonis moves to San Francisco, he's in for a horny treat as he discovers all the new things that await him. In the City by the Bay, anything goes! The tale of 'MAX IN THE CITY' is told by award-winning director Tony Dimarco and his eight SF hunks. Max hasn't seen his high school buddy, Seth Santoro, in almost 10 years. The sexual tension from all that time apart is shattered when they suck each other off and flip fuck to satisfy a decade of curiosity ending with Max drenched in cum. When Roman Todd rents a room from Lucas Leon the sparks fly when Lucas offers up his ass ending with a massive facial from Roman's thick rod. When Max discovers he's short on cash after ordering a pizza, delivery guy Tyler Roberts, suggests an alternative payment method. Max gets on his knees and works for his meal by sucking Tyler's thick dick. In the end, Max gets a hole eaten out, a face full of cum, and a free pizza. Dave Slick is a real estate agent showing Cade Maddox a luxury condo that he can't really afford. Cade has an idea that he hopes will get the price down a bit. He slides his dick into Dave's tight ass and pumps away until Dave's face and chest are covered in cum. When Max meets his new neighbor Skyy Knox, he becomes interested and curious about the ripped stud. After Skyy makes the first move, the two swap head and flip-fuck until Max covers Skyy's face and tongue with a warm load. With 'MAX IN THE CITY', every cock is fair game, and every ass is up for fucking.

SCENE 1: Seth Santoro & Max Adonis flip-fuck
Max Adonis moves to San Francisco. Upon his arrival, first on Max's list is visiting his buddy, Seth Santoro, who he hasn't seen since they went to high school together 10 years ago. As they reminisce about what might have been, their hands wander, and one thing leads to another. They start making out and soon their clothes are in a pile on the floor as Seth takes the lead to suck on Max's hard cock. Seth sucks Max like it's the last dick he'll ever get to swallow and greedily gobbles it down his throat. Max needs to satisfy his own 10-year-old curiosity when he takes his turn sucking Seth's big hairy cock. All the sucking gets Max hard as a rock and soon his face is buried in Seth's hole. He laps it up with his tongue and gets Seth nice and open before the hunk is begging to get stuffed. Max happily helps Seth with what he needs and slides his swollen cock deep into the stud's willing ass. Max pumps away from behind until he decides he wants to take Seth's meat for a spin. He hops on and rides his friend deep as his own dick flops up and down. Seth's cock feels amazing deep inside of Max backside. Switching it up, Max gets on his back and cums hard as Seth continues to pound him. Seeing his buddy blast a creamy load is all it takes for Seth to let loose and blow his load all over Max's cum-covered body.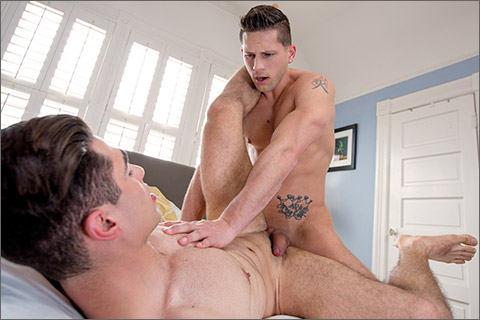 SCENE 2: Roman Todd fucks Lucas Leon
Roman Todd is visiting San Francisco and is renting a room from Lucas Leon. There's an instant spark between the two strangers as they lock eyes. Lucas leaves to get a towel for Roman, and returns to catch Roman stripping down and rubbing his bulge in front of a mirror. Roman sees Lucas watching him from the stairs and turns to nod his head as an invitation to join. Lucas jumps at the opportunity and joins the stud in his room. Lucas can't resist the sight of Roman's massive cock and gets down to lick every inch the hunk has to offer. After a nice long blowjob, Roman is ready for more and bends Lucas over the bed to rim the young stud until he's asking for Roman to fill his ass with cock. Roman needs his release and fast so he sticks his dick deep inside Lucas, pumping away as Lucas moans out with each thrust from the muscle hunk's big cock. Roman plows Lucas even harder until Lucas decides he wants to watch Roman face-to-face as he pounds his hole. Lucas' cock is throbbing and ready to blow as Roman fucks the cum out of the young stud's fat cock. Lucas isn't quite done though; he's still thirsty for cum and opens his mouth wide as Roman drops his load inside. It's a great first day in San Francisco for Roman and a jackpot rental for Lucas.

SCENE 3: Tyler Roberts & Max Adonis (all oral)
Tyler Roberts is delivering a pizza to Max Adonis when Max comes up short on cash. Tyler takes notice of Max's cute ass and body and throws out a few alternative options for payment; Tyler suggests that Max suck his dick. With no other way of paying, and with a raging hunger for cock, Max agrees and gets on his knees. Max's mouth feels amazing wrapped around Tyler's impressive thick dick and soon the delivery guy is balls deep in Max's throat. He face fucks the eager hunk as he closes his eyes and enjoys every second. Tyler wants a taste of Max's ass and throws him back on the couch to see what the fit stud has to offer. Tyler works his way up Max's hairy balls to his throbbing cock and takes it in his mouth to return the favor by sucking Max's dick. Max plows the mouth of the hung delivery stud before lying back one last time to let Tyler eat him out to a creamy finish. As Tyler gets in deep with his tongue, Max blasts his load all over his own ripped body. That's Tyler's cue to feed the hungry stud and with Max underneath him, eyes and mouth wide open, Tyler lets go and showers Max's face with cum.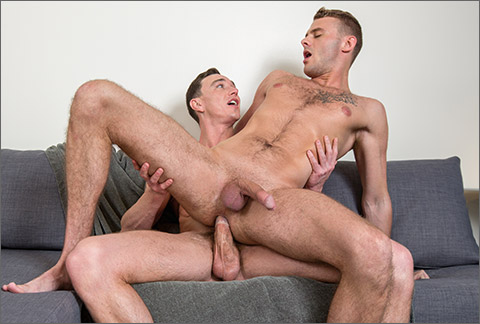 SCENE 4: Cade Maddox fucks Dave Slick
Dave Slick is a real estate agent showing Cade Maddox a new place in San Francisco that Cade can't really afford. In hopes of getting the price down, Cade offers his services and reaches into Dave's pants to discover an extra-large and throbbing dick just waiting to get serviced. Cade gets down between Dave's legs and takes him into his mouth. He works the giant pole down to the base and takes it all the way down his throat. With a backdrop of the Bay behind them, the two studs get naked and Dave catches a glimpse of what Cade has to offer. He can't help himself and takes Cade's big monster in his mouth. It barely fits down Dave's throat but he has an idea of where it will be a better fit. He lubes Cade's thick dick up and takes a seat, riding it as deep as it can possibly go. Cade pounds away from behind as Dave jacks his own big rod until Cade wants a better view of his hunky real estate agent. Cade flips the stud onto his back and continues his relentless pounding until Dave shoots a giant load that flies out onto his chest and runs down his side. Cade can't hold off any longer and pulls out to blast Dave's face and add to the pool of cum that's covering Dave's body. Hopefully that will get Cade the deal to afford the second best view in the Bay next to Dave's tight ass.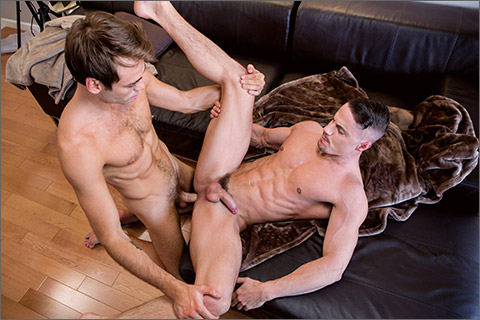 SCENE 5: Skyy Knox & Max Adonis flip-fuck
Max Adonis is coming home from the grocery store when he stops in to say hi to the new neighbor, Sky Knox. Skyy invites Max in to check out the view of the neighborhood and works his magic by feeling Max's firm ass. That's all it takes for Max to cave into his temptations and the two start making out hard. Skyy can't control his urges and reaches into Max's underwear to feel his hairy crotch. Skyy wraps his lips around the giant cock and gets to work sucking as he takes the whole thing down his throat. He works Max hard before working his way down the hairy hole that awaits him. Both studs are raging hard when Skyy bends Max over to slide his dick inside. He pumps away on Max, quickening his pace until Max is panting and begging for more. Max wants the chance to ride Skyy's massive uncut pole and hops on to take it deep, making Skyy moan out with each grind from Max's talented hole. That's not enough for Skyy, so he pulls out, lies back on the couch and asks Max to fuck him. Max happily agrees and slips inside the horny stud's tight ass. He plugs away, stretching Skyy until he fucks the cum out of the muscle stud. When Max sees the giant load covering Skyy's heaving muscles, he pulls out and dumps his own load all over Skyy's face and tongue. Max cleans up his own mess by licking the cum off of Skyy's face and then feeds it to his new neighbor with a wet, sticky kiss. Skyy thinks that the fog has rolled in. Max notes that it's not the fog, but they fogged up the windows with their hot session.

WATCH IT NOW AT:
FALCON STUDIOS
Falcon Members can watch scenes from this Release anytime online.
DVD Releases debut online prior to DVD Release.