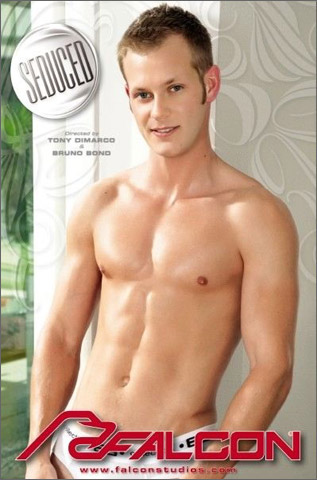 Studio: Falcon Studios
Directed by: Tony DiMarco, Bruno Bond
Year of Production / Release: 2012
Country of Production: U.S.A.

CAST:
Aaron Blake
D.O.
Spencer Fox
Charlie Harding
Calvin Koons
Dylan Roberts
Johnny Ryder
Tanner Wayne
FROM FALCON STUDIOS:
Whether it's fuck buddies who constantly tempt each other, a photographer pushing his model to the hottest shot, lovers who get each other hot and bothered or a dad who lures his son's friend for a fuck; these eight studs are all Seduced. They are all willing players in the game of seduction, where desires and fantasies turn into lustful and passionate hard core encounters. Sometimes it's a glance, sometimes it's a grab, sometimes it's a lick, sometimes it's a command — whatever the tactics they use, these men know how to play the game and get what they want. Buddies Spencer Fox and Calvin Koons need little seduction to get their sofa sex fest started, but they subtly get each other to fulfill their sexual appetites. Photographer Charlie Harding is shooting his subject Dylan Roberts, but they both seduce each other into a steamy, picturesque pounding. Johnny Ryder and Tanner Wayne are lovers, but they keep things super hot and spicy with sexual seduction. D.O.'s a father, and he's got an intense fantasy with his neighbor, Aaron Blake. Aaron is friends with D.O.'s son, but he wants to get in D.O.'s pants. These four fiery scenarios directed by Tony Dimarco and Bruno Bond expertly engage you in delicious situations that will have your dick standing at attention. You'll be Seduced by these hot studs and you'll find yourself shooting your load right along with them.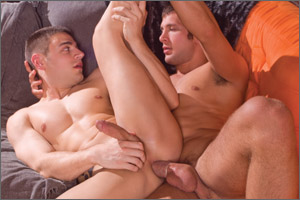 SCENE 1: Spencer Fox fucks Calvin Coons
Tasty, muscled Spencer Fox and handsome Calvin Coons are clothed and making out on the sofa in their loft. Spencer's huge cock pops out of his underwear and Calvin can't get out of his clothes fast enough. As Calvin's dick comes out, Spencer is slurping on it right away, and Calvin gets right on Spencer's massive boner. Spencer spreads his legs wide open inviting Calvin to take turns between rimming him and sucking his tool. Deepthroating Spencer, Calvin bends over and offers up his tight, sweet hole for Spencer to eat, finger and fuck. After getting Calvin primed and ready, Spencer goes in for a deep plunge, driving his rock hard cock deep inside stroke after powerful stroke that Calvin takes willingly. Sitting down, Spencer offers his cock up for a ride by Calvin, who immediately jumps on board and mounts Spencer's hefty piece. From here on out it is an expert cock riding display — Calvin is like a rodeo rockstar hitting it cowboy and reverse cowboy until he shoots his load on his leg and quickly gets on his knees so Spencer can shoot multiple spurts of jizz on Calvin's face and in his mouth.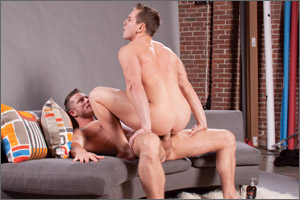 SCENE 2: Charlie Harding fucks Dylan Roberts
Dylan Roberts & Charlie Harding Photo shoot is the new massage: the primo setup for seduction. With broad shoulders, plump pecs and an ass that commands attention, humpy Dylan Roberts is the perfect model, and Charlie uses the camera as foreplay. Dylan's tighty whities are stretched to transparency by hot buns too quivering to resist. The horny photographer barks commands to his model. Squeeze that cock! Stick that ass out and spread it! It's better when Charlie handles the flesh, on the pretext of perfecting the shot. Dylan loves being handled, so he offers a taste of his hole. The commands, not the usual porn-speak, elevates the heat as Charlie's oral attention to Dylan's cock, balls and hole reduces his model to trembling, receptive meat. When not eating ass, Charlie primes it with a finger while slurping Dylan's balls and slip-sliding his foreskin. Flooded with endorphins, Dylan reciprocates, slamming Charlie's cock into his mouth, oblivious to gag reflexes in his need to be penetrated. Charlie orders Dylan to mount him. The camera captures Charlie's furry torso while looking up at Dylan's heaving chest as he slides his haunches onto Charlie's fuck stick for three positions of deep penetration culminating in two juicy blasts of jism and a wet kiss.

SCENE 3: Johnny Ryder fucks Tanner Wayne
Johnny Ryder comes down the stairs to greet his statuesque man, Tanner Wayne, with a passionate make out session. These two towers of manhood lock lips and lick each other's sculpted, tanned bodies with a fervor until Tanner unwraps the growing package that's under Johnny's jeans. Tanner instantly wraps his lips around Johnny's stiff inviting cock after it's released. Johnny's cock is at full mast when he moves around to service Tanner's hole with an intense tongue bath. He probes deeply with his wet mouth muscle, before he delivers his hefty cock deep into Tanner from behind, making Tanner's wide, hard dick bounce with each thrust. Johnny accentuates the pounding he's giving to Tanner's hole with occasional smacks to his hot round ass. Johnny sits back on the steps so Tanner can ride his cock reverse cowboy, which gets both of them to the edge, and they finish themselves off squeezing out hefty loads.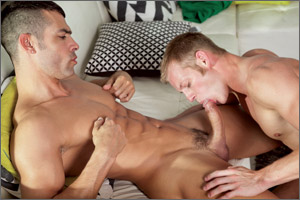 SCENE 4: D.O. fucks Aaron Blake
The muscled, handsome model D.O. relaxes shirtless, watching some television. His hot young neighbor, Aaron Blake comes knocking, looking for D.O.'s son. D.O. invites Aaron in to wait, and he's intrigued by Aaron's hook-up app on his phone. After he takes a look at the naked men on the app, and making sure his son's friend is legal, D.O. makes a move, luring Aaron over by showing him his huge thick Latin meat. With one of the hottest men on the face of the planet in front of him, Aaron quickly forgets about the app and gets right down to business with some fatherly coaching from D.O.. Aaron wants to please his friend's father so much that he strains and stretches to swallow the behemoth cock in front of him. After teaching Aaron how to take a massive cock down his throat, D.O. asks Aaron if he wants it inside him. Aaron is eager to please and definitely wants D.O. fully inside of him. Aaron starts to show his hole to D.O., and it's game on. D.O. preps, pokes and pounds the hole like a master, and Aaron can't get enough. D.O. wants to make sure Aaron experiences this amazing fuck in every which way as he switches from position to position, until Aaron is on his back with D.O. slamming a huge load of cum out of him, which D.O. replies to with multiple sprays onto Aaron's chest.

WATCH THE SCENES NOW AT:
FALCON STUDIOS
Falcon Members can watch scenes from this Release anytime online.
DVD Releases debut online prior to DVD Release.

VIDEO ON-DEMAND: AEBN SMUTJUNKIES THEATER
DVDs & ON-DEMAND: TLA VIDEO