Studio: Falcon Studios
Directed by: John Rutherford
Year of Production / Release: 1997
Country of Production: U.S.A.

CAST:
Scott Austin
Derek Cameron
Tom Chase
Buck Meadows
Erik Michaels
Tristan Paris
Steve Pierce
Gregg Rockwell
Marc Stewart
Colby Taylor
FROM FALCON STUDIOS:
What happens when buddies show up for a long weekend? Grab your cocks and find out. Will Colby find out about Derek's indiscretions? Will Scott Austin be able to walk after Buck fucks him? Falcon never fails in its quest to provide high quality. Great sex, hot guys, and professional productions make their films instant classics. Labor Day weekend has arrived and lovers Derek and Colby eagerly await their houseguests. Will old passions be rekindled?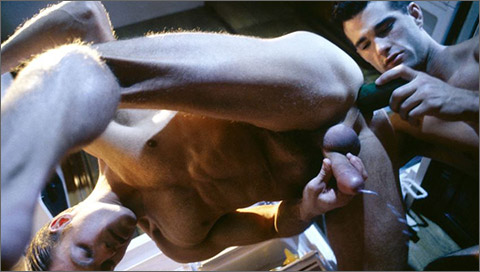 SCENE 1: Gregg Rockwell manhandles Derek Cameron
It's a warm summer night. groping in the darkness Derek Cameron stumbles through the kitchen and makes it ot the refigerator. He pours himself a glass of milk when someone brabs him from behind. Startled, he drops the glass and it crashes to the floor, but that doesn't stop the two young studs from getting it on. Bathed in the pale light of the ice box, Derek and Gregg Rockwell manhandle, kiss, and devour each other. The two move silently as Derek smothers Gregg's chest and torso with his tongue, sliding up and down and enjoying every inch of delicious flesh. He pulls Gregg's shorts down, exposing the thick hard cock he's so hungry for. Derek lovingly worships and swallows it. He nurses on Gregg's cock…expertly sucking and working it. Overwhelmed with desire, Gregg jacks his thick cock until long streams of white cum erupt, bathing Derek's ass in sweet cum.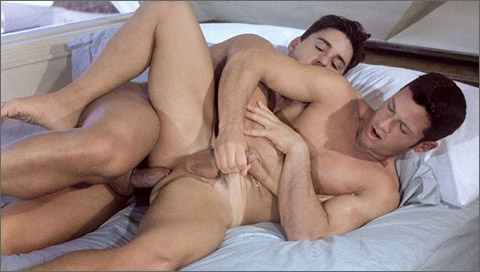 SCENE 2: Tom Chase fucks boytoy Tristan Paris
The next morning, legendary stud Tom Chase shows up with his new boytoy Tristan Paris. After a long ride in the car, Tom and Tristan decide to clean up in one of the most sensual shower scenes ever. Tom explores every inch and crevice and hole of Tristan's body. First with his fingers and then with his tongue. After Tom thoroughly rims Tristan's smooth hole, the action moves to a bedroom. Rarely have romance and sex been captured so perfectly on film. Tom and Tristan are perfect together and it isn't long before Tom is sliding that famous cock deep inside Tristan. Plunging deeper and deeper, harder and harder until both studs are lost in rapture and blow their loads.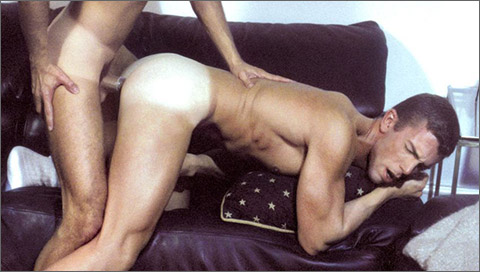 SCENE 3: Marc Stewart fucks Erik Michaels
There they are… Marc Stewart and Erik Michaels…kissing and making out on the sofa. As Erik sucks Marc's huge cock deep into his throat, Marc pulls down Erik's briefs and plays with his ass. They work each other's tight, smooth bodies, kissing and sucking and exploring every inch of fleshy real estate. Erik sits up and Marc rims his hole, lubricating and prepping his ass with his tongue. with his ass all primed and ready, Erik submits to the horsehung blond stud who plugs the hole with his huge cock. They fuck eagerly, Marc sitting back with Erik perched on top of his pole, sliding up and down until they both explode in spurts of thick cum.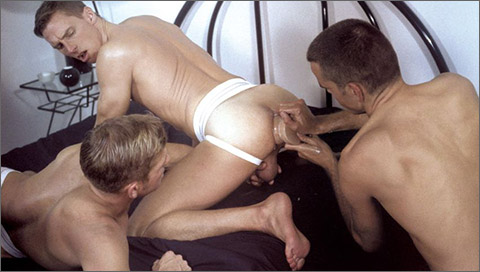 SCENE 4: Buck Meadows fucks fists and dildo fucks Austin Scott & Steve Pierce
Buck Meadows is entertaining guests Austin Scott and Steve Pierce. Naked, subservient, and ready to serve their master, Scott and Steve offer their bodies and souls to Buck – and he knows just what to do. With two willing and horny bottoms to tame, Buck engages in some passionate foreplay. The trio motor around each other, tasting each other's cocks and asses, nibbling on each other, swallowing, sucking, probing and stroking. Buck brings out the toys and introduces Steve's asshole to a buttplug. He presses the point of the plug up against Steve's hole and slowly pushes it in until it's tight and secure. Scott gets a set of enormous latex balls shoved in one by one…buck then retracts the balls…each globe stretches Scott's hole…relaxing and opening his ass. The two sexpigs groan for more and Buck pulls on his gloves. All greased up, he begins to slide his fingers, then entire fists, into both Steve and Scott. He fists his two eager slaves, making them delirious with pleasure. Buck stretches his boys wide, plundering their cavities with gusto, shoving his hand and fist high up into their holes until all three are worked into a sexual frenzy and lose their loads.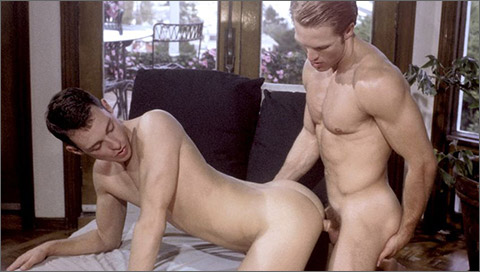 SCENE 5: Derek Cameron fucks Colby Taylor
https://members.falconstudios.com/en/video/falconstudios/The-Big-Thrill/21484
Derek Cameron and Colby Taylor find themselves alone. Colby smothers Derek with kisses and slowly they undress each other, sucking, licking, and nibbling on one another. They 69, each one taking the other's cock deep into his throat, contentedly nursing their cocks. Colby runs his fingers over Derek's hole, then stretches it open. He starts to fuck Derek, kissing him intensely on the back of his neck, burying and nuzzling his face against Derek's back. Derek begins to fuck Colby. The sexual energy is non-stop and feverish and the two lovers feed off each other. They bare their cocks and jerk off together, finally shooting thick ropes of cum as they satisfy their lust.

WATCH IT NOW AT:
FALCON STUDIOS
Falcon Members can watch scenes from this Release anytime online.
DVD Releases debut online prior to DVD Release.