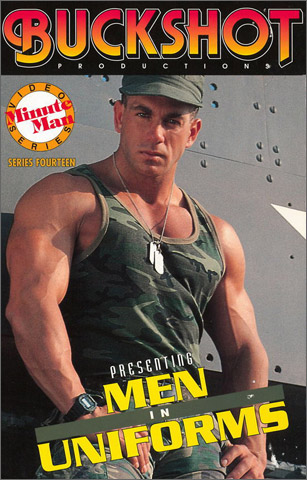 Studio: COLT Studio / Buckshot Productions
Directed by: Rip Colt / Various
Year of Production / Release: 1996
Country of Production: U.S.A.

CAST:
Joe Falco
Ryan Hayward
Hal Rodman
Jake Tanner
FILMS IN THIS COMPLIATION:

A LETTER FROM HOME
Corporal Jake Tanner is on active reserve duty but as he wanders the military base he's thinking about his sexy ranch boss back hom, Ed Dinakos. Stripping off his army fatigues Jake checks his mail and finds a welcomed letter from his hunky man. Reading the hot letter from Ed gets Jake's cock standing at attention. Thinking about his man, Jake strokes his massive dick outside in the hot sun as images of Ed stroking his big meat fill his mind.
You're in the army now! Raunchy recruit Jake can't find an outlet for all his explosive sexual energy, until he gets that "letter from home" from the lover far away. Suddenly, potent, macho memories come flooding back. It isn't long before Jake's sizzling salute to self-lust is going great guns.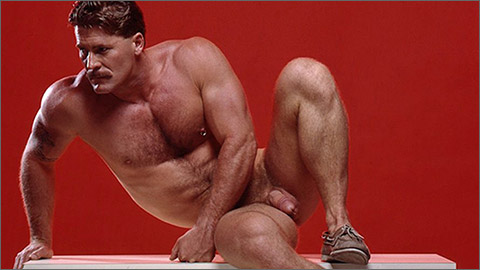 RING OF FIRE (BMV-202)
If you think the gold ring that glistens in his left nipple reflects a macho personality, just wait. You ain't seen nothin' until you see hyper-hunk Ryan and his "Ring of Fire." When the very incendiary Mr. Hayward returns home from a night of dousing flames, he wants what every fireman wants. . .a beer, a shower and sleep. He gets all three, but a bit of the burning seems to return as the heavy gauge gold ring that usually hangs from the end of his overheated firehose quickly tops a four alarm urge. With a few strokes he turns his bedroom into a pounding pumphouse.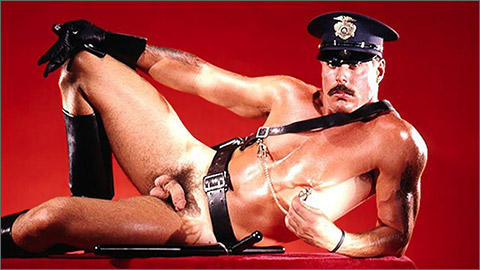 PRIVATE QUARTERS
Friday night: the crew is off the ship on a weekend pass. Joe draws the kind of duty no officer wants. . .in port ship security. He's hot, he's lonely and he's horny. Stripping off his dress whites, he pulls a skin magazine from his locker and lets the good times roll. Alone in his private quarters, he worships his own magnificent physique as it deserves to be. His pull-tab nipples get a heavy workout as he reaches a shooting, seismic climax that really rocks the boat.
Joe Falco is a military man. With discipline he carefully remvoes his dress uniform and stores it neatly in his locker. Standing at the locker in his boxers and tank top, Joe grooms his regulation length hair in the mirror. As he grooms himself he notices his rock hard nipples pushing through the tight tank top. Pushing aside the tank he gives a nipple a hard tug and immediately feels a chain reaction which wakes up his cock. Being in Private Quarters Joe sprawls out on the bed, tears away his underwear and gives this hard nipples a thorough working over. Pulling out a favortite centerfold Joe gets down to some seriousself pleasure. Being in Private Quarters gives Joe all the privacy he needs to get off exploring his own body with abandon.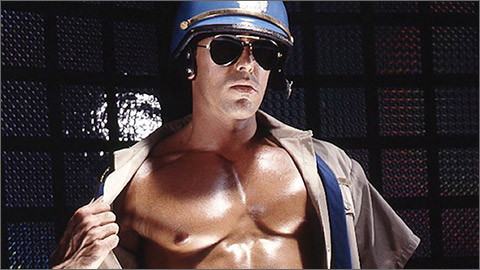 ON THE BEAT
A raunchy, pounding, good ol' fashioned pump-and-grind strip tease with the kind of uncut hot cop you're only going to ever see in dreams. When Hal starts to dance, everybody feels the beat.

MORE INFORMATION / WATCH IT / DOWNLOAD IT :
COLT STUDIO
COLT Studio members can watch this presentation online.
Extensive Photo Archives are available for download on all Classic Colt and Newer Colt Studio Productions.
BUY IT / DOWNLOAD IT :
COLT STUDIO STORE
Many of the Classic Colt and Newer Colt Studio Productions are still avaialbe for purchase in enhanced editions.