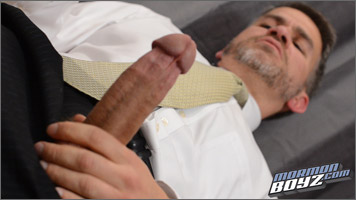 Studio: Mormon Boyz / MormonBoyz.com
Directed by: Paul Jackson
Year of Production / Release: 2014
Country of Production: U.S.A.

CAST:
Elder Buckley
Brother Newman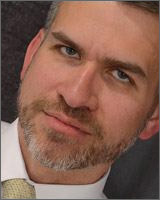 INFORMATION FROM MORMON BOYZ:
Elder Buckley
Age 19
Height 6′ 5″
Cock XL
Brother Newman
Age 39
Height 6′ 1″
Cock XL
If staring at the new elder's crotch all through Sunday School counts as inspiration, Brother Newman is inspired. Or possibly someone else was inspired to have Elder Buckley serve in his area?
   On Elder Buckley's first Sunday in the mission, the bishop asks him to teach the Gospel Principles class. He is more than a little nervous about the assignment. He grew up on a farm in South Carolina, and wasn't a very good student, and never did have much interest for early morning seminary. But the class goes pretty well. He has prepared several diagrams that illustrate the organization of the Church. Investigators, and the few local members in attendance, love this humble new missionary who looks like he just finished milking a cow.
   Brother Newman has lived in the ward for many years. Though he is a faithful member, friendly and very handsome, he has never been married. Maybe because he is single, he serves as Ward Mission Leader. During the second hour of church he attends the gospel principles class each week as part of his calling. The class is usually dull, and attended by a handful of investigators. This week, however, he can't take his eyes off of this tall, muscular, missionary boy. His staring goes undetected as the new missionary is stumbling his way through the lesson.
   In this ward, the third and final hour of church is Sacrament Meeting. This week there's a bit of excitement because one of the young men in the ward will be giving his farewell. But after class Brother Newman decides to stick around. When everyone else has left, he sits at the table where Elder Buckley just gave his lesson. He doesn't really have a reason to be here, but he is thinking about the boy's tan, muscular arms. His mind wanders, and he finds himself trying to picture the boy's ass…and then his dick. As he fantasizes, his hand slips down to his crotch, where his own dick has stiffened in his garments. Read more . . .
   From the classroom, he can hear as sacrament meeting starts. He waits until the sacrament is blessed and passed to be sure he'll be undisturbed, then pulls out his iPad and starts scrolling through pictures of naked men. He knows it's not safe to look at these images here in church, where he might get caught, but he'd hear them coming. And anyway, the danger makes it that much hotter. He can hear as the farewell talk gets underway. The young man at the pulpit is saying that his talk is for other young men in the congregation. Brother Newman unzips his trousers and lifts his thick dick and hefty balls out into the open. Now he's looking at pictures of men having sex, and thinking about pushing into Elder Buckley, and masturbating slowly.
   Elder Buckley was distracted after teaching his class that had gone so well. So distracted that he left his scriptures in the classroom. When he comes back to get them, Brother Newman doesn't hear him come in. But Elder Buckley catches a glimpse of the handsome older man stroking his dick and freezes. He slips behind a wall to watch. He can't believe that Brother Newman, who seemed like such good member, is masturbating in a church! But one look at the big dick makes Elder Buckley feel weak. With a glance over his shoulder, he pulls his own dick out and starts to stroke it.
   Brother Newman gets ready to cum. He is thinking about cumming down Elder Buckley's throat, and looking down into the elder's eyes while he does it. He doesn't want to get the semen on his pants, so he reaches for the nearest book — a pristine copy of The Book of Mormon. And he shoots his wad inside, then puts it back on the table.
   Elder Buckley hastily puts his own dick back in his pants. He gives Brother Newman a second to compose himself, then he bursts in to grab his scriptures. Brother Newman pretends that nothing unusual is happening, but when he leaves the room, Elder Buckley sees that he has been looking at gay porn on his iPad. He wonders if he might be Brother Newman's type?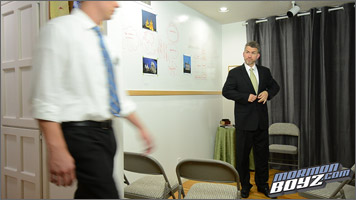 WATCH OR DOWNLOAD THIS AT: MORMON BOYZ
On-Line Only Presentation & extensive photos from each scene.