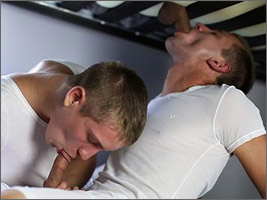 Studio: Mormon Boyz / MormonBoyz.com
Directed by: Paul Jackson
Year of Production / Release: 2014
Country of Production: U.S.A.

CAST:
Elder Berry
Elder Stewart
Angel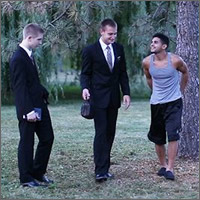 INFORMATION FROM MORMON BOYZ:
Elder Berry and Elder Stewart suck off a hung stranger!
   These two missionaries have been having so much sex with one another that their work has really begun to suffer. Every morning they get each other off, and so leave the apartment late, and they come home for a long, sexy lunch break, and their up late boning every night. They're less worried about the discussions they're not teaching and their failure to hit the mission goal of 3 baptisms per month, and more worried that if the mission president sees that they've been slacking off he'll transfer one of them.
   Out tracking one day, the two cute young elders come across a handsome guy sitting beside a tree. Missionaries are trained to talk to everyone, because you never know who might be ready to receive the gospel. They approach and say hello, and he tells them he has nowhere to go. Sensing an opportunity to teach a few discussions, and maybe even score a baptism, the two elders invite him to come home with them.
   Their new friend doesn't know anything about Mormons. He's surprised that they share bunk beds in a little room. Even weirder, when they change out of their suits, he notices that they're wearing really strange underwear. Do all Mormons wear underwear like this, he wonders? And when he strips naked for bed and takes the top bunk, the two young elders keep their funny underwear on and share the bottom bunk.
Elder Berry
Age 18
Height 6′
Cock Large
Elder Stewart
Age 18
Height 5′ 10″
Cock XL
Angel
Age 22
Height 5′ 10″
Cock XL & Thick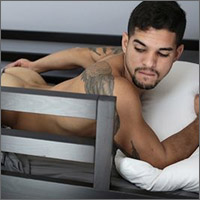 WATCH OR DOWNLOAD THIS AT: MORMON BOYZ
On-Line Only Presentation & extensive photos from each scene.