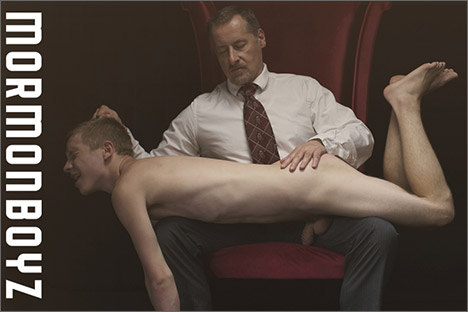 Studio: Mormon Boyz / MormonBoyz.com
Directed by: Paul Jackson
Year of Production / Release: 2015
Country of Production: U.S.A.

CAST:
Elder Stewart
Patriarch Smith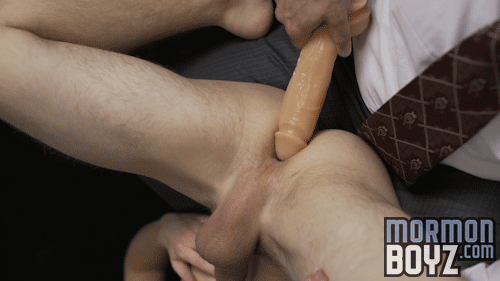 INFORMATION FROM MORMON BOYZ:
All young mormon men who enter into the order are subjected to corporal punishment to atone for any past transgressions that are not in line with the standards of the order. This is also called, "Mandated Disciplinary Action."
   By the time a young Mormon man is old enough to be a missionary, even the purest of them has committed more transgressions than he can possibly remember. Every lustful thought, every lingering glance at a naked guy in the locker room, every sexual fantasy is considered a "sin."
   And then on top of the evil thoughts, there are all the sinful acts: every time he masturbates, every time he looks at porn, and (for many, if not all Mormon missionaries) every covert sexual encounter with another boy.
   These are acts so sinful that they must be confessed to a priesthood authority before a boy can serve a mission. And it is up to the discretion of that particular priesthood leader how to proceed.
   Priesthood leaders are encouraged to ask for as many humiliating details as possible. And many priesthood leaders who oversee them go a step further and demand that the anxious young men demonstrate their transgressions.
   But many of these boys have committed so many sexual sins that they can't remember and therefore can't repent for all of them. And then there are all the times the missionaries break the law of chastity while on their missions.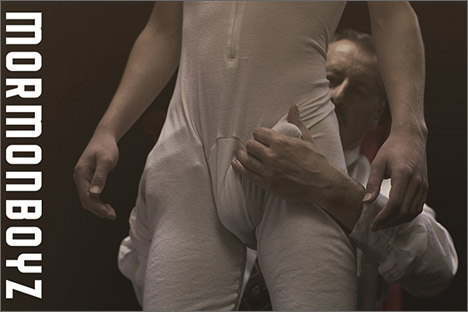 The Brethren of the Order have come up with a useful, and mandatory, solution. Every boy that is considered as a candidate to receive the higher priesthood is forced to undergo disciplinary action for all of the sins they can and can't remember. Only then can they join the True Order.
   In this way, they can atone for their transgressions, meet the high moral standards of the order, prove their submissiveness, and provide the presiding elders of the Order their right and privilege…specifically the sexual satisfaction that comes with humiliating and punishing the young male initiates.
   The Brethren have waited a long time for today's candidate, Elder Stewart, whose cute face, big thick 10 inch dick, hungry hole and sexual availability are infamous.
   Elder Stewart has begun the process of admission into the Order, and has enjoyed the process so far, having been initiated by Patriarch Smith in a sensual temple ceremony, and then inspected by Bishop Angus in his office, which involved a physical evaluation and being fucked hard.
   Elder Stewart knows today will be be more painful and difficult, but he is willing to do whatever it takes to be one of the boys accepted by, and ultimately ordained by the handsome, powerful men into the True Order of the Higher Priesthood.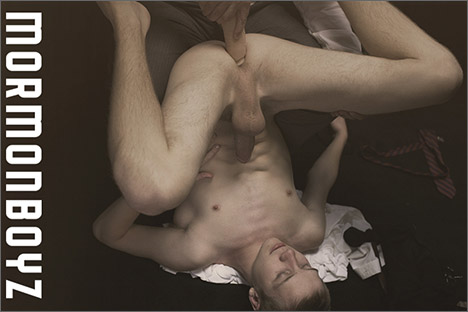 WATCH OR DOWNLOAD THIS AT: MORMON BOYZ
On-Line Only Presentation & extensive photos from each scene.